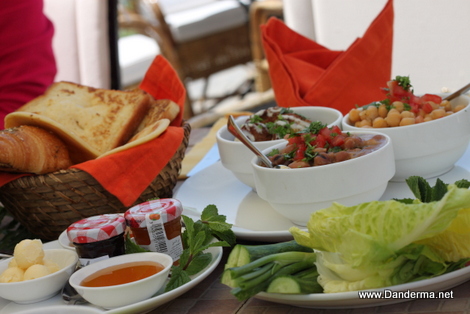 I received an invitation from the recently re-opened Beit 7 to come and visit for breakfast. So last Saturday we woke up early and headed over to Beit 7 with our fellow bloggers Pink Girl & Chapter Q8 to try out their breakfast.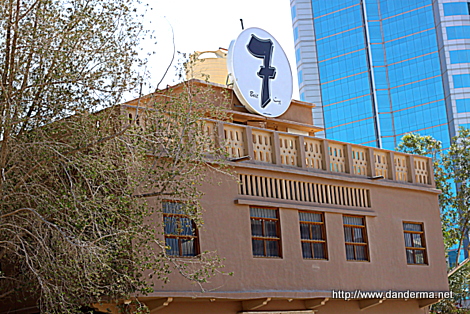 The last time I've been in Beit 7 was in 2004 and back in the day the area where Beit 7 is located was a dining hot spot. Then the 1st ring road construction had started and most restaurants had to close as they were not accessible.
Now its 2012 and after closing for a long period of four years they are back in business. What marks out Beit 7 is their decor: modernized traditional Kuwaiti style which I simply adore and is quite unique around the world.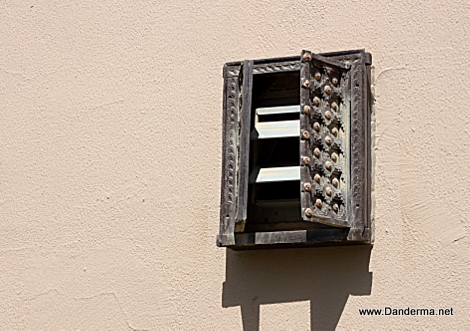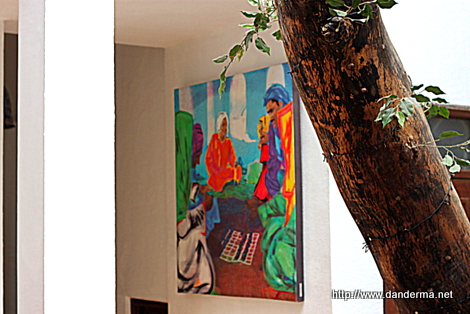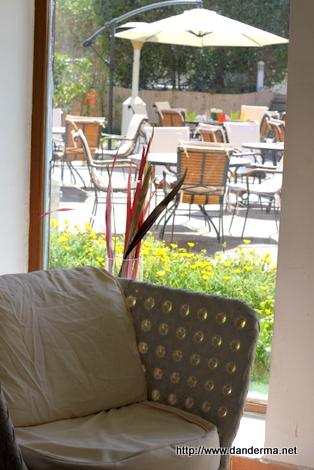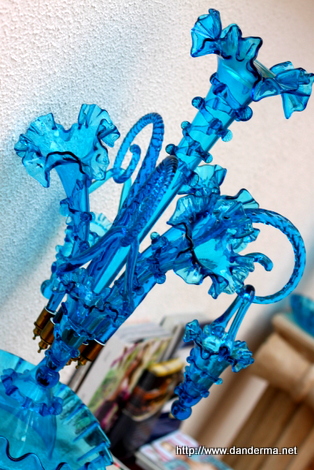 After we were done taking pictures inside we headed to the breakfast table that was set up for us outdoors. The garden is vast and dotted with tables and chairs and flowers.
Beautifully set with colorful linen and fresh white roses which are my favorite flowers of all time.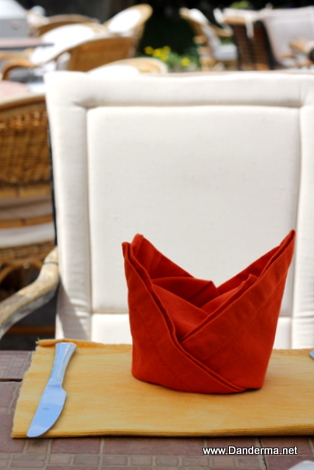 We were handed the menu which to me seemed like the old one?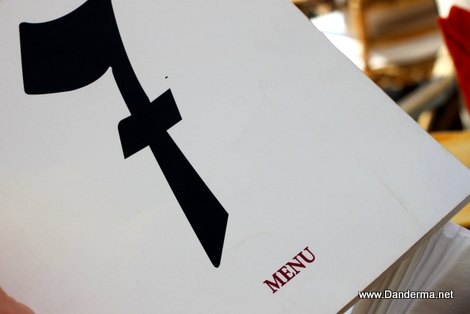 We placed our orders and I decided to share the continental breakfast I ordered with  Pink Girl. We first got our drinks: black coffee for me.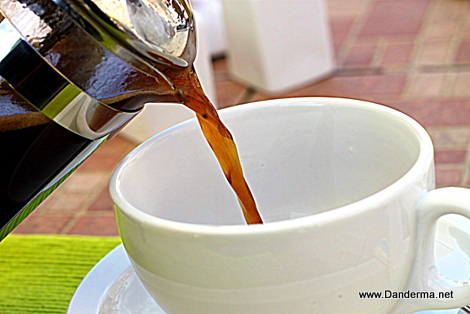 Fresh juices for everyone else.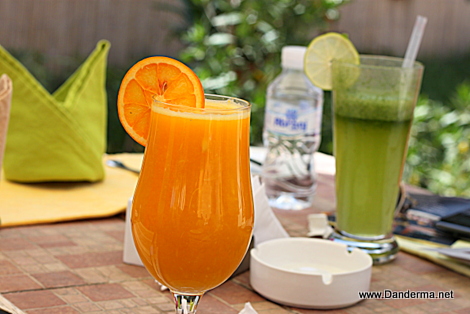 Next came a bread basket with butter and green pesto. The pesto was a little dense so I'm guessing it was mixed with something like cheese perhaps?
The first order to arrive at the table was our continental breakfast. A basket brimming full with croissants, french toast, and pancakes with a side of jam, honey, and butter.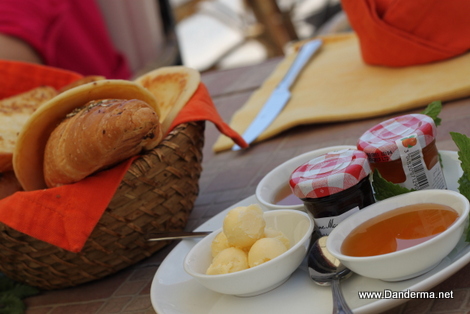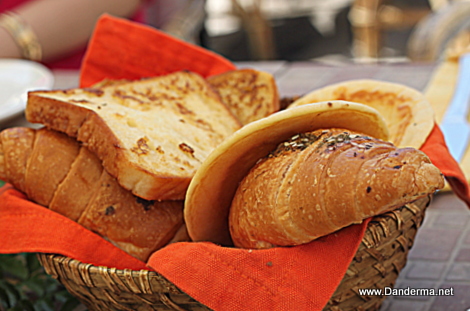 The french toast was good, it tasted like Lqaymat for some reason which I love

Also we shared a scrambled eggs dish. It didn't look much like a scrambled egg more like an omelet but it was good.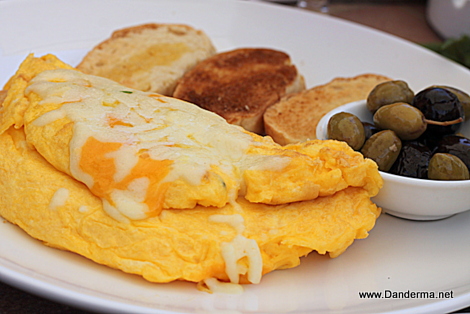 Bu Tootee ordered an omelete which he said tasted like baith elchalet, whatever that  means?
Next came the oriental breakfast. Platters of falafel, fool, and nakhi with a side of fresh veggies.
So we thought the breakfast was over by then. To our surprise platters we didn't order started coming in: first were the cheese platter.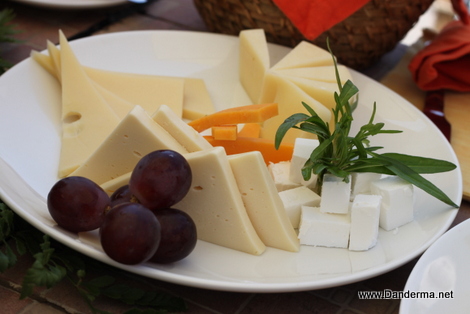 Then came a saj platter with a side of fries.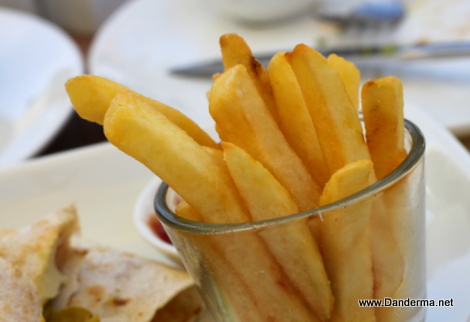 And as we really thought we were done came this salmon platter topped with shaved celeriac.
Now we were really done and we began to say our good buy and thanks when Beit 7's general manager Mr. Bassim Atallah appeared at the table asking about our breakfast and willing us to order some Turkish or French coffee. Me being offered coffee is NOT something I can resist so we all sat inside for our coffees. I asked for medium Turkish coffee.
Then we were bombarded with more platters of food! Strawberry Cheesecake.
Chocolate cake drenched with chocolate sauce.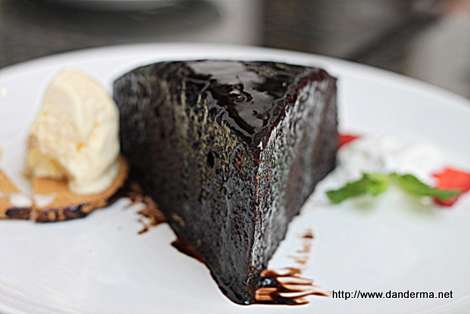 Chocolate & Banana crepe.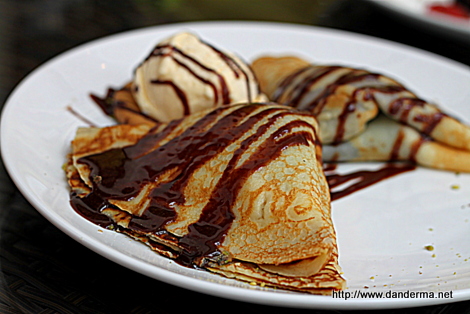 and another chocolate filled crepe in another presentation.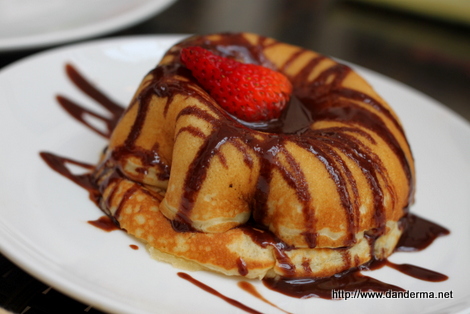 and finally with a fresh fruits platter from Lebanon that is not on the menu.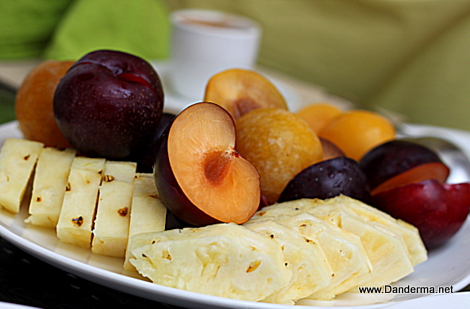 We ate, we chatted, we enjoyed our coffees and desserts even more than we enjoyed our entire breakfast! We really did have a great time that morning. People who enjoy smoking shisha will be happy as they can serve it early in the morning.
Thank Beit 7 for the invitation and Mr. Bassim Atallah for your hospitality. We really did enjoy our time.
Beit 7 is located For more information you can check their facebook page (link) or follow them on Twitter @Beit7. They are located in Kuwait City inside the old Behbehani Houses right behind the entrance of the Catholic Church.
---
10 Responses to "Review: Breakfast at Beit 7"