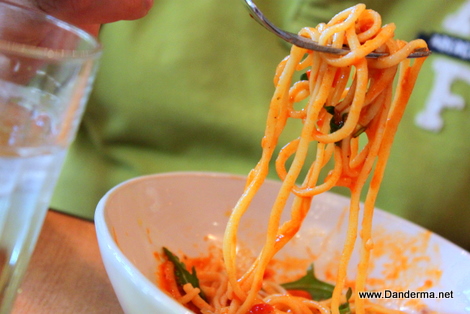 1- Soup in the Anime or 7asa2 as they said in our cartoons! You remember how they always sat in front of big bowls of some yellow soup with bobbing bits of thingies on them? Whenever I see them drinking 7asa2 I always wanted to drink it too! I still do -maggie mushroom soup topped with fresh chopped parsley would do-.
2- Heidi's Bread and Melted Cheese If you recall when the cartoon Heidi went to her grandfather's cabin and he fed her fresh milk in a bowl and huge slices of bread topped with melted cheese? Oh MY GOD! I still remember salivating over these images. I think what they  were eating is Raclette but I'm not sure Sally's Cheese
3- Cocktail ma7thootha o mabrooka Remember when they went to a fashion store in Jm3yat elTha7ya and they were presented with huge glasses of Cocktail juice? This is cocktail juice as I remember it in our childhood and it strongly reminds me of mojama3 elneqra. It is also my favorite comfort juice of all time and I am NOT a juice person. Whenever I see that part I start craving cocktailhom

4- Spaghetti! If anyone eats Spaghetti ANYWHERE on TV I immediately want to start eating a big fat bowl of Spaghetti pomodoro as well! I remember in particular a movie by Benecio Del Torro eating a plate of spaghetti in some dark movie and winding his spaghetti around the fork over and over and over and over again. Hmmm.
5- Joey's Pizza Whenever Joey orders pizza on friends I get the strongest craving for a home delivery Joey style pizza. That's when I call LoFat for their pizza is the best stay at home and watch Joey pizza

6- Croissants and Coffee. I think it was either in the French movie Taxi or in Transformers that at the very end they want to dig in a big fat breakfast and they go into a cafe to order croissants and coffee. When I see that plate of croissants it reminds me of Pret-a-manager and I start wanting to have croissants for breakfast for the rest of my life.
7- Gilmore Girl's Breakfast Whenever they walk into Luke's diner in the morning and start ordering those pancakes with lots and lots of coffee I am in trouble for I want to go to an American diner and have a staggering stack of hot fluffy pancakes next to a steaming pot of coffee for me to dig in.
8- Escalope Pane When I was a kid Egyptian movies were all about "escalope pane" in restaurants with a hot plate filled with potato chips and sauteed vegetables. Whenever I saw that as a kid I wanted to do the same: eat my meal with a fork and spoon and slather ketchup and BBQ sauce on. Its more about the action of dining rather than the taste of food. It however doesn't get to me anymore thankfully.
9- Saher El Lail Dinner When Ali was all about cooking eggs for himself and preparing dinner in the kitchen with his cousin Maha and he takes two discs of Mata7en bread. I actually wrote a post about it back then (link). Now whenever I remember that series I remember that particular episode and want to have that dish back for dinner!
10- Sally's Fatayer There is an episode when is raining cats and dogs in Sally, and then someone gives her some money and she passes by a bakery. With her little money she buys fateerat cheese or a cheese bun or sandwich. Anyways then she sees a poor hungry homeless girl and she splits her sandwich with her. That day I remember asking my parents for fatayer jeben. Ever since whenever I watch that episode I crave cheese fatayer, always and forever

---
18 Responses to "10 TV Moments that instantly kick start my food cravings"