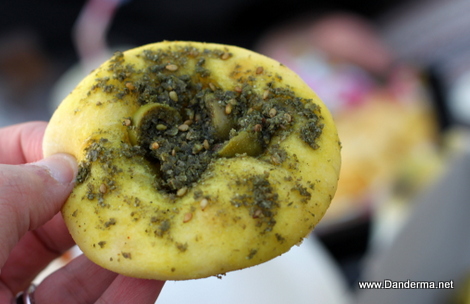 You know what's as good as Qay9ar's pizza? Qay9ar's Zaatar Pizza!!!
If you are lucky to stumble into a Cesar's branch when a Zaatar Pizza is just out of the oven, or if you ask for it specifically and are willing to wait 15-20 minutes till they bake you some, you are in for one lip smacking treat!
Those little wonders have the softest based -just like the normal pizza- and topped with a tangy mix of no-frills Zaatar and plenty of green olives. I can't describe the taste, you have to bite into one and see for yourself, but I advice you not to get more than one dozen and to eat it straightaway. You will polish it in moments <3
I am surprised that not many people know about Qay9ar's Zaatar pizza and how good it actually is! One of my favorite Zaatar food items around K-Town. If you are a Zaatar fan and you haven't try it before, you really really REALLY should. O if you are a first timer I highly recommend you try it from their Qurtoba branch which in my opinion makes it the best.
---
---