http://kaminakapow.com/wp-json/wp/v2/tags/74
At 7 PM yesterday Pretty Little Things opened its doors for the second time at Bait Al-Sadu for people seeking distinguished and stylish purchases. However, we were allowed to visit at 4 PM to roam the place and take pictures without battling the crowds or trying to take pictures with no people in them or something. Something we really appreciated from Noaf Hussein, the girl behind PLT.
First things first, the PLT venue, Sadu House, was breathtaking! Old, traditional, well modernized, and filled with little alleys with a surprise at every corner! How on earth did I miss this place? I must go back one day for their famous Chay Al-Dha7a! If I find anyone whose willing to go with me that is. If not I'll take a book and go!
Just to give you an idea regarding the participants.
I arrived very early, I might have been the 2nd blogger there – I was told confashions had already passed by, 7safa I missed u girl- therefore many of the exhibitors were still putting the final touches on their stuff so I didn't know what this tree was for 7safa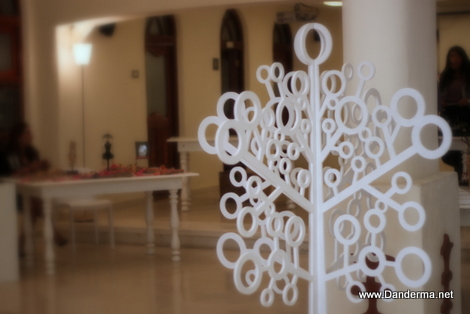 You see PLT is not an ordinary expo. They have a cause in mind and that is to renovate the local orphanage. Surprised we have an orphanage in Kuwait? Yes we do. Therefore PLT with the collaboration with Abyat are trying to help out. Some items will be donated by Abyat, some items are placed on a wish list where people can pledge for, and the rest is contributed via a charity art installation in the event to raise funds. I think that tree which I saw adjourned with ribbons in fellow bloggers posts is the art installation and stupid me missed the whole point.
I'm planning to go back to the expo anyways to grab some more things so I will make sure I check out the tree. The first -and my most favorite- booth was Thhaba Jewelry which had something special for me.
OK well, two special things for me. One was a golden envelope for each attending blogger. What's inside?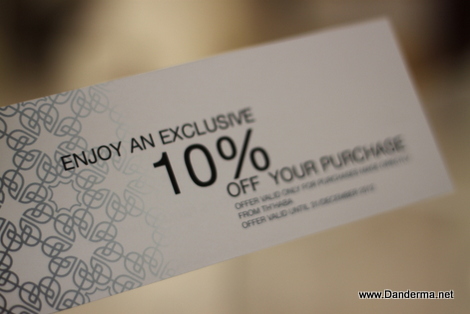 A 10% exclusive discount, which I've immediately invested in my second special thing that is one-of-a-kind. Well two of a kind since only two were made and mine is the second one. This pretty little elegant glittery thing.
My relationship with jewelry is very scarce. Rarely do I lust over a piece of jewelry but when I do it must be very unique and very elegant. When I saw my bracelet I had that longing feeling women have all year round I suppose, galbi fazz mithil maygoloon. Hence why I had eyes only for my white gold and diamond bracelet <3 So pretty! And with a 10% discount too!
Thhaba? Girl I adore my bracelet! Thank you :* Thank you Swera for taking this shot for me 😀 What else does Thhaba have in store?
The new collection with flat diamonds!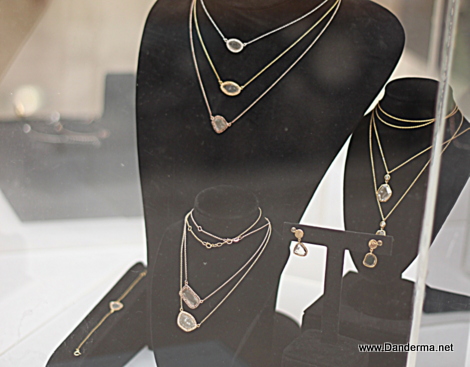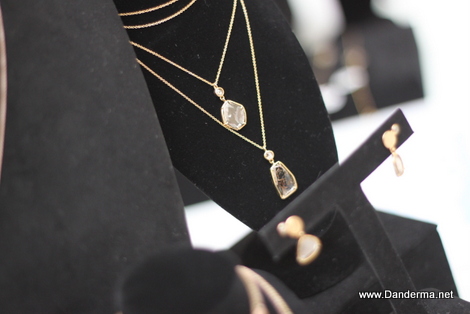 Next stop: my second favorite booth of the place.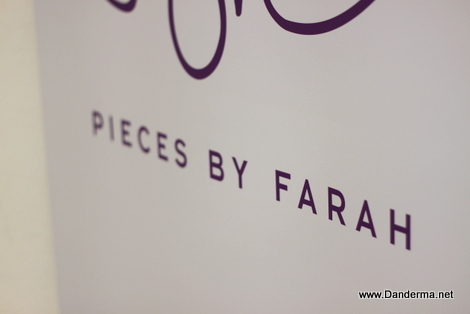 Pieces by Farah! So artistic, so pretty, so creative, simply yummy!
The moment I was there I made an order for a few things and I cannot wait for them to arrive <3 Just don't tell my husband :p Now I am looking at the pictures I am making more purchases in my head, the neon ones would go amazingly well with my home office!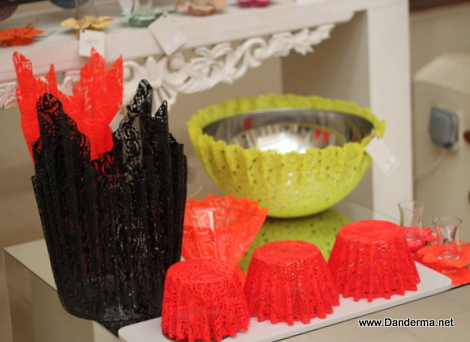 Those side tables are so pretty! I wonder how many side tables can a person have in his living room? I already have three but maybe we need more? You choose the design, the color, an order them on the spot! So lovely!
And this steel koosha lamp? Ayanin! If I didn't already have enough new lamps at home I would have snatched it up! Now how soon can a person redecorate?
Finally tearing my self -and my wallet- aside from Pieces by Fara7, I went to her left side neighbour, Paper Designs.
Little pretty things like greeting cards, notebooks, travel bags, and accessories.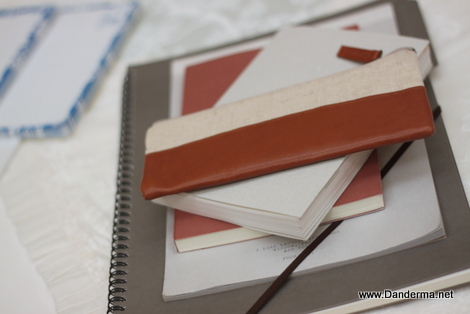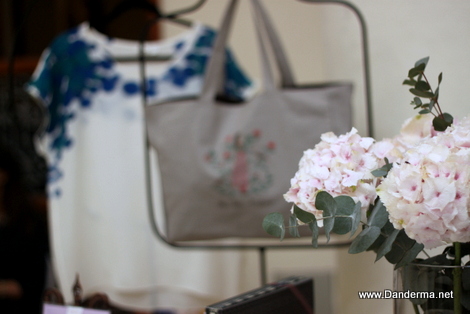 By the time I went over to May's Jewelry it was too late. Her table was already too crowded and I couldn't get a chance to view it properly. Some unique and very interesting pieces on display. Na3meen as we say in Kuwaiti. I will check her out again on my next visit insha2 Allah.
Next comes The Yard's section. Its so pretty and colorful you wouldn't know where to look exactly!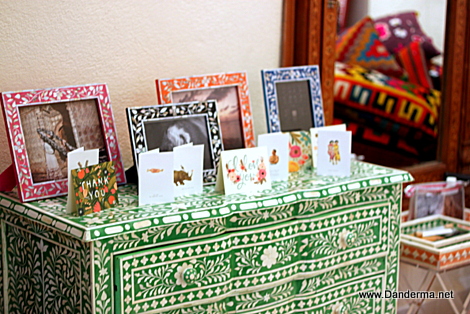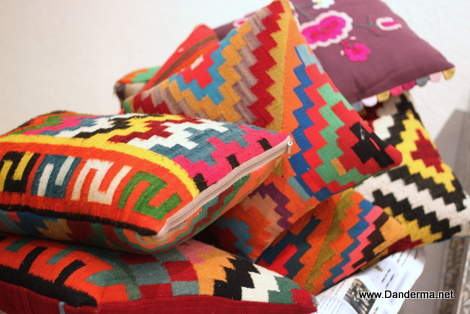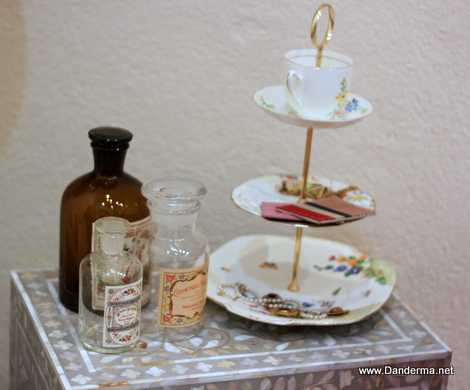 How cute are those teeny little red velvet thingies? I wanted to steal one and eat it when no one was watching :p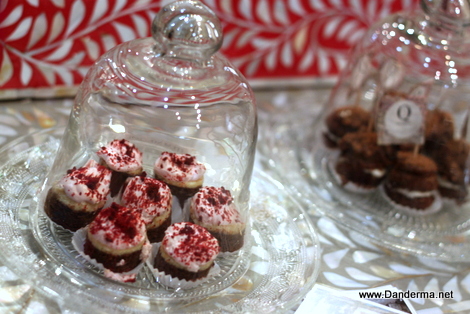 Baby B were also there. If you have a baby in the family or you are looking for a baby shower gift, then this is the place to be.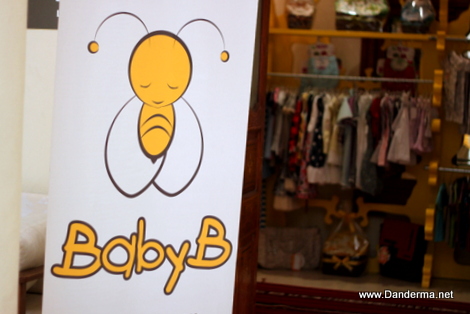 While I was snapping away I was stopped by a pretty lady with a tray of chocolate shots.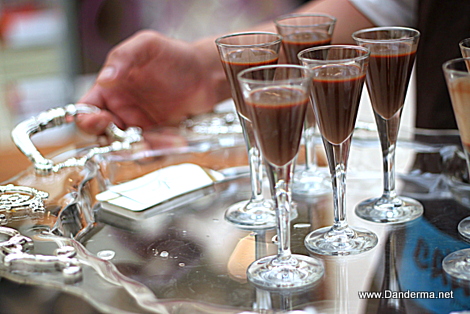 The lady was the owner of Solo Churros and they had a fun draw thing going on. Drink the chocolate shot and if you find the bean inside you will win.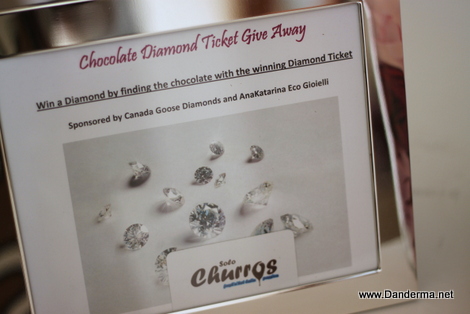 I drank, I didn't win of course given that I am a class A gobisa.
Had I been lucky I would have won this golden necklace from AnaKatarina Jewerly booth.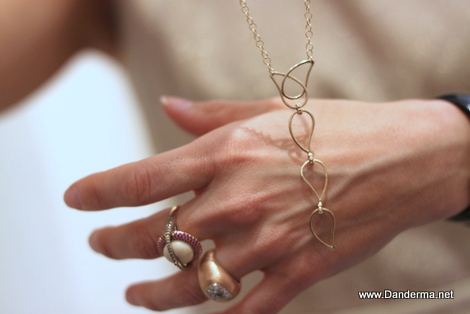 Ana Katarina jewelry designs and redesigns. I didn't have a good look as again it was a bit busy but I am planning to go back again.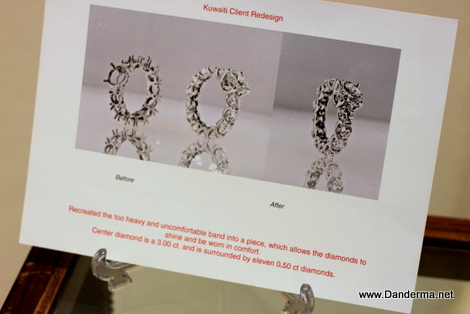 Saudi designer Razan Alazzouni was participating too and had interesting pieces to show.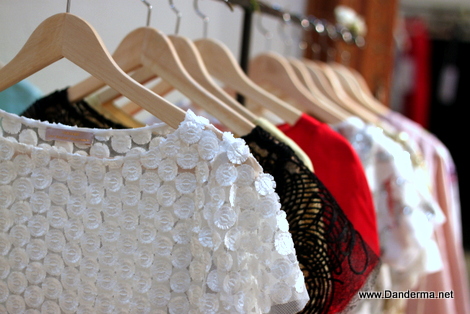 Next came Muneera Al-Sharhan's Jewelry. What caught my attention is that they had a bunch of hammers  on display.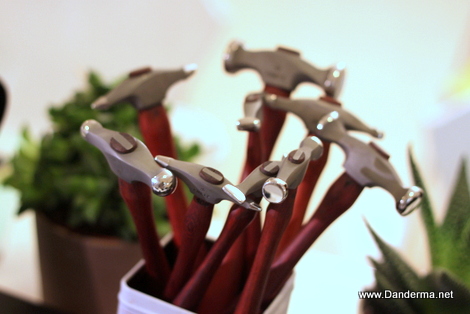 Why the hammers? Because Muneera uses them to make each and every single piece of jewelry she has on display herself! Very neat masha2 Allah! I loved those earrings A LOT and now that I am looking at them I'm wondering to myself why didn't I buy them? I'm going back for them!
Next there was the famous Baba Ab'3a Berkin bags from Fyunka.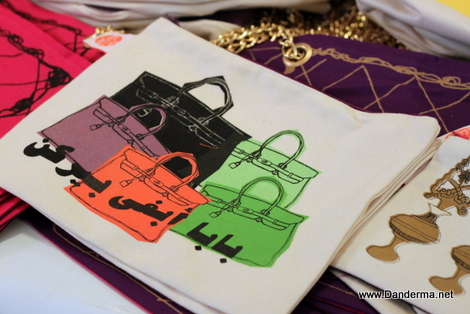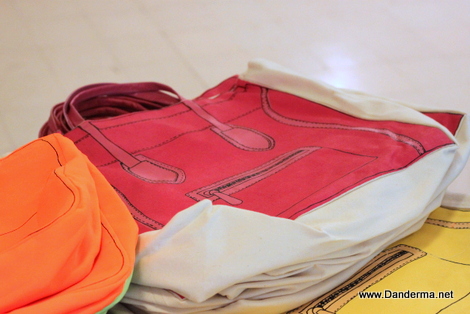 This makeup bag etshaweg! Thank you New Q8 Bride for showcasing it for me

Camellia perfumes from Riyadh with their candles, perfumes, and ma3mool.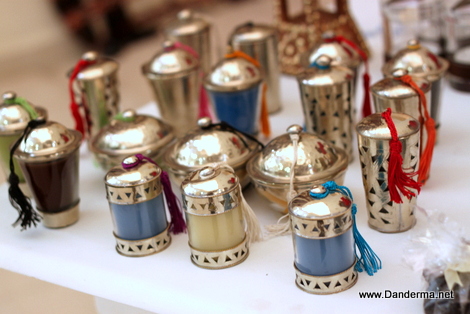 Lina's Jewelry designs had some unique wiry pieces that are eye catching.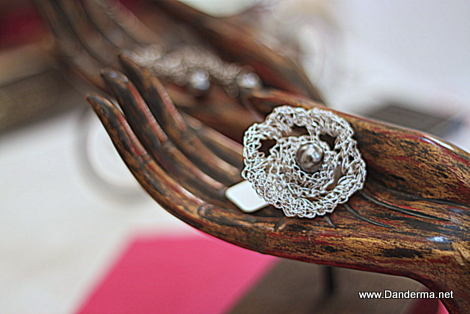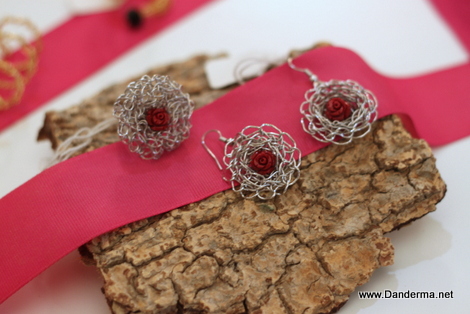 I loved the Press Designs section. They collaborate with a local printer in Kuwait where they take the discarded but perfectly fine used paper and use it to design paper stuff so the paper doesn't go to waste. Check out the lovely post cards!
Last but not least I saw these lovely colorful chairs stacked on top of each other. I don't know by who though. I would love to have them in my garden had my husband not got an allergy towards any funky chairs :'(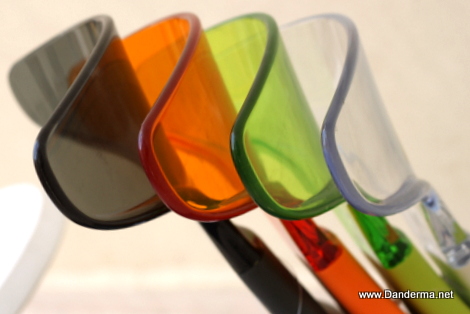 The local magazines had an appearance too. Saraab, the magazine where I had my first interview (post), and Khaleejesque.
It was then time to leave and as I did so PLT gave me a little personalized goody bag. Loved the gesture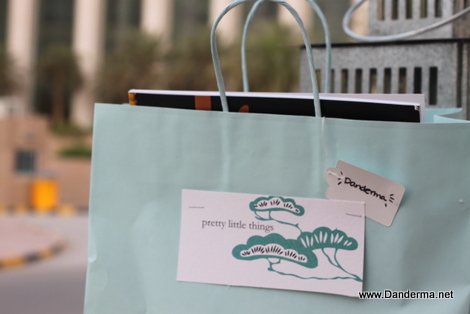 As you go out of Bait Al Sadu you will find a beautiful dining setting provided by Milk  & Munch!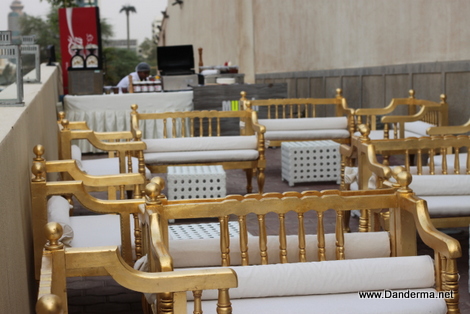 I had promised Noaf that I would come back just to have a good chat while sitting outside in the dining area munching on the acquire food goods

Thank you dear Noaf and PLTQ8 for the sneak preview and the goody bag! Good job and will come back again!
PLTQ8 are on in Bait Al Sadu, Gulf Road, from Saturday 28 April till Tuesday 1 May  opening from 3 PM till 10:30 PM. For more information you can check their facebook page (link) or follow them on Twitter (@PLTQ8).
---
11 Responses to "Event: Pretty Little Things Exclusive Bloggers Preview"