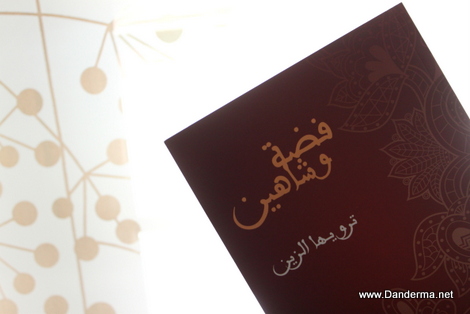 For as long as I can remember and whenever I had the time I've read the stories on Alzain's blog. Always beautifully written in an flowing Arabic mixed with words from the Kuwaiti dialect, her stories are always heartwarmingly interesting.
And then she had a book. It came out during January 2012 which was one of the busiest most hectic time of this year which left me in a haze. I totally missed the book, didn't know about it until last week. Once I did I just went out from the comfort of my house, through the killer traffic, to grab me a copy and come back home to read it.
I finished it in a record time. I just opened it and started reading. At some point of the book I screamed "ashwa ashwa" and woke up my poor husband. By the time it ended I was crying so hard I finished half a box of kleenex. I wanted to extend my hand and wrangle someone's neck and hit their head against the wall.
The writing was so easy, so familiar, the words were flowing like wisps of clouds throw my fingers, I felt I was sitting aside from an elderly lady while she told me a "7zaya". So warm, the rain so fresh, the aromas so so overwhelming, the beauty so tantalizing, the flavors so sharp, the love so pure and strong I kept weeping then saying aww then weeping then laugh then a few more tears.
You know what made my cry even harder? When you read the book, you will read the intro. When you read the intro, you will learn about the whispers this story was inspired from. I've heard those whispers too, a word or two here that no one would elaborate on, mainly because all that was told of the story was these whispers. Thank god this is 2012.
If you can read Arabic, and love a good book with a Way7a Qalbi factor, and want to grab a book that makes you really want to not read it so you can read it again for the first time -its that kind of book- then head over to Afaq book store in Al-Tilal, Shuwaikh, and grab yourself a copy. Its so going on my bookshelf, in a prime location b3d.
Congratulations Alzain on a job well done! Your book so deserves to be become a local movie or a Ramadan series. Waiting for your next book and this time I won't miss your book signing for I am a big fan

---
---