Its been quite a busy couple of days! Lots of events, lots of invites and exhibitions. We're guessing its because people are about to leave soon for the summer holidays. In any case I've gotten a call form Mr. Delivery informing me that I've got something and for the life of me I thought what could that possibly be?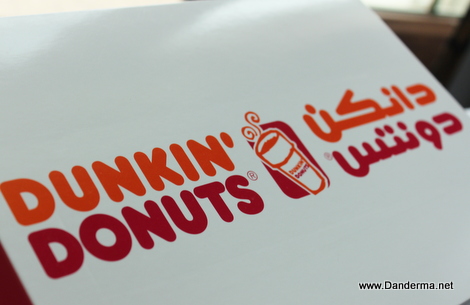 I was not prepared to see a box of Dunkin Donuts? Why would Dunkin Donuts be sending me a box doughnuts? Maybe they have new flavors? I opened it at once.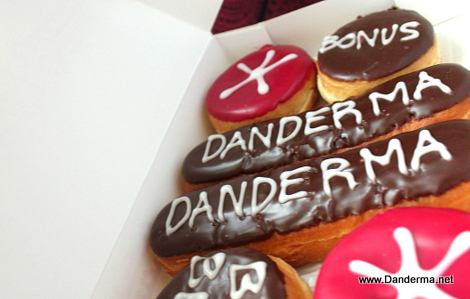 And there lay a half a dozen box of freshly baked doughnuts with my blog's name frosted on two of them. It made me go aww! What a nice gesture. The other doughnuts had Blackberry and * on them.
OK so what was that all about? This letter explained it all.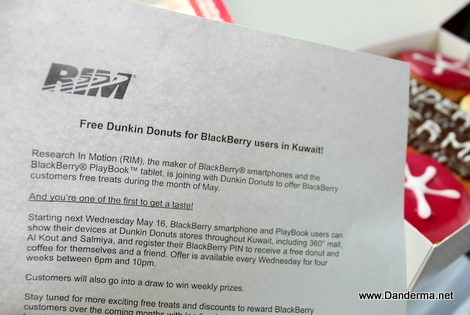 Every Wednesday, Starting next Wednesday 16 May, any Blackberry user in Kuwait can head to Dunkin Donuts and register their Pin to get free doughnuts and coffee for themselves and a friend. I think that's a pretty decent offer indeed especially for people who adore doughnuts -my husband for example-. All you have to do is just go there with your BB. I wonder if the BB has to be functioning, I have two :p
Thank you RIM for the very thoughtful gesture. I truly appreciate it especially the personalization of the doughnuts part. Other companies would just email a dry press release, a couple of pictures, and in a superior authoritative tone asks you to post about the press realease, ASAP b3d. RIM's gesture made me want to write about them. So nice of them indeed.
I also appreciate that they have sent it to as many bloggers as possible. Many other companies would play the "I contacted/invited you once, now your services are no longer needed, moving on to the next" move which I truly despise. Every single blogger I know have received a similar personalized box and every one was very happy. Good job RIM, and thank you, both RIM and Dunkin Donuts. Best of luck.
For more information regarding this promotion you can check Blackberry Middle East facebook page (link) or contact either Blackberry (@Me_Blackberry) or Dunkin Donuts (@DunkinDonuts) on Twitter.
---
---