I had great plans for the past Friday afternoon. I had tickets to the Avengers 3D on the IMAX screen, we were to go out after Friday prayers, have a great lunch, watch the movie, maybe do a little shopping. All my plans were ruined however because come Friday morning I was like a rag doll in bed hit with one strong bout of the damned flu.
My Friday wasn't totally wasted however. At around 12:30 PM a knock came on my door with delivery from Gelato Italiano. A white bag with two lovely pint sized ice cream boxes courtesy of Um 3zooz, the owner of Gelato Italiano.
In case you've been living underneath a rock and haven't heard about Gelato Italiano, it is one of the first places in Kuwait that sells Italian like gelato and is quite frankly one of my favorites. I've always been a fan and I always pass by if I need a comforting gelato fix.
Its not the first time I've recommended gelato Italiano. Three times before I've taken oblivious   friends to Gelato Italiano and had them try the gelato, seen their eyes pop in wonder and the mmmm grunted out. Now I suppose its your turn, my dear reader, to take a peek at the contents of these containers.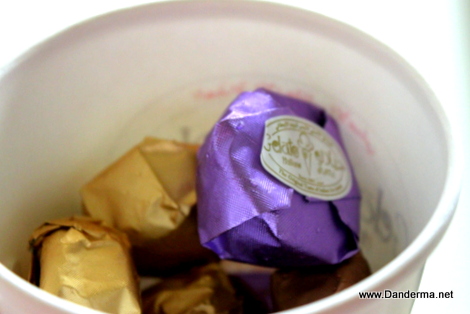 Surprised? So was I! I had been expecting two pints of the latest Summer flavors. Instead I was met with gem-like colorful mini gelato bites that I personally call the Gelato Gems! That's even better!.
Each covered gelato bite has a different coating and flavor. Don't they look like gems found in some pirate's treasure? I've tried these after I've seen them catered in Ansam's sister wedding (post), ordered them and took them to a gathering were they were a big hit.
Since I'm already a fan I was more than happy to receive those little gems, each in a different flavor. You want to see one from the inside? Here is a strawberry gelato coated in milk chocolate.
The coffee gelato and the mango gelato bonbons where my favorite <3 They totally salvaged some of my ruined weekend -and apparently my entire week still-. I don't care if I'm sick, I believe the damage is done and if anything, the cold in the gelato numbs my aching throat. I ate an entire box in one setting.
I had to resist eating the other box. So it went proudly to sit on top of my ice cream stash. I am not nicknamed Danderma for nothing you know 😉
Wait I'm not done. There was a white envelope with two little cards inside, this is the first card.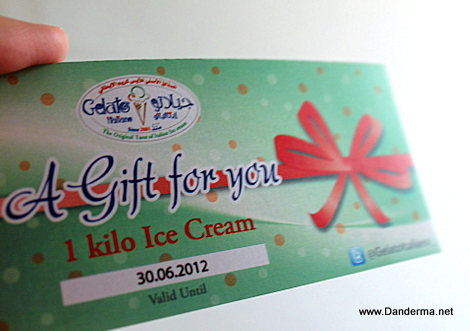 Ooh how generous from Um 3zooz! I'm so going to reclaim that the moment I can get out of the door again. This is the second card.
A Gelato Italiano loyalty card! AUUUUGH! One more loyalty card to add to my collection! I love loyalty cards and I've been nagging for them to become more popular around Kuwait and now I can say they are. Way to go, even though I've finished like ten of these already but I am so glad I can begin to stamp my purchases. So very happy indeed.
Thank you Gelato Italiano for making my Friday. The perfect start of summer gift indeed. To order Gelato Italiano's little gems or try any of their feel good gelatos you can contact them on 22434434 or visit their facebook page (link), follow them on Twitter (@GelatoItaliano_) or Instagram (@GelatoItaliano), or pay them a visit in their main branch in Sharq, Ahmad Al-Jaber St., Bur Al-Jaz tower, Kuwait City.
---
4 Responses to "Gelato Italiano's Little Colorful Gelato Gems"