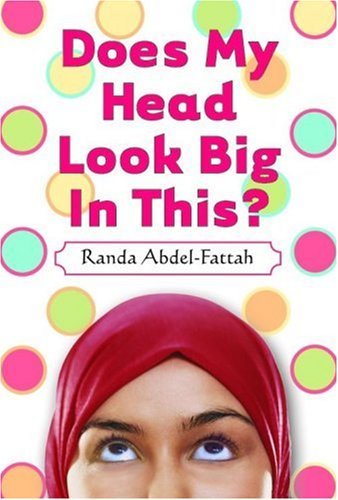 This book, even though its publishing dates back to 2005 and we should be thankful we are still finding books less than a decade old to purchase in Kuwait, is fascinating!
The story is written by Randa Abdel-Fattah, an Australian-Palestinian who in her debut novel decided to write about Amal, a sixteen-years-old Muslim girl living in Australia who one day decides to wear her hejab to highschool in a post September 11 era.
Sounds interesting? It is! High school is a nightmare as it is and no one leaves it unscathed -I think I heard the past phrase in a movie- so trying to fit in while adding a hejab to the mix is quite intriguing. Its also so witty! I was laughing every other page, the writing is superb, the kind of writing I would envy and wish I can write the same. The story is so real and touching. I was pulled back to the world of high school, and hanging out with my teenage girlfriends, and the insecurities that haunted -and kinda hunts still- our existence in this world.
The thing that also makes it more interesting is that you can identify with it. As a woman who recently started wearing the hejab out of my own free will when I was 28 years old, I've seen a big difference in the way I used to blend with the crowds abroad before, and how now I stand out and how sometimes I'm mistreated or simply picked on. I remember distinctly an incident at a spaghetti restaurant in Bern where a Swiss man was so offended by my wearing the hejab and sitting on the table next to him he was freaking out and pointing at me while rambling in German. Only a year before I would not have made a bleeb in this man's radar. Oh well, I hope he did't have to go to therapy after the horror of seeing a Muslim woman dine next to him.
The most important message it delivers is this: Islam is a relationship between you and god, period. No matter what you do, no matter where you are, no matter what your surrounding are, it will change nothing in your behavior as a Muslim. Period. So all the preaching and religious pretense won't make a difference in the heart of a person who doesn't fear god.
Oh plus, the story is based in Australia, a land I've never been to before, and I find it quite similar to the UK or the USA except for a few words that I don't get. I'd have to Google them. But it was nice exploring stories from Australia.
The book is available in Jarir and is highly recommended. It is so going on my shelf. I'm also going back to get Randa's second novel, Ten Things I hate About me, which I've seen in Jarir and look for the rest of her novels which I suspect won't arrive here till the next millenia but who cares, we are used to being patient until we can stock up on books again when we travel.
---
---