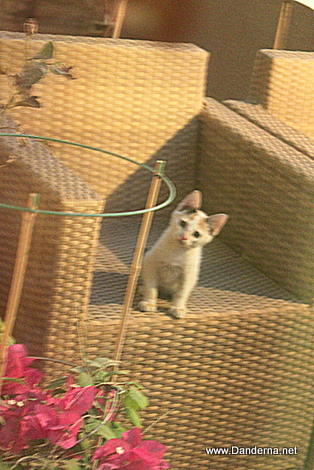 Since before I was born Kuwait's streets were infested with scores of stray cats. Everywhere you went, there must be a group of cats sitting around the garbage can tearing it apart to have that Zbaidi leftovers from lunch, a couple of
cats mewing in delight till the wee hours of morning during the mating season, and eventually a fat pregnant cat hiding somewhere to give birth to her baby kittens. Nothing new mo?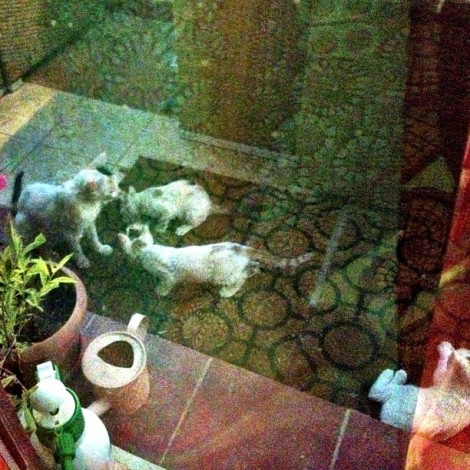 I've never really suffered from this cat infestation before, aside from the times they attacked you while you were dining out that is. Or obsessing about odd scary story of turning on your car engine and a cat would be hiding there and well, its disgusting and I truly wish I never have to encounter it. However, yesterday morning as I was trying to go to work, I peer out of the glass in the door to see the scene in the picture above and below!
A pregnant cat had given to kitten a few weeks ago. We know she was pregnant because she would always jump on us while she was carrying her babies whenever we sat outside. Apparently now that they are a bit grown up they once mewed and my husband gave them some food on the far side of the house. Bad move, they have invited themselves to my front steps and lodged themselves there.
We tried everything to get them to move away! Both of us are highly allergic to cats. Plus I am actually terrified of all animals on planet earth, including ants. I was screaming as I went to my car because when you shooed them they wouldn't move, they would just scream and yell and run all around the door.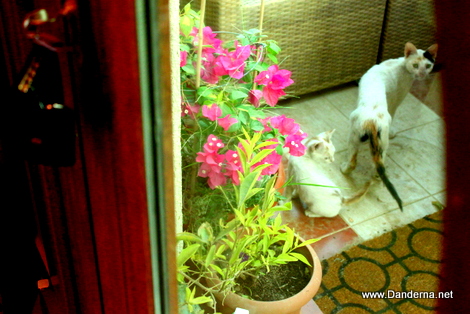 The mother cat is very vicious indeed and is not afraid to show it. They are also eating all the plants we have outside and dragging some leftover rubbish and bones to my new doormats and eating there happily while also rubbing against them! I also suspect they are already carrying diseases, yarab as we say in Arabic, given that they seem to scratch against the doormats alot.
We came back from work, they were there. We kept looking through the glass all day long and they were there, eating and scratching and mewing, making themselves totally at home. I wouldn't mind them so much if they were at the other end of the walkway but not at the front door! At night we managed to truly shoo them after a 100 tries, but then my husband went out. When he came back at night they were all sleeping on the doorstep and he didn't see them because it was dark and when he approached them they all woke up and mewed and screamed and ran in all directions, including on his!
This morning? Still there! This afternoon? They greeted Pink Girl in the afternoon with some chicken bones as she came to visit! Now? Yes, still there, not going anywhere.
This is getting out of hand! Why exactly do we have so many stray cats in Kuwait? We've never encountered that problem in the UK before. There would be a few cats wandering around the neighborhood but they would all be collars and very cute, never strays! Can't we do anything about it? Without killing them that is? Can't someone just gather them all up and put them in big huge cages where they can play and reproduce, maybe make a cat business where they sell cats for people who actually want them? Who wouldn't want this cute curios kitty that made faces at me while I tried to shoo her?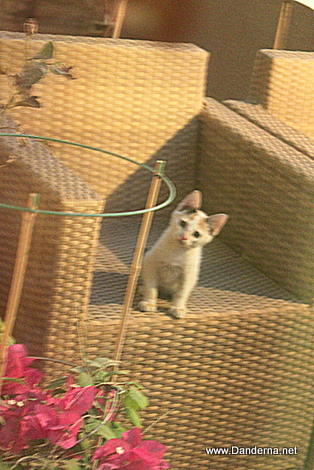 I wanted to call one of the animal shelters but I doubt they would be able to come and pick up all these cats and give them shelter. I believe they are swamped with pets as it is with limited resources, or that's what I was told once. Someone on Instagram suggested I give them tuna laced in rat poison and I almost cried at that cruel fate. No way! I don't want them killed, I want them all to live happily ever after somewhere AWAY from my door step so I can live in peace!
Help? Any suggestion are welcome!
---
30 Responses to "Help: Stray Cats Invaded my Doorway!"