Yesterday afternoon a knock came on my door. There was a brown bag closed with a blue colored sticker, written on it "The Drey".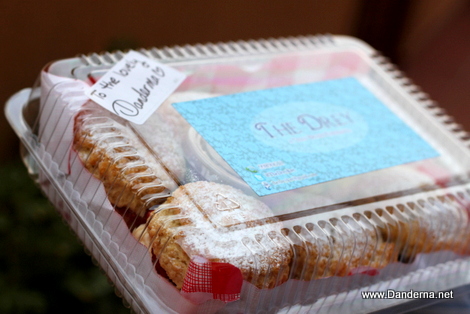 A sticker on the side of the box said "To the lovely Danderma" aww, thank you

Inside the box were 6 different types of scones along side two small plastic tubs of clotted cream and strawberry jam. A wooden knife is also available, therefore you can dig in as soon as you get your order.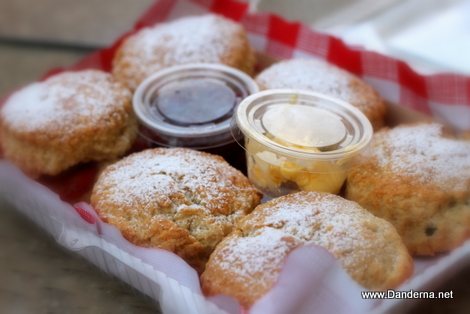 The aroma of the scones preceded their first look. The recipe of these scones, as tweeted by The Drey, 'Was learned and adapted from Miss Jackie in Casey's Corner Cafe in Lancaster. When we say our scones are british we mean it!'. Intriguing eh? Then again, is there any snack food more British than scones?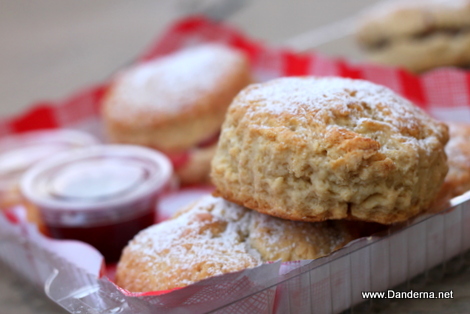 Now lets see, the six scones were in different flavors. There were plain scones, shown above. A raisin scone that I didn't photograph, a Blueberry scone, below.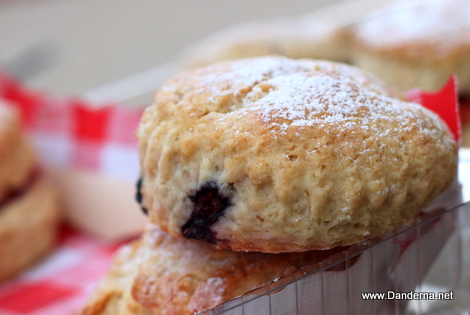 Nuttella filled scones, now that's a Kuwaiti touch. A modern one that is.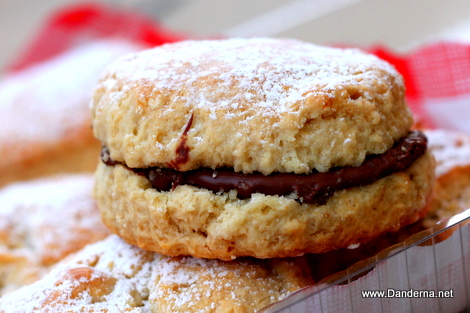 And this is my husband's favorite, Strawberry & Clotted Cream filled scone.
Oozing with delicious cream.
I tried the blueberry scone, with the works.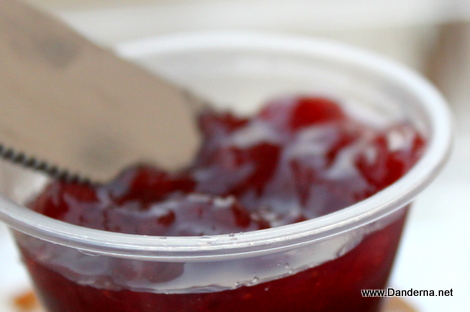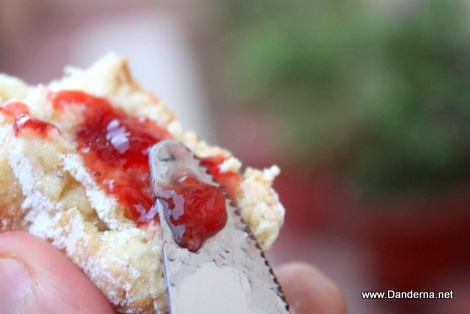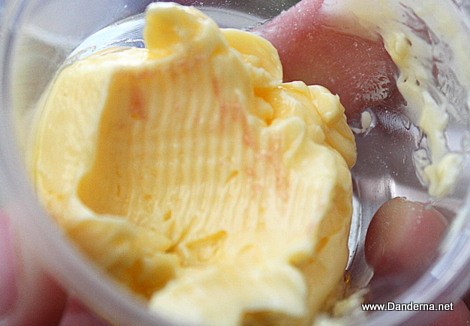 Feedback?
The scones themselves are really and truly good. As good as scones I've had in the UK, even better than some scones I've had there in well known afternoon tea places! The scones were crumbly yet very soft, the perfect break point between hard and soft. The checkered red paper lining was totally fitting, perfect! If it was me however, I would use a customized carton box instead of the plastic box.
As for the flavors, kudos on the variety! Very interesting indeed. My husband thinks they should have vanilla cream cheese and strawberry compote in one, like a strawberry cheesecake scone. I'm wondering about a cardamom scone infused with saffron clotted cream perhaps? Oooh or a salted caramel and banana slices one! The next time I try them I will sure have a tub of Alban dairy's clotted cream (post) to try them with, I suppose the combination would be destructive.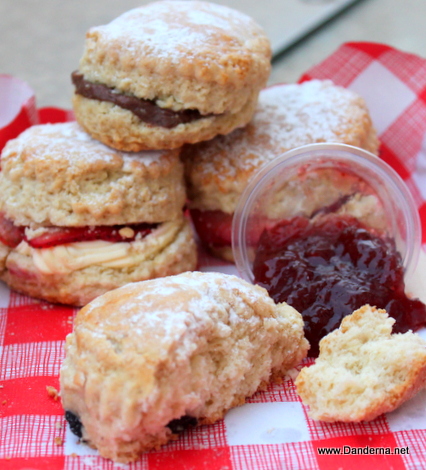 These scones totally deserve a photo shoot with a full English tea setting. I wish I had more time on my hand to properly set the mood up but the moment you get those scones you can't really wait much.
Recommended? Yes, highly. They are "Non-sharable" as my husband put it.
The Drey sell the scones by the dozen but you can order half a doze. A half dozen of scones is 4 KD. One dozen of scones is 8 KD. You can order your scones by SMS'ing or calling 99890610, by e-mail thedreykwt@gmail.com. For more information you can check out their twitter account (@TheDreyKWT) or on Instagram (@TheDreyKWT).
Thenk you, The Drey, wishing you the best of luck and kudos on coming up with a new baked item to sell.
P.S. I have to wonder though, why the name "The Drey"? Doesn't that mean a nest?
---
10 Responses to "Review: The Drey's Scones"