Last week we were invited to a "Blogger's Night" in Chef Ahmad Al-Bader's chic Japanese-French-Kuwaiti fusion restaurant in Al-Bada'a. The name is Izakaya.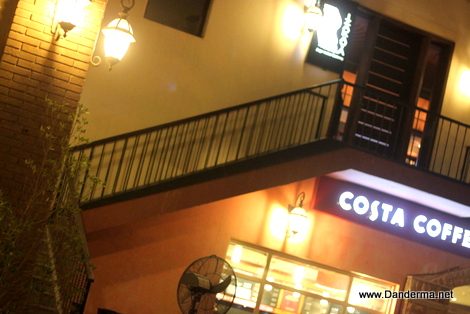 Izakaya resides on top of a high staircase that left me out of breath by the time I reached the door, god I'm out of shape. The word Izakaya is a Japanese word describing a kind of dining establishment that is like a pub in England, casual and relaxed for after work drinks and food.
Inside it was kinda relaxed, the music is perfect, open kitchen with roasting flames going up high every now and then. I loved the atmosphere.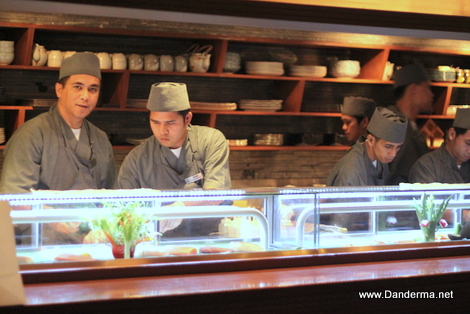 As we sat down we were bombarded, literally bombarded, with dinner dishes. First we got this shrimp sesame chicken thing – chili mayonnaise, some cream, and ranch with sesame-, it was a big hit and the most eaten one.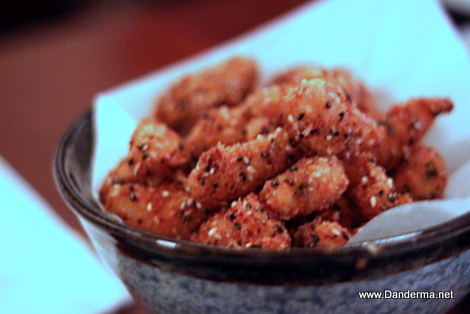 Then came the salads, a Tuna Nicoise salad with what looked like boiled quail eggs tossed in.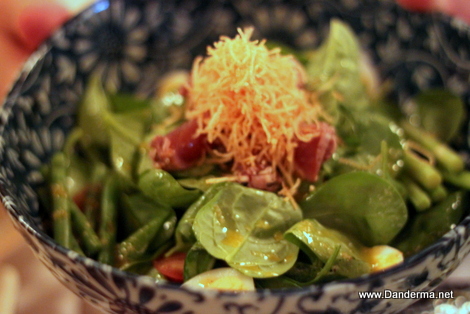 A fresh cucumber salad. Please notice the dinnerware? Zoo'3a! Every serving dish was more beautiful than the next!
Spinach, basil, and raspberry salad. I loved the raspberry in the salad a lot. Its even better than strawberries.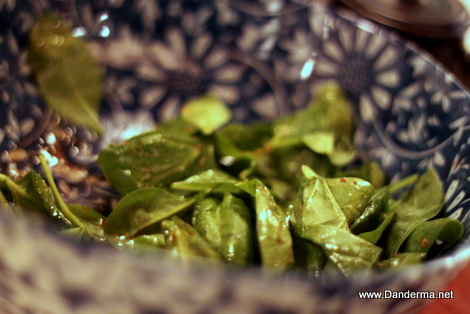 A very fresh and different red and yellow cherry tomatoes salad with diced black olives.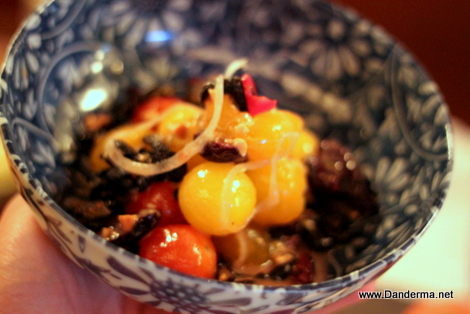 Next, Sushi. This one had shrimp and avocado in it.
Shrimp sushi.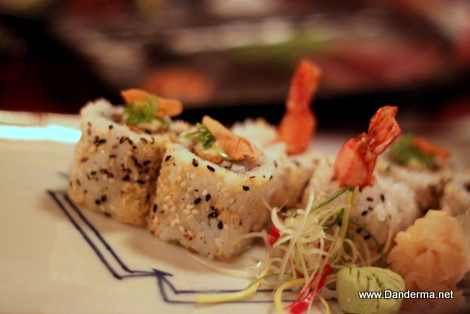 Lobster bites.
Seared tuna.
Edamame Ravioli, it was a very interesting dish.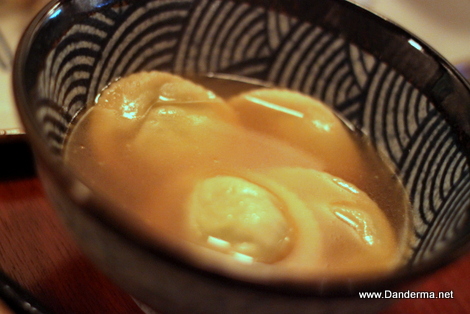 The grilled wagyu tenderloin, which was brought sizziling and while its being served on the table they poured what I think is soya sauce on it, emitting a cloud of vapor to the table. Nice.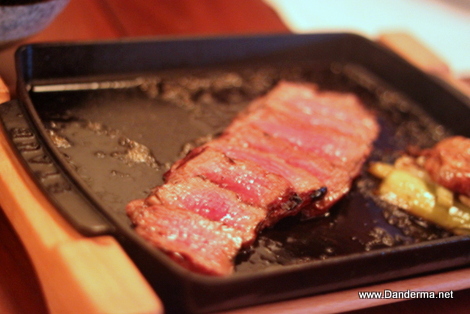 This dish, which I've called Cabamaro's Qoraides Maqli, is shrimps breaded in crushed peanuts. My husband kept raving about this dish way until we were home and he fell a sleep. Yannana!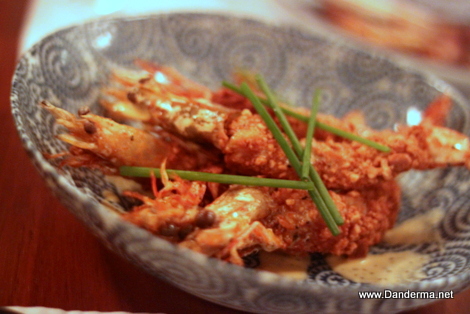 This is another shrimp dish. I didn't get its name but I've heard two opinions regarding it: one it was smelly -zafer-, two it was really good.
Teensy wagyu wraps.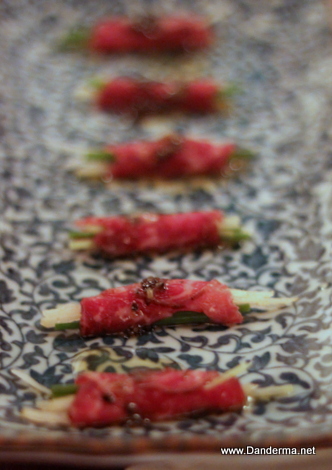 I don't know what this dish is called, honey mushrooms chinna, but its basically a foil poach with fine angle hair noodles and mushrooms insides. Taste? Fancy Balalee6 with mushroom. It was good, it would have been my favorite dish if it was savory instead of sweet. If you are a fan of balalee6 -I'm not, at all- then you will love this dish.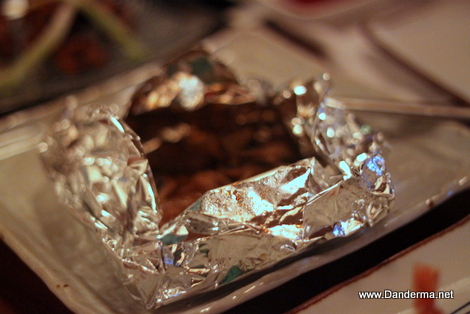 Grilled jalapenos stuffed with spicy meat with a smear of ketchup on the side. They say its good.
Stuffed and grilled shrimps. They were popular too.
Tofu platter with tomato slices stuffed with pickles cucumber and . The tofu was a tad bland.
More and more dishes, we sometimes couldn't even catch the name of the dish.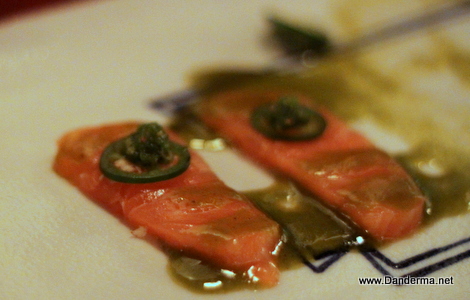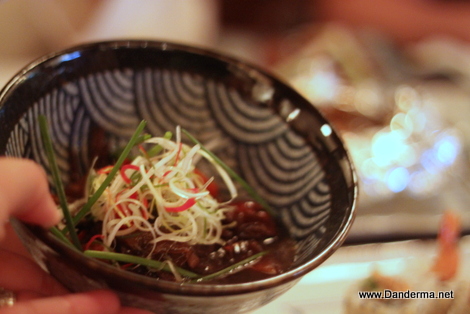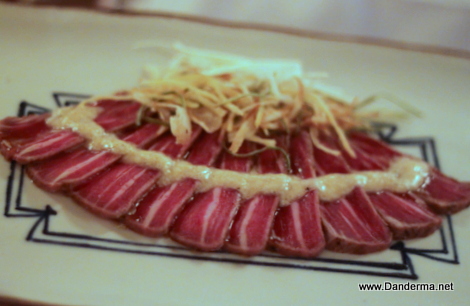 For dessert we were presented with ice cream. Five different flavors of ice cream. First the raspberry one which was very light and not too sweet. Very good!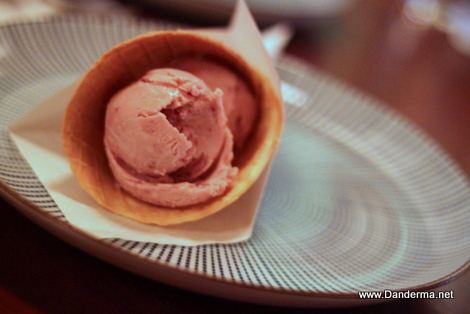 Next came four different flavors: Chilli & Basil, Chocolate, Butterscotch, and Balsamic. I loved the balsamic A LOT, didn't really think I would but I did. I think Chef Ahmad's next culinary endeavor should be a funky gelateria.
Pancakes with nutmeg ice cream. It was lipsmacking! The nutmeg ice cream was really something.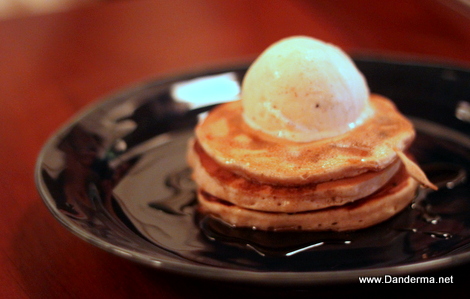 This is what's left of it, one bite only.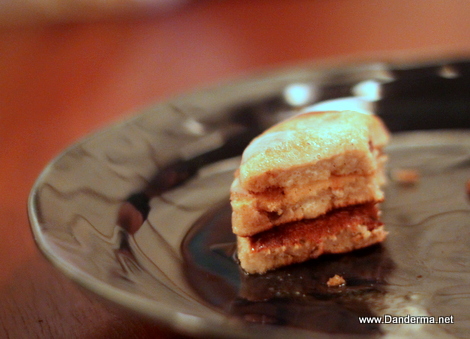 Very dangerous french toast bites, with raspberry compote and vanilla ice cream. They weren't good, they were divine.
Before we left the restaurant manager bid us farewell with a plateful of mini wrapped chocolate truffles that simply melt in your mouth. Yum!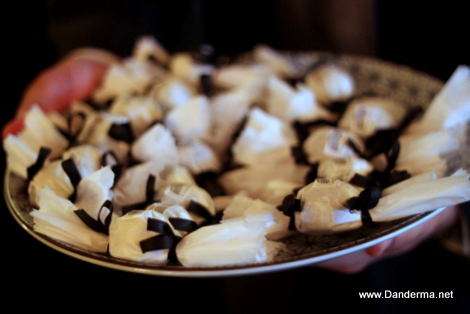 It was a great night. If you are a fan of Japanese food and you are looking for something new to try, you must give Izakaya a visit. Thank you Chef Ahmad Al-Bader and Ghalia Group for the kind invitation.
For more information regarding Izakaya you can check their facebook page (link), follow them on Twitter (@IZAKAYAkwt) or on instagram (IZAKAYAkwt).
http://partnershipforcoastalwatersheds.org/funding/

---
2 Responses to "Review: Izakaya Japanese Restaurant"