http://davidpisarra.com/huffingtonpost-column-life-lessons-from-a-98-year-old-yogi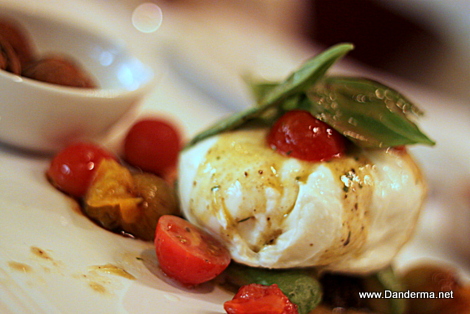 Last week on our way to Izakaya in Al-Bida'a area we noticed that the Butcher's Den was open, so we made a mental note to visit it the next time we were out for dinner.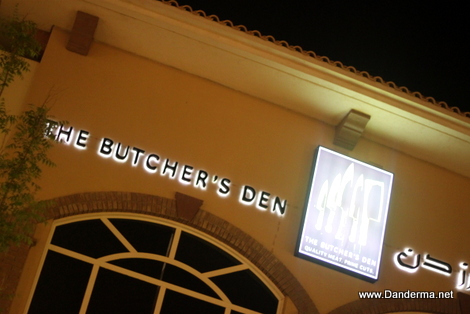 My husband has been waiting for its opening and we had Bo Throos for the day so we asked him and he said he wanted to go :p
When we got in it was crowded and there were people waiting even though it was almost 10 PM. We waited and took our time gazing at the menu, we saw Dudette & 7aji from 7aji Dude dining there and they took Bo Throos for a little visit

Butcher's Den is, obviously from the name, is a steakhouse. The interior design is awsome! I loved the chandeliers, the glass panels with the different cows painted on them, the cow wall papers, the lime green detailing which is my absolute favorite color ever!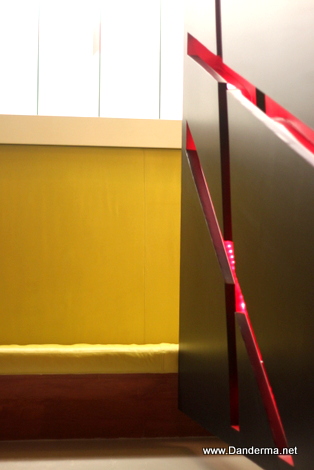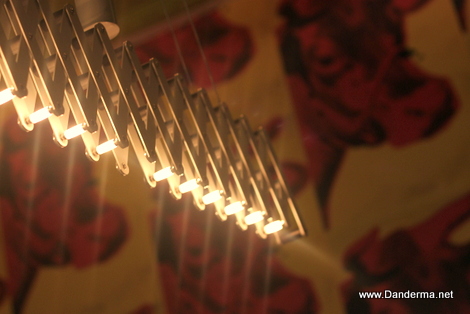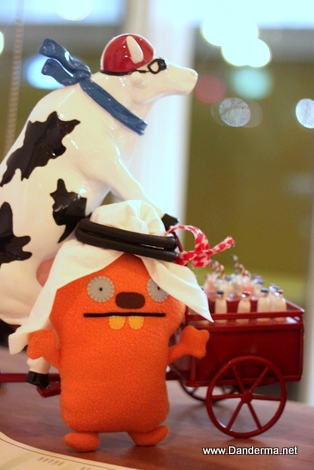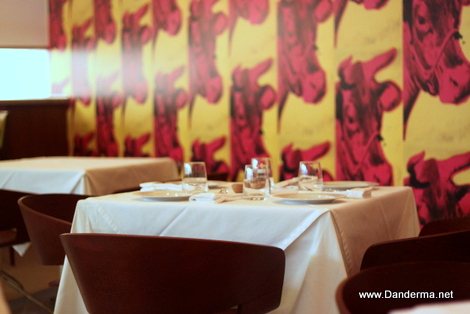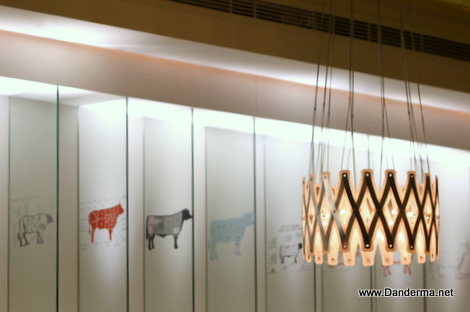 As we got a table the first thing we had was those little tiny jars of condiments placed on the table. So cute!
Then the drinks. Nothing fancy just a diet coke and lemonade.
Next, all the food items came at once! Which was very annoying because 1- we told them repeatedly that we wanted the salad and burrata for appetizers and the rest of the stuff for main dish but they all came out at once and 2- there was no place on the table and 3- we didn't know what to eat first before it got cold. Anyways moving on, the Goat's cheese and Goji Berry salad. It was good but I didn't feel the goat cheese at all, not even see one piece around, maybe it was in the dressing?
Baby potato chips. As good as you would expect.
The Burrata, this is the dish of the night, and it was prepared so beautifully!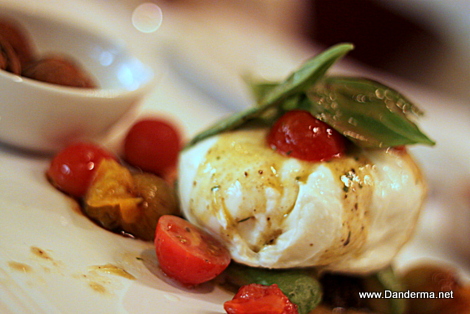 Screaming fresh, it had yellow and red cherry tomatoes, olive tapanade, avocado slices, drizzled in some yummy green sauce and balsamic, and walnuts still in their shell on the side.
That dish was simply lip-smacking.
Bo Throos wanted to gnaw on these walnuts with his teeth. Thankfully they brought us over the walnut cracker thing.
Next, the macaroni and cheese. There are two macaroni and cheeses on the menu: one with goat cheese and one normal. I chose the normal one. Its not a boring classic old Mac & Cheese, it comes with mushroom slices -tasty- and cherry tomatoes. I'd order it without the cherry tomatoes next time their sour taste was overwhelming the flavors Mac & Cheese. But it was gone in seconds.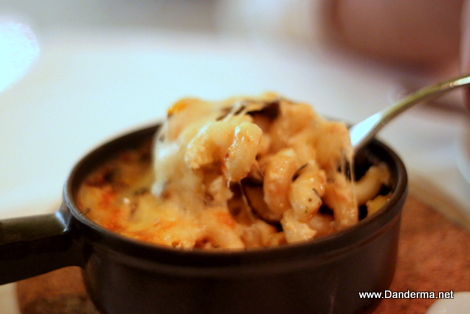 The meat order of the night was the mini burgers. My husband is not a fan of eating meat at night so no steaks for him. Two mini burgers on a wooden slab with a side of matchstick potatoes.
The burgers, according to my husband, came in brioche like bread and were succulent and very juicy. He actually muttered with a mouthful of burger at me "This is much better that burger hub's burger!". He kept talking about the burger the next day so I suppose its very yummy.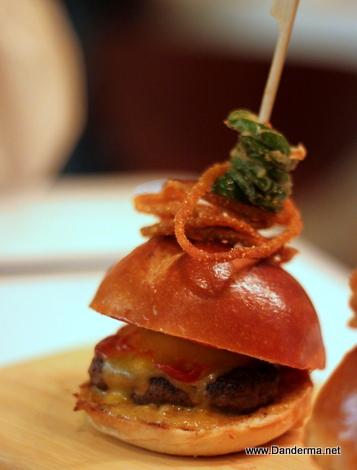 Those onion rings were cute and crunchy, I liked them! I must order onion rings the next time I'm there insha2 Allah.
Bothroos 6arat 3yonah 3la the matchstick potatoes.
For dessert we ordered the Raspberry chocolate cake with one double espresso. What we got was two double espressos immediately. We drank them slowly, then it was getting cold so we had to down them. Then we waited, and waited, and waited. In the end we cancelled the cake and asked for the check. It was 11 something and the restaurant was now empty.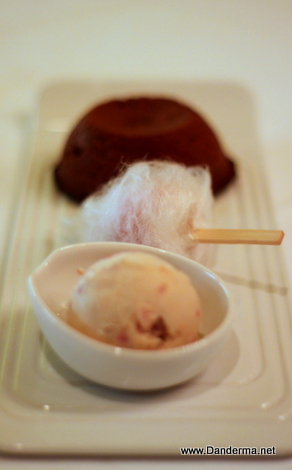 The manager came and apologized to us, then brought us over the cake and said its on the house. I'm glad he did, the cake? 3awar galb!!! It has raspberry infused chocolate center with what I assume is hints of orange, maybe orange zest? I'd go back just to eat that little peace of heaven! My GOD!
It comes this little strawberry encased in cotton candy. My husband and Bo Throos shared it between them, didn't give me a bite.
 The Butcher's Den takeaway bag is actually a reusable shopping bag! Now you don't have an excuse not to use this for your grocery shopping in the future to reduce the usage of plastic bags which in turn will help the environment.
Our check came to about 25 KD which is not bad for three people dining, but the bill can be quite expensive if you order steaks or the wagyu lasagna for example but that shouldn't be too expensive in comparison to other similar restaurants in Kuwait.
We had a great time at The Butcher's Den. The food is delicious but the service was a disaster. They didn't bring us the cotton candy thing at the start of the meal like everyone else. They brought all the dishes at once -btw pizzetta staff do the same as well- and then the incident with the dessert. But we kept reminding ourselves its soft opening only and hopefully by the time they open full time most of these issues will be dealt with.
Worth a visit? Totally! Will we go again? You bet! I am not really a fan of steakhouses as I don't really find much to eat as a Vegetarian but The Butcher's Den case is different, I still want to try half their menu!  I would wait until they open full time though so they can provide a better service and we can go for lunch since my husband cannot eat steak at night.
Butcher's Den is located in Al-Bida'a restaurant strip next to Java Detour cafe. For more information you can follow them on Twitter (@ButchersDen) or instagram (@ButchersDen).
---
4 Responses to "The Butcher's Den Steakhouse Review"