Remember my post about the Bloggers Cooking competition, Project X (post)? The actual cooking competition is going to take place on June 8th, that's in 11 days time btw. The teams are decided, the dates are set, and we had our first orientation last Saturday at Chef Boutique's headquarters.
Apparently I was the only blogger who has never set foot in Chef Boutique before, I've never been invited with the other bloggers who have been there, cooked there, and knew Chefs Olga and Vector plus knew their way around the place. A big advantage for the teams competing against each other.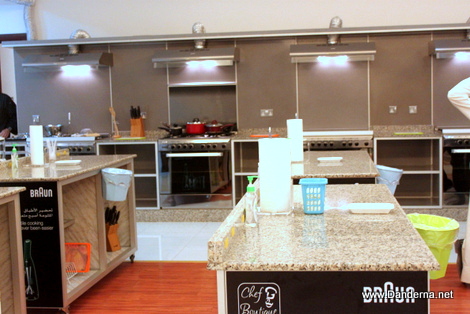 Chef Boutique is really well equipped for a cooking class, I wonder why I never took one there before? Probably because I cannot handle cooking life carcasses and am afraid I would have to.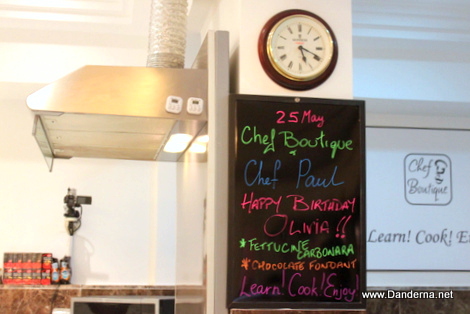 After a quick round of Project X introductions and going over the competition and its rules by chef Victor, we were shown around the place, taught some safety measures, shown how to operate a gas over (gulp! I only do electric), and then told to put on our aprons and watch a demo by Chef Paul for the basic techniques of using knives and cutting vegetables.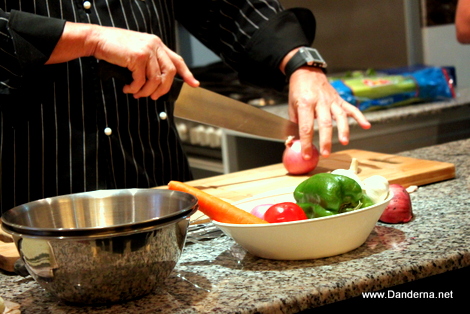 Very good techniques indeed. Its like watching The Food Network but live! I don't recall that I've ever seen a real life trained chef demonstrate in front of me before!
Here is Triple F, recording the techniques to go over them later on. Girl, any chance of switching back to you? You seem determined :p
Later on it was time to grab our veggies and head to our stations to practice Chef Paul's techniques.
Here are my cut onion and garlic. Thank you thank you, they look perfect I know

And this is my partner, Pink Girl, ele betwadena eb dahya unless she spend some quality time in the kitchen with Soma their cook! She's being a good girl here, peeling a carrot like a pro.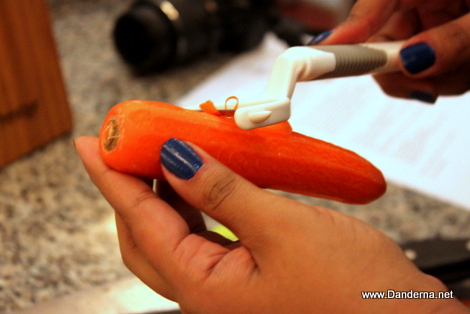 I cannot wait until the 9th of June for us to start the competition! There would be camera action and videos posted on blogs. I hope you my reader would be interested and would cheer me on.
Blogs participating, as far as my understanding goes, in teams are:
Danderma (me!) & Pink Girl, Jacquies & Swera, 3ateeja & Triple  F, Q8 Rain & Dudette, The guys from Chapter Q8, the Guys from Elderwaza. The sisters from Triples Sisters, His & Hers, Fried Junk & 7abatain blog. I know the Side Talk is participating but I don't know her partner.
Thanks to Basma 13 Cups for pulling this together. A big thank you goes to Chef Paul, Victor, Olga, and Ahmad Al-Hendi as well. May the best team wins
---
---