I love it when I see local events coming up with the cutest most unique invitations! This time I received an invitation from Miss Noaf Hussein, the girl behind Pretty Little Things expo (post) and this invitation is quite different indeed, it was intriguing

It asked a simple question: What could be under the paper grass, Danderma? Why, I don't know! Lets see now shall we?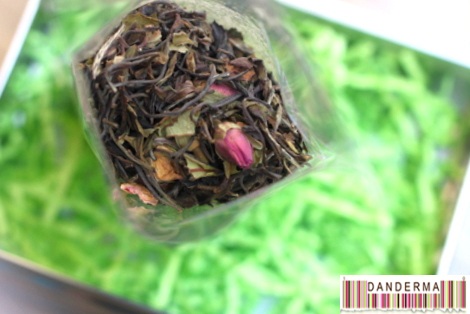 First a bag of what seems to be like dried herbs but its in fact white tea with roses! I love both: white tea and rose infused tea! I don't know if it was intentional or not but if it was then Noaf must be stalking me :p
And underneath the paper grass, there was a card! Lets see what it says…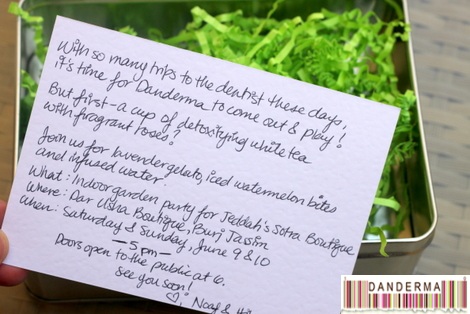 With so many trips to the dentist :'( Quite true, I have another appointment on Monday and another in about ten days! But there is an indoors garden tea party! Ice watermelon bites? Now that's what I call a party.
This thoughtfully personalized invitation is for the upcoming Pretty Little Things Summer Festival for the Saudi brand Sotra and the local store Dar Usha. Both brands will be launching their summer collections in Dar Jassim… Today!
According to the
When? Saturday-Sunday 9-10 June 2012. Time? 6 PM – 10 PM. Location? Dar Usha Store, Burj Jassim, Kuwait City.
For more information regarding the event you can check their facebook events page and even RSVP (link).
Noaf? Loved the invitation. Will be there insha2 Allah on Sunday

---
2 Responses to "The Cutest Invitation to Pretty Little Thing's Summer Festival!"