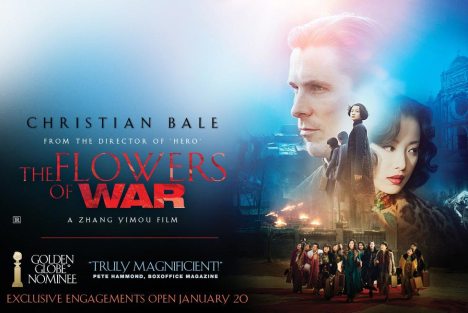 It was the weekend and we had nothing better to do so we looked up the movie listings. a Christian Bale movie was on so we decided why not? Went to see it without much expectations especially given that its release date is December 2011!
To our surprise the movie theater was almost empty! Of course seated behind us was one noisy child in his mama's lap but then that's just our luck now right? Of all empty seats in the movie. The moment the movie started my husband groaned "Its in Chinese!" but its not. Its in English with some Chinese and Japanese subtitles, and the movie was very good!
Its the story about an American undertaker who makes his way to a church in a Chinese town, Nanking , to bury the priest who had just died. His visit however coincides with the occupation of the Japanese to that town in 1927. The war scenes are both brutal and disgusting but also quite touching. You see the tears flowing freely from your eyes at how low human beings can get.
As the undertaker finally makes his way to the church, he finds out that the girl students are there all alone and that no one can pay him his fees. He wants to leave, but finds that he cannot leave those girls behind so he was stuck with them. In q8y: ebtalash fehom 3adl. It becomes even more important to get the girls out of the church when the Japanese soldiers get a particular interest in those girls.
The movie is very honest, the human feelings very pure and at their rawest element. Its ironically funny and very touching. If you don't mind a bit of Chinese with English translation -the movie is in English- you will love this one. We didn't expect it to be that good. I have now added both the movie and the book its based upon to my Amazon shopping cart, yes that good!
---
2 Responses to "Movie Review: The Flowers of War"