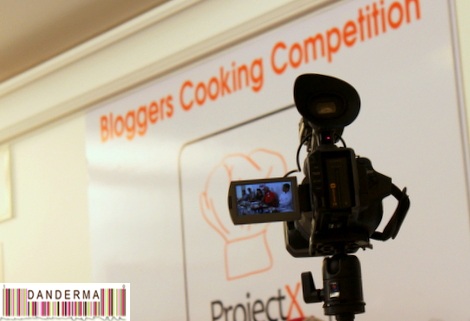 Ya shamatat abla '9a'9a feyya! We, team Pink Girl and I, lost in the bloggers cooking competition with flying colors! I believe we came last b3d :p
When we arrived at the Chef Boutique yesterday for the bloggers cooking competition, we felt a buzz of excitement in the air. Everyone was chatting and saying hello. The place was well stocked and rearranged, ready for the competition to start. Guess who joined us b3d?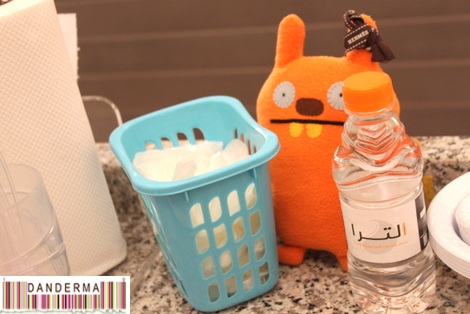 Bo Throos (post)! The bloggers were very happy for his appearance to support them y7lelah, was a little tanned after a short trip to Dubai b3d. Sadly makan wayed wayh khair 3lena :p By 4:00 PM on the dot, it was time to head to our stations and wait for the start bell.
Lets see what mystery ingredient we'd be using in the first round…
Avocados! The guys on day one got mangoes, not those were yummy and you can do one million things with them: mango raspberry cheesecake, veggies and halloumi glazed in mangoes and grilled to perfection. Avocado? Not a fan really. The only dish I know that would go ok with it is guacamole, then so be it. Chop, dice, mix.
And this was the end result. A revolting looking semi nachos salad.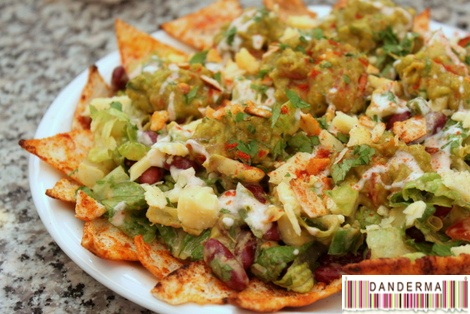 Winner dish? Yeah right -insert sarcastic tone here-. Judge's opinions? I frankly don't know. We didn't get feedback on that one but it is a classic salad dish I'd do to have lunch -with the right ingredients-. I wish there were tortillas, I'd done mini salad tortilla wraps instead.
Between rounds there was a break for prayers and lunch. Lunch boxes were provided from Lo Fat for everyone. Healthy and tasty.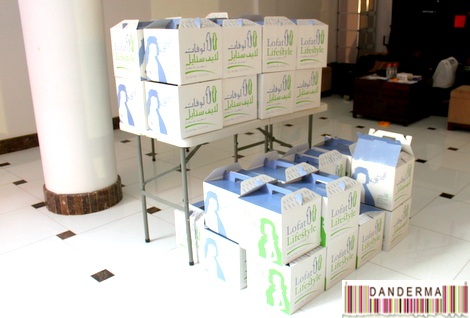 Inside the lunch box: Chicken Byriani, yogurt, apple juice, and Chocolate shortcut cake.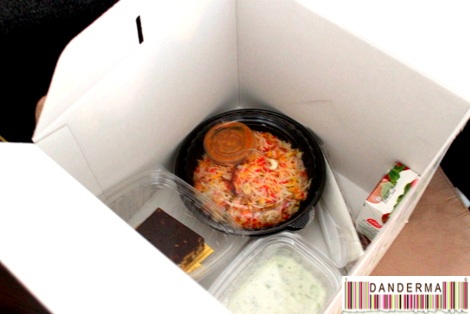 At around 7:30 PM round two kicked off with the mystery ingredient. Here is my hands innocently unwrapping the ingredient, hoping for the best.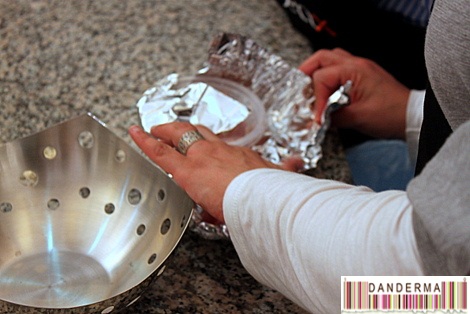 Right there and then I knew we were screwed. It was a box of bacon. Yes, indeed, bacon. Pink hates bacon, I'm a vegetarian who specifically stated that I won't be cooking meat and I was assured they will keep that in mind. Yet here I am, staring at bacon. Hallelujah!
Oh why couldn't it have been a burrata? They got blue cheese int he first day! I want cheese, cheese is my friend. I would have whipped up a fancy macaroni and cheese baked inside red bell peppers with the blue cheese. This 3ella shasawee feh?
Pinkgirl mixed it with some honey and chopped peanuts with a bit of Siracho from the judges tray -to earn us some points- plus some rosemary and thyme. Why? Well I thought we'd do some coating. Don't they do that on TV? They crust the meat with things? maybe it needed some eggs? god knows.
Then came the joker ingredient: Nuttella! I don't like it, nor the bacon naturally. Thank god I didn't go with a pasta option! Imagine creamy bacon pasta topped with Nuttella? Ybooy!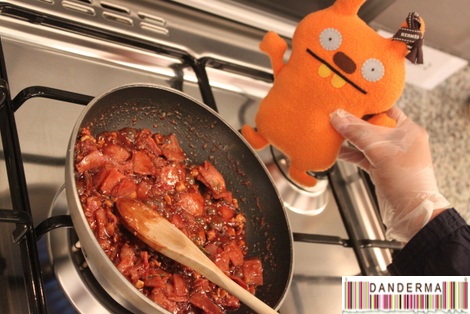 What did we do with it? We mixed 3/4 with the bacon mix which already has honey, and the remaining 1/4 we spread it inside a baguette. Mixed some other stuff, made a salad.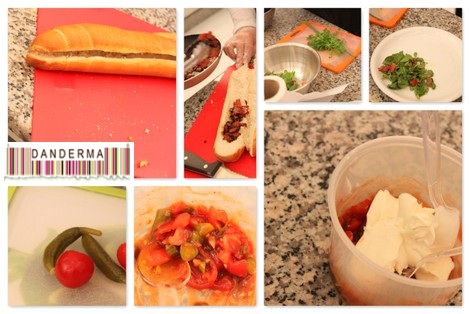 And the "dish" was done! What is it? Well, a sandwich of course with a side salad. Very complex mo?
What's inside? Kil khair insha2 Allah. A white baugette spread with a thin layer of Nuttella. Stuffed with the Bacon Peanuts Siracho Nuttella and herbs mix, and topped with the tomato pickles cream cheese mix, some rocket leaves, and some tomato slices.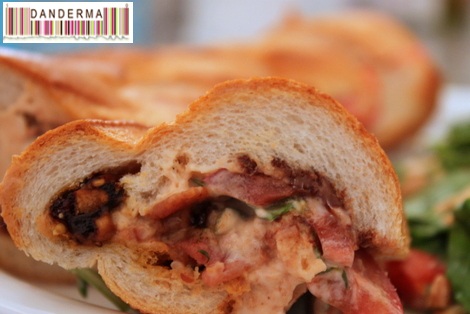 Taste? Are you kidding me? It has Nuttella and tomatoes and bacon. Ugh! The side salad however I thought was okish. Chopped herbs, diced tomatoes, rocket leaves, and a tiny little chilli pepper chopped with the herbs. Dressed with a lemon thyme peanut butter dressing and topped with chopped peanuts. You know the peanuts to go with the peanut crust of the bacon.  Bo Throos wasn't happy though.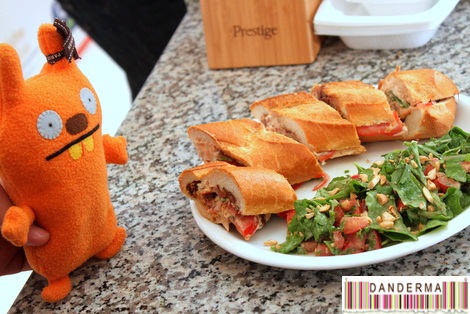 Can you tell from the reaction on the judges faces if they liked our dish or not? Why of course not! They said it was too spicy and the Nuttella spread on the bread didn't work.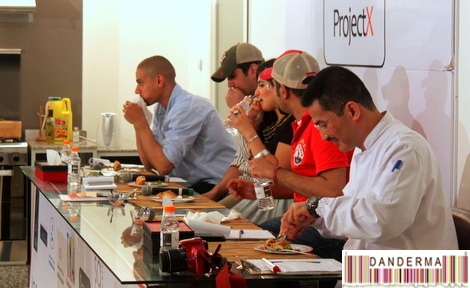 While waiting for the judges to finish tasting the other dishes and make their verdict, we found that someone had brought over a box of Brown Diamond sweets so jabalnah o gazarnaha chai o gahwa. I loved those little chocolaty bites! Whomever brought them, thank you!
In the end we did get something, or should I say some things, for we didn't leave back home empty handed.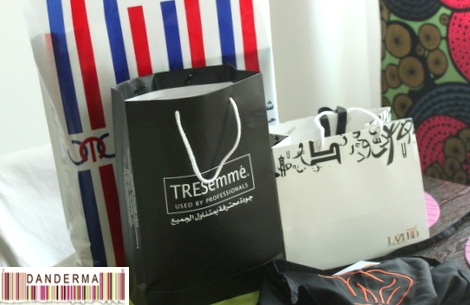 The set of knives we've been using, Brown multi quick devide, the apron , a 20 KD voucher for Xcite website, a collection of pinapple scented fruttini shower and body creams set, and lazurd biscuits.
Though we lost, we had a great time because we laughed so hard! It was one of those nights where you laugh so hard your facial muscles start to ache. We are also very happy and proud of the winners who totally deserved it: El-Derwaza, Triple F & Urban Q8, and His & Hers. Congratulations guys! A big thank you goes to the guys behind project-x: Basma Al-Musallam, Ahmad Al-Hendi, Chefs Victor & Olga. Last but not least a big thank you goes to the brave judges who endured the disasters we called dishes: Fahad Al-Yahya, Basil Al-Salim, Jumana Al-Othman, Ziad Al-Obaid, and Chef Mongkon.
In conclusion my dear blog readers, I have learned yesterday that I am nothing but a big, obese failure who can't do anything. The reality check moment is now recorded for the world to see, as soon as the videos are ready will post them so stay tuned.
---
22 Responses to "Project-X's Day: The Bloggers Cooking Competition"