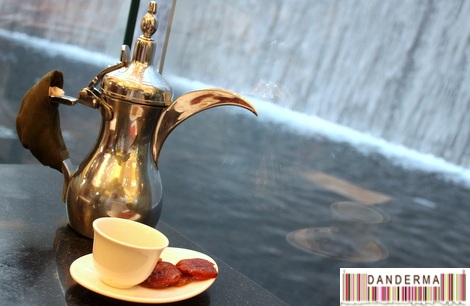 Ever since I've first set foot in Dubai mall, I've cast long sad glances at the bottom of its spectacular fountains and wished I could sit as close to the fountain's pool as I could. Sadly, the only two restaurants with tables overlooking that area were Entercoute and Bateel.
I don't eat at entercoute as I am a vegetarian and I always thought Bateel as a place with dates only that I should overlook. That I was until I heard about their supposedly must try heavenly Arabian coffee.
Again, I'm not a fan of dates or Arabian coffee because I have yet to find someone who brews it without "mismar" and makes it taste good. But we were tired that day after a long day walking around Dubai Mall and we wanted something light and quick so we thought why not? Lets give it a try and see if it lives up to the hype.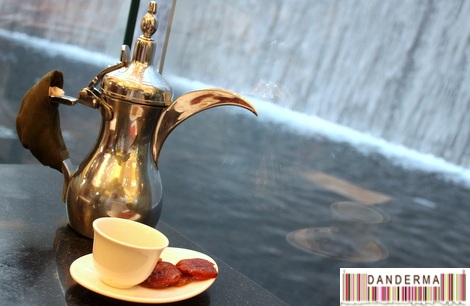 The dallah of Arabic coffee arrives with a small plate of three dates. We also order some more dates to go with the coffee that come with a side of frothy buttermilk like thing.
As we pour the coffee its delicious smell fills out nostrils, making us feel like we are snug at home during Ramadan. We hoped it tasted as good as it smelled.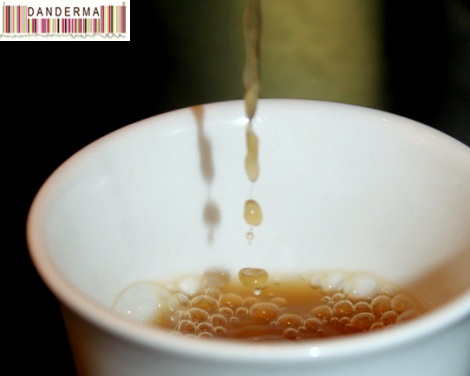 And what do you know, it tasted divine! We literally drank up the entire dallah between us two! It had a tangy taste that didn't come from the mismar and plenty of cardamom. We opened up the dallah head and peeked inside.
I think they have added chopped ginger to the brewed coffee instead of the mesmar. Which resulted in the tangy heat after taste but none of that disgusting machboos like taste in your throat. I loved it.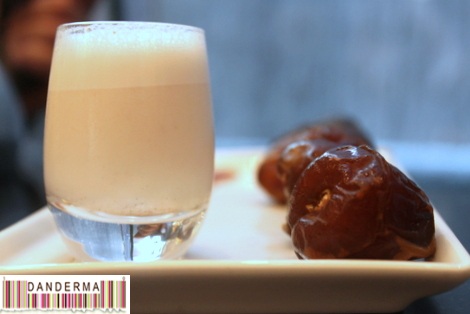 Did I mention that my husband went gaga over the little buttermilk like jug infused with what seems to be vanilla and cardamom? He loved it too.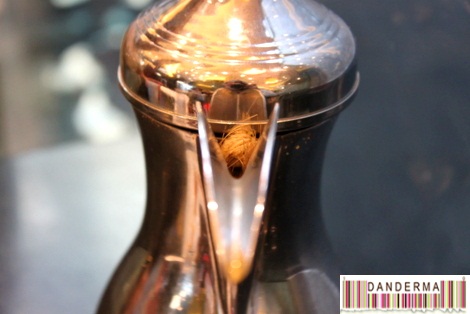 Bateel's Arabian coffee was amazing. Sipping it while sitting next to the fountain's pool and enjoying the soothing sound of the waterfall was a lovely relaxing break. I'm sorry I never stopped there before. I sure will every time I'm in Dubai insha2 Allah.
Bateel is located at the lower ground level of Dubai Mall. Follow the fountain's sound and you will be there. Enjoy

---
4 Responses to "Things to Do in Dubai: Bateel's Arabian Coffee"