http://davidpisarra.com/author/dpisarra66/page/3
For the past year all I've been hearing from people who frequent Dubai was Zaroob and Zaroob. I've seen the pictures and I liked what I saw, a middle eastern eatery so funky you can spend hours looking at the different decor details and yet discover something new.
Located in Jumeira Tower overlooking Sheikh Zayed Road, you cannot miss its pink and lime green logo. They have a lovely outdoors seating area that we must try one day in the winter insha2 Allah.
The inside is wacky! I wonder what this style is called, I'm so in love I want to copy the decor in my living room and rearrange it all over again!
The chairs are actually tanakat olive oil! Nice!
The wall drawings! Jongar! My favorite childhood cartoon character! Captain Majid! Whomever designed Zaroob had to be an 80's child for sure, something I can relate to! I want that wall in my living room now shloon?
The restaurant was very busy indeed so we grabbed two chairs at the juice bar and waited. Check out Sindibad!
The fruits looked so fresh!
We waited for a long time but no one gave us a second glance. We changed our table to on with the olive oil tanks seats and again waited while we kept going over the menu.
You order by ticking what you want from the menu above. They have a vast selection of familiar dishes we love: Hummus, Fool, Falafel, Eggs, Fatayer, Saj, Koshari, Shawerma, etc. The juices are ordered by ticking the juice boxes in the place mats.
We ticked the boxes and waited until finally a waiter arrived. By the time he did we were nearly eating the menu. We placed our orders and took some more pictures. Check out the bread basket!
Thankfully the food arrived in a blink! First we ordered two fatayer bites: zaatar and cheese. They were OK but nothing special. I won't order them again because there are better things to order from in the menu.
Cocktail juice! Or as I call it cocktail ma7thootha o mabrooka! I was craving it forever. Looks delicious. However, it was not cold at all, nearly hot! It wasn't as good as I thought it would be. If only it was cold 7safa

All the food arrived at one afterwards. There was the meat shawerma drizzled with rob romman (pomegranate molasses) and my husband says it was very good. He polished the dish off.
I ordered a falafel sandwich. It was ok, nothing special. I don't think I will be ordering it again.
Koshari was up next. A huge plate of Koshari was placed on the table. Again it was OK but nothing special. Still the Shawerma was the star of lunch.
Last but not least came the fool. I didn't expect it to be that good but the presentation was very cool with a tiny fool 2odra and the works. So cute.
When I took the first bite I couldn't believe it, we struck gold again! Zaroob's fool is awesome! It was really really really good!
By then we were full which is too bad because I really wanted to try Zaroob's Karak tea

They say its very good.
All in all? It was a great experience. Insha2 Allah next time we are in Dubai I will go to Zaroob for breakfast and try different dishes + the fool. I loved the atmosphere very very much! The place was full and most of the diners were young Emarati people.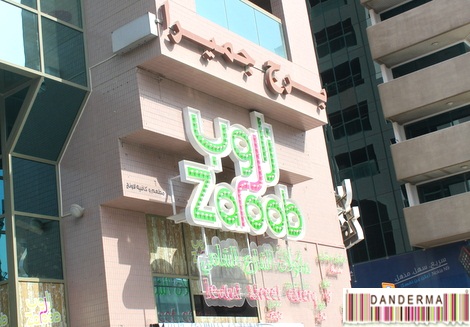 Zaroob's service is the only thing I can complain about. The waiters were running all over the place and up and down the stairs, that's why taking the orders was slow  and the place is too small for more waiter. The good thing no one will bother you by hovering over your head asking you how was your food and you are trying to reply with a mouthful of half chewed food that its OK.
Zaroob is located in Jumeira Tower, Sheikh Zayed Road. For more information and driving instructions you can check Zaroob's website (link), their facebook page (link), or follow them on twitter (@ZaroobDubai)
---
12 Responses to "Things to Do in Dubai: Zaroob Restaurant"