http://studio212photo.com/defaul1.php
A month ago I wrote a post about a group of stray cats who had taken hold of our doorway (post) and asked for ideas on how to get rid of them. We began spraying the doorway with Clorex and Dettol so they sought refuge on the other side of the house. We could see them playing in the pots and hiding under the table. One weekend however, the small kittens disappeared all together.
buy prednisolone eye drops online When they disappeared, we felt thing pang of sadness because their mother was mewing her heart out, standing as close as she can to our door and mewing again and again. We thought someone had taken the kittens and left the mother, how cruel is that! The cat was clearly heartbroken. Three days later however, we were on the side of the house watering the plants when we saw this peeking at us!
How cute! And they are back! Where on earth were they? God knows! Maybe one of the neighbors took them in then discarded them! We realized we were very happy and relieved to see them. Their mother is still scary and hisses violently when she sees us but the little ones are so cute especially if they are alone, they love to play and peek at us!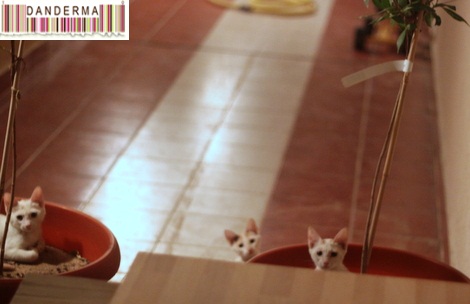 Now we even named them! The one on the right in the picture below is lolo. She is very naughty and the most friendly of all three. She loves to peek at me wherever I go and she even waits for me to come from work and peek at me shyly every other day. The one on the left is Nefertiti. She is always aloof and very brave, wouldn't leave her place however close we approach. She just looks at us in nonchalantly in a look that clearly says "Whatever". The third one is the most cowardly of them all and we cannot even look at him without him running away. We don't have a name for him because we don't know him.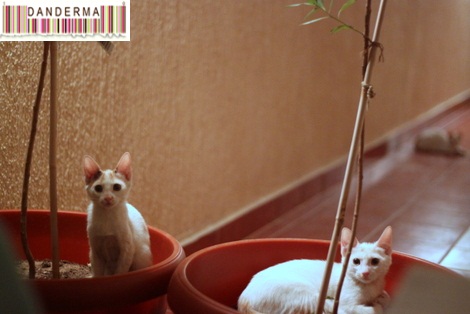 We gave them water and took turns taking pictures of the cats that night. Apparently my husband had been feeding them  cheese behind my back near those pots but I didn't say anything. They love the pots, and they follow my husband wherever he goes -Nefertiti and lolo do anyways, the third one is always hiding-.
BUT… in the morning after these pictures,  I wake up to go to work to find THIS!
and then THIS! BAD LOLO!
Fish smell everywhere! G63! We sprayed the entrance again with clorex and dettol, yet the little ones seem to not mind the smell at all!!! My god those kittens are intelligent. They know we are being friendly so now they don't mind us at all like before. I'm going to buy a cat repellent spray and use it at the door of the house. I don't mind them being on the side though. After all, they will grow up and leave one day, right?
---
30 Responses to "Update: The Stray Cat Situation"