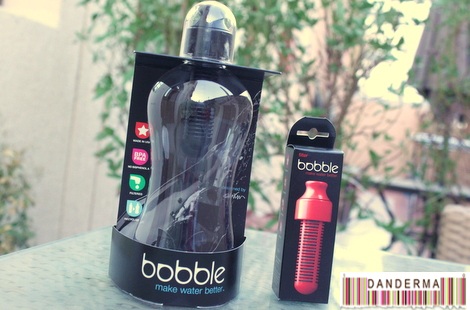 Last week I had received a new product I've never used before: a Bobble water bottle. Since its summer time and we need to drink water all day long to stay hydrated I always have bottle of mineral water at hand.
I've been told numerously that mineral water isn't healthy because of the toxins in the plastic bottles and kidney stones forming because of the minerals. The alternative is to drink filter water from the kitchen faucet. Bobble can be filled with filter water and kept to chill in the fridge and then, as you drink, extra filtering of the water is done instantly.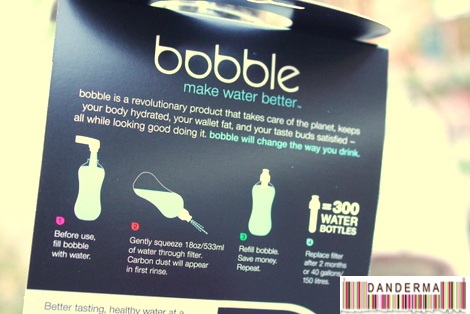 The Bobble filter is a carbon based filter. Frankly I don't know what that means as I'm not a chemist, but its supposed to remove all odors and chlorine or other chemicals from the tap water while you drink it.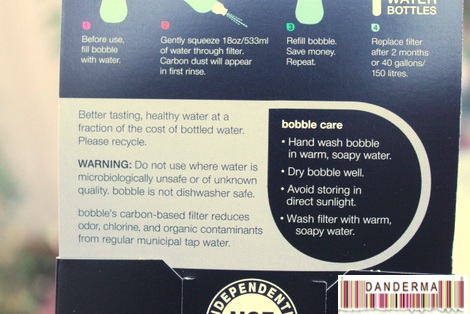 The Bobble bottle is made of very light plastic and can be filled with up to half a liter (500 ml) of water. It looks sleek and modern and you can change the color by changing the filter.
My Bobble bottle came with a red filter. The filter needs to be changed after about 300 refills of the water bottle.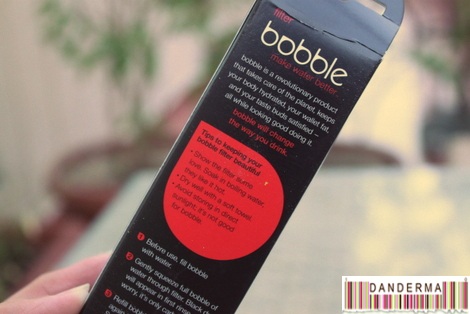 I followed the instructions, filled the Bobble with tap water and kept it in the fridge to chill, then I took it with me in the weekend.
How was it? Well, the filter water did taste better. Not as good as Volvic's water of course but its more like Abraj or Aquafina. Sometimes filter water can have a metallic taste especially when its warm, as we say in Kuwaiti "7alay" but when you use Bobble that taste will not be present. Bobble is light and stylish and can fit inside my purse. Idea for taking on a walk or for the gym.
One thing I didn't like is the head of the bottle, you know the one you have to pull out and then it squirts water into your mouth to drink? It annoys me, I usually like to sip my water but I know people who don't mind the water squirt thing so its no big deal if you are a fan. I just wish it came in a version that allows sipping.
Bobble filtered water as available in Kuwait by online orders from www.Bobble.biz or by calling 50643211 or by sending an email to info@bobble.biz. Thank you Mr. Fahad Al-Modhayan for sending me the Booble to try. I hope my feedback was helpful.
---
---