luxuriously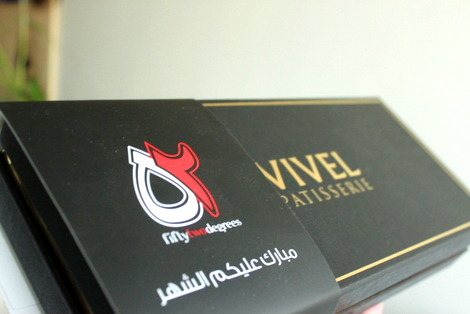 52 degrees sent out a lovely Ramadan gift plus Ramadan event invitation in this big nostalgic bag.
Even though it was sent to my old address I was lucky enough to have intercepted it and got it in time! Inside was a big Vivel box with stuffed dates. Perfect for Ramadan!
And an invitation card with my name on it.
Its an invitation to 52 Degrees Ramadan's Exhibition held next Monday 16 July.
Last time I was there signing my book contracts I saw some cool new trays and items. I actually bought myself a side table

I'm going to be there again next week insh2 Allah, I have to check out my new book too 😉
52 Degrees is located in Al-Tilal Mall, Shuwaikh. For more information you can contact 52 Degrees on their website (link) facebook page (link) or follow them on Twitter (@52Degreeskw) or instagram (@52Degreeskw).
---
2 Responses to "52 Degrees Ramadan Exhibition & Gift"