Jahānābād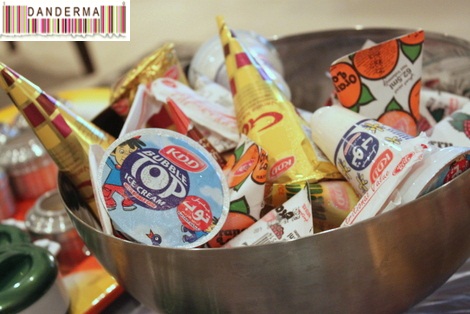 buy modafinil usa Continuing here from Part I of the Dathra Book Launch 80's Party (post), for drinks we had soft drinks, Se77a bottled water (may 9e77a), sunkist -which was very popular-.
Lagoa do Itaenga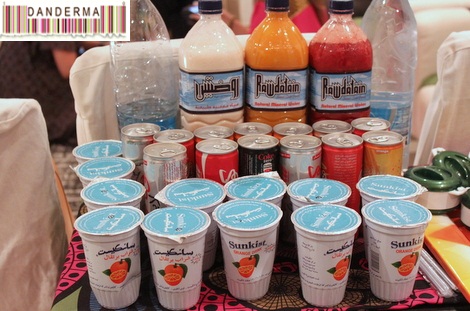 where can i buy Misoprostol over the counter Dear Ansam brought over 3 water bottles filled with juices (strawberry, mango, and banana milk) to make the cocktail juice like the olden days! Akramch Allah Ansam :*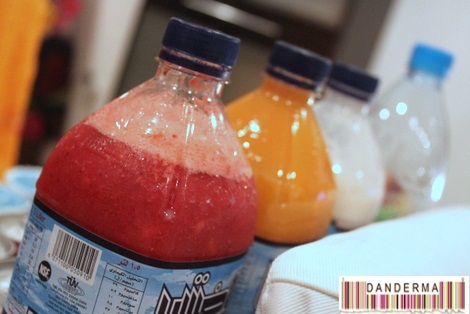 Desserts time!
For desserts I chose the most basic dessert of all time, fruits! Went with bananas, apples, and oranges. Nothing too fancy. I wish I had laid out a bowl of watermelon slices but I didn't have time.
Next came a very retro cake of half blackforest and half white sponge with cream and peaches. Can't get any more 80's than that

Also some gateaux pieces: millefeuille, eclairs, and the rest of the 80s favorites.
Also I brought out a big bowl of KDD ice cream. The girls were very happy with it.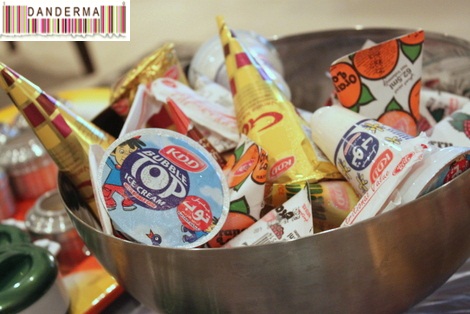 More oldies ice cream, this time brought over by Pink Girl. Guess the name of the popsicles brand :p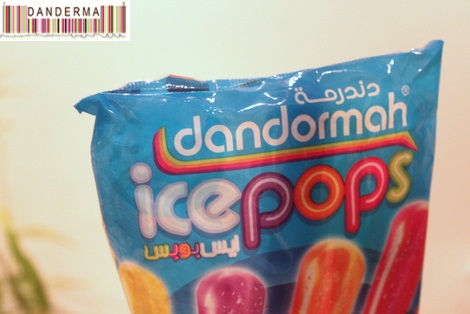 We decided to place them on a long vase with ice on the coffee table next to the flowers.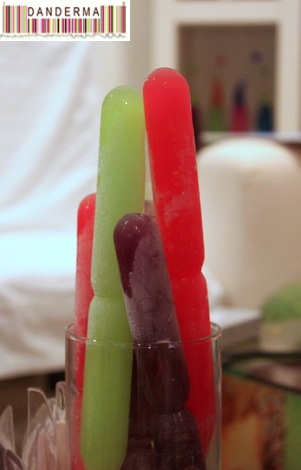 Dear Noon brought over my favorite coffee sweets of all time, the mini brownie like bites from sugar and spice. I eat those like I eat popcorn, they are so addictive! Sadly all my pictures were badly shaken so I had to steal the one picture I could find of them from Jacquies. It's also the only picture I had of the utensils we used, mistmatched and placed in the cocktail paper cup.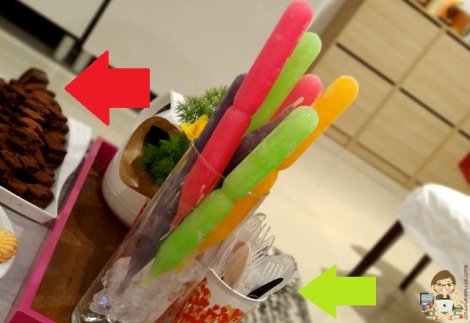 Dear Um 3zoz also brought over my beloved Gelato Italiano Gelato Gems (post)! I almost squealed with delight! Perfect for a summer party indeed! Akramch Allah Um 3zooz :*
Dear Al Noury arrived with a old fashioned Kuwaiti tray chock full of mini pots filled with Muhallabiya and Elba. Elba is an old traditional Kuwaiti dessert that is similar to cream caramabel but infused with saffron and cardamom and is very good. Al-Noury's elba was so YUMMY! Akramch Allah Al-Noury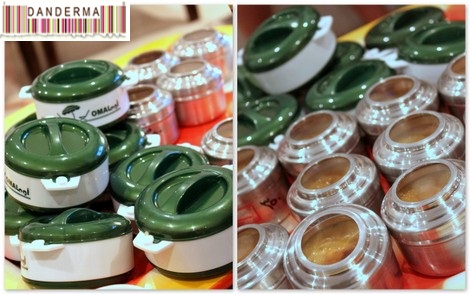 Here is Dudette enjoying her elba. I stole half the picture off her post!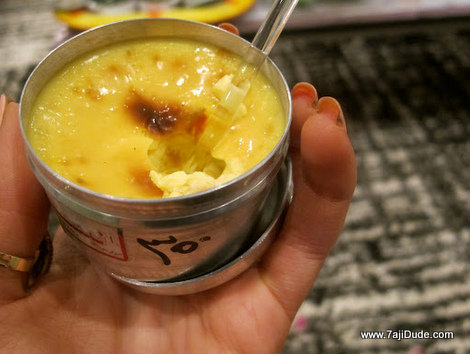 Al-Noury, famous for her tea rituals and the Arabian coffee she takes everywhere (post), brought over the Arabian coffee served that night. It was delicious! Akramch Allah Al-Noury 😀 Again, picture taken from Dudette .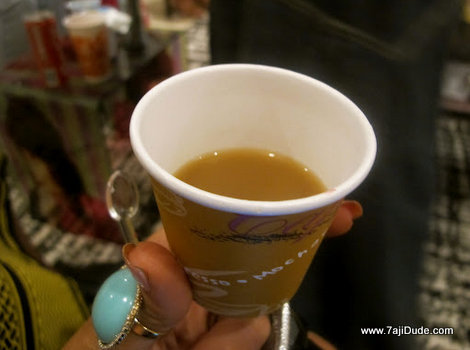 As for the tea, well, I had ran out of Dathrasim so I had decided to use my favorite Pieces by Farah estekanas with my parrot sugar pieces.
Guess who decided to crash the party as Jacquies + 1? Dathra herself! Dathra doll is a present from Jacquies to me and she will have her own post insha2 Allah! Thank you Jax :*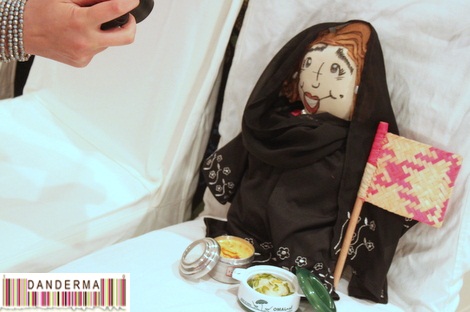 I was in for a nice surprise too. You see, Ansam brought over a cake and when we opened it it said "Happy Birthday Danderma" even though my birthday was 6 days away! She insisted on lighting it and celebrating an early birthday for me. Here she is lighting up the candles in Pink's picture.
Everyone sang Happy Birthday to me, which sealed the deal and made it feel exactly like an 80's birthday party! Thank you dear Ansam, I was really touched :*
For entertainment we played a selection of 80's and 90's popular music throughout the party. With every song you'd hear a guest going happy over the song! I wish I had more time to play the selection I had prepared though. Plus, since the guests arrived wearing dathra clothing, we put it into a vote to determine who was the most dathra guest.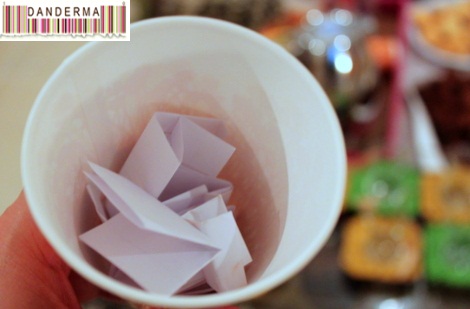 The votes were divided between three girls: Jacquies, Swera, and Dudette. Guess which girl won the most dathra outfit?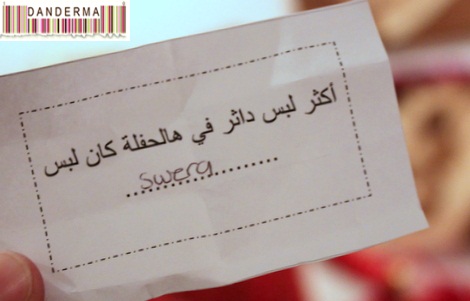 Swera! Her prize was a not-so-dather Apple TV which was wrapped in, e7em, a scrunched up Co-Op bag. Congratulations hon and sorry Jacquies :p P.S. I borrowed the picture from you :p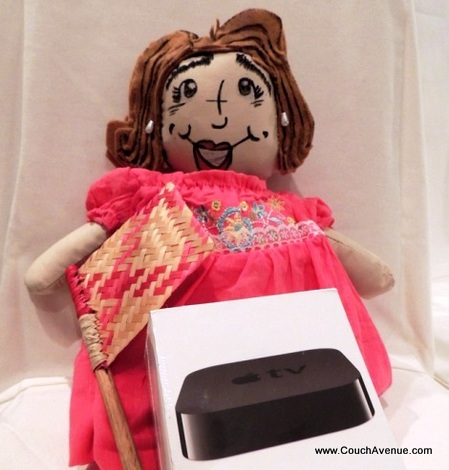 Thank you girls for coming and for sharing in my special dinner, it meant the world to me! To check out the girls crazy outfits and see the party through their lenses, you can check out their party posts: Pink Girl, 7aji Dude, Jacquies, Swera,  Um 3zooz, and Ansam. Thank you Ansam for turning the book party into a surprise birthday party and thank you noon for my beloved brownie coffee sweets. You cannot begin to imagine how much I adore them <3 The Side Talk was my right hand and helper during the party, maskeena she helped arrange and open and move and retrieve and cover back everything for me every step of the way. Girl, I loved your gift, thank you love :*
I wanted to add watermelon slices and old jelly cups with canned fruits to the desserts but I didn't have time to do either. I also wish I had more space to invite more people but it was a very tight squeeze. I now know that my living room cannot take more than ten guests at a time. Now, I cannot wait to plan my next party… I think I'm going to have either a Qraish or a Spaghetti party 😉
Shraykom?
---
6 Responses to "The Dathra Book Launch 80s Party – Part II"