Last week I received a very cute invitation + Ramadan nuqsa from the newly opened Fursa store (post). The event was yesterday and it was my first time visiting Fursa.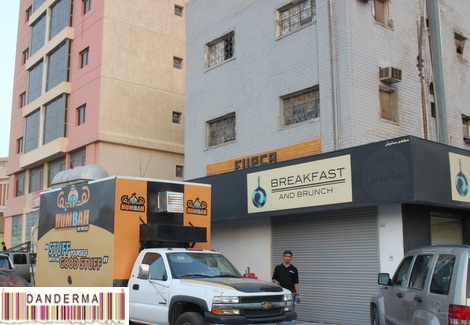 When I finally found the place -just take a right when you see The One Marina Mall then take the first left and the store will be on your left- I took a moment to gaze at the old building from the sixties. I love old restored placed, they have such charm and character, I knew I was in for a treat.
Fursa's door is big and colorful leading into a small shaded area with outdoors seating. Very cosey, messy, and colorful. Just the way I like it.
On the wall of the shaded area you can see little paintings done by terminally ill cancer children from NBK's hospital. Fursa sells these painting and the money from their purchase goes towards KAACH. The paintings are beautiful and fursa's gesture is more than touching.
Up the stairs we go to check out Fursa's store and their Ramadan event.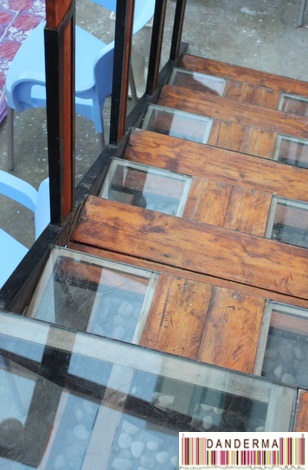 The place is fabulous and just as I anticipated, bathed in modernised 60′s charm. I know I was supposed to check the Ramadan collection but I couldn't tear my eyes away from the retro interior details! Like those light switches in gold over a pale pistachio paint.
Cage like chandeliers… check out the electrical wiring! So pretty!
A sealed doorway!  Clever idea.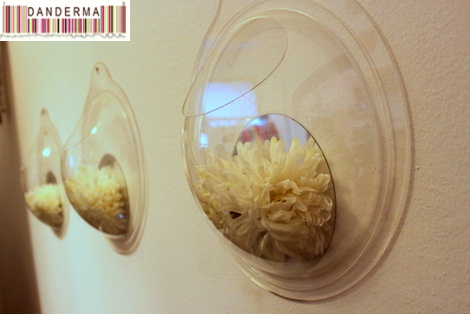 Now to the merchandies, the section I was looking forward to is Dania Al-Jassim's designs. You know my side tables? The ones I adore in different old Kuwaiti figures I've shown on my blog millions of times? She's thier designer.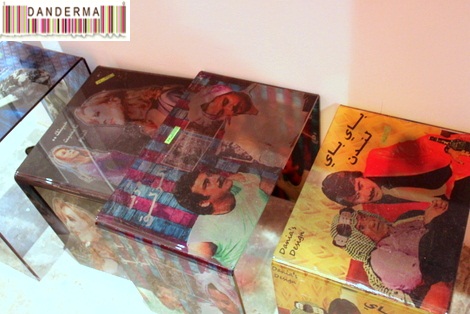 Now that Darb Al-Zalag table would go with my living room but I already have too many side tables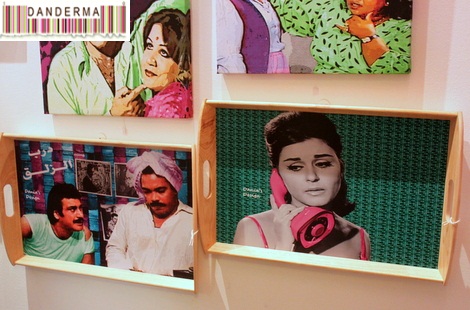 Also by Dania, wall art and trays. I would have loved a tray only it was wooden. If it was acrylic I would have bought them all <3 Next were some tea boxes and divided trays to use during Ramadan -or after, zwara mathalan-.
Very cute baby dresses with the old song lyrics "Shetdawreen ya um a7mad" written on the front. "adawer ibriti" on the back. Yshawgoon!
Yasmeen Al-Othman, one of Fursa's owners, is wearing a similar dress with her very cute baby girl masha2 Allah.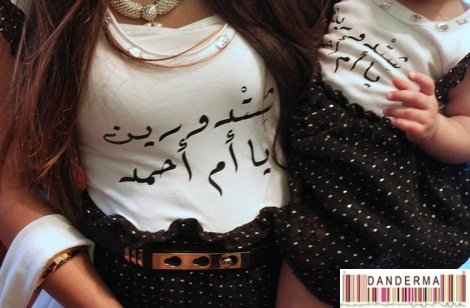 Shaikha's dara'a designs were there but it was very crowded and women were trying on clothing fa I snapped a few pictures.
Bags with modern glass handles and camel or mubkhar engravings.
More merchandise by other designers.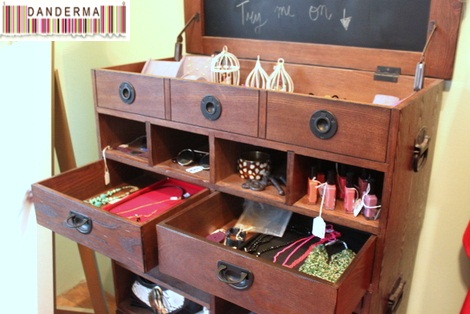 One of my favorite items displayed was those T-shirts by Day N'Age. I don't know about you but I personally prefer to purchase one of those T-shirts and cosy up on the couch with a pair of sweats after futoor instead of get all glammed up in dara3a's.
T-shirts are my own brand of dara3a I suppose, I always buy myself a few new funky T-Shirts for Ramadan. I have heaps of T-Shirts in my cupboard but I just adore them <3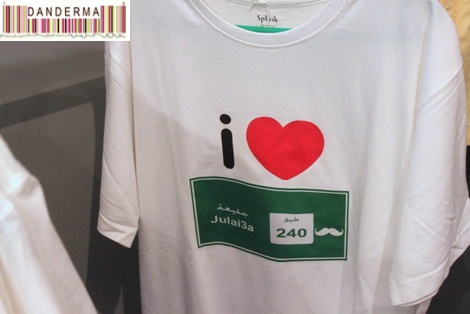 For the event Fursa had provided cold juices and refreshments, Arabian Bootha, and Humbah hamburger van outside.
It was a tad too crowded and hot therefore I didn't stay long. I am planning on going back in the morning time to buy myself a few things 3la rawa2a and donate some stuff. You didn't know about the donations? Outside Fursa there are boxes for you to drop your donations. You can both help out and declutter by doing so.
Thank you Yasmeen & Jumana Al-Othman for your invitation and hospitality, I will be back soon insha2 Allah

Fursa is located in Salmiya right next door to Breakfast & Brunch. For more information you can check their webtie (link) or follow them on twitter (@Fursa_Q8) or Instagram @Fursaq8
---
---