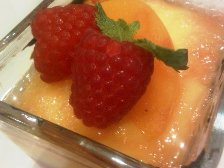 I love peaches, i love rasperries, and i love Creme Brulee…
I was in the mood to eat some creme brulee, the original recipe calls for some eggs and you seperate them and have them cooked with cream on a boiler and whisk and ble5… Slaving over the stove is  not my style in cooking! I can't be bothered with all that mess frankly!
So i came up with this!
I used ready made custard mix made with low fat milk, and then sprinkled some sugar on top… it is as close to creme brulee as u can get without the mess, effort, and extra calories… and i had some fruits incorporated in as well… making this a fruity, yummy, easy dessert that can be done in less than 30 minutes and is virtually fat free…
You will need…
Arrange the peach slices at the bottom of your serving plates
---
12 Responses to "Fast, Virtually Fat Free Raspberry n Peach Creme Brulee"