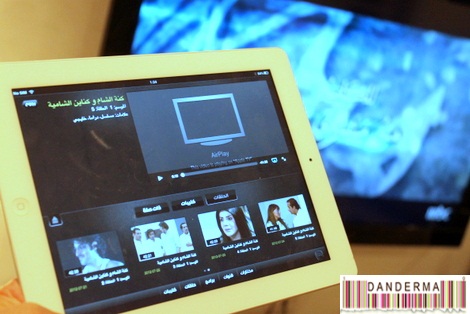 One of the Ramadan 2012 serieses I'm watching comes at the time where I'm suppose to be out in the evening visiting relatives or running errands. So the other day I was reading Jacquie's post (link) regarding Shahid.Net's iPad application that enables you to view episodes of the Ramadan serieses shown on MBC on your iPad. I decided to give it a try.
The application downloaded in a blink and is very easy to navigate and use. It was late at night, around 1 AM, and I wanted to watch Kannat el Shamiya's episode. I thought to myself that instead of watching it on my iPad I'd watch it on my Apple TV so when the video streamed it showed directly to my TV.
The quality of the video is a tad degraded but its not that big deal. You have to wait for the video to stream, then go through ads -yes, Zain ads- then wait a bit as the video stalls in some points.
For the first 25 minutes the video ran almost smoothly with only two Zain ads. Then one of the ads made the entire video stall and I had to reload the entire applicataion, only to find out that even if I fast forwarded the video to minute 25, I'd still have to watch those ads again, twice. Then at minute 31 the entire application decided to not run anything, and then I restarted the thing, fast forwarded the episode, and saw the same Zain ad  two more times in the process, which made the total number of times I've seen that bloody ad 6 times!
Then at minute 33, and it was now 2:30 AM, the video just wouldn't move on so I gave up. I suppose they have a lot of traffic and the way the ads just halt the video and start on their own would be confusing to users. I know I won't be using the app again soon since I can watch the same episode on Youtube uninterrupted but it is quite a good idea to provide the episodes for the viewers on Demand.
To download the app click here (link). You might have better luck watching with it than I did.
---