Cremona
A long time ago my husband expressed a wish that we try and make our own waraq 3enab bel zait -stuffed vine leaves- at home. I don't know why given that with a single phone call you can get a perfectly find plate delivered to your house, so I ignored him, well, for over a year.
Last week I came home from work to find him had prepared the jar, the rice mix, and the pot for me so all I had to do was wrap the waraq 3enab and cook them, which is the hard part of course. Needless to say the result was what you can see above and the taste was horrible like what I had expected. Then later on at night, something, like defiance, came over me.
Why couldn't I make stuffed vine leaves? What am I missing? I made the man go to the Co-op and buy us more jars of vine leaves, remade another round of rice (1/2 cup washed basmati rice with 1 chopped tomato, 1 chopped onion, 1 crushed garlic clove, chopped parsley and mint, and around half a cup of lemon juice and a dash of olive oil with salt and pepper to taste).
Then I took and washed the vine leaves. I always knew how to wrap vine leaves given that I've watched the women of my family do it all through my childhood. I just had to brush on my skills and know how much rice mix to put inside -around a table spoon only- and I was good to go. They never come out the same size though

I made a call to my grandmother just to double check how to cook the thing -my first trial was a disaster-. She was very excited and gave me a walk-through :p You take a big pot, layer it with sliced potatoes and a drizzle of oil -so they don't burn and stick while cooking-. Layer the wrapped vine leaves, top the lot with water and lots of lemon juice and olive oil, place a big heavy weight on top so it weighs down the dish, let it cook on the stove until the water boils and then lower the heat to minimum while its cooking and keep it for around 1 and a half hour to two hours.
When the time is up just remove the weights and turn the dish upside down et voila!
The potatoes are so soft and drenched in the lemon olive oil sauce <3 The waraq 3enab are perfectly cooked and firm yet juicy! They taste so SO good! Then I transferred them gently to the serving plate.
And they are ready to serve!
Well, they may not look that good, but to me they looked amazing and the taste was out of this world.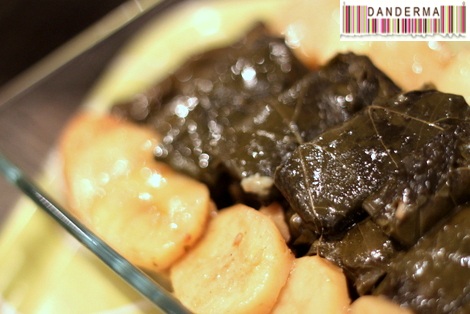 The potatoes… the potatoes my god they are a little seared at the bottom and so juicy!
I'm proud. Full stop. In the end, I feel self sufficient. Frankly, I think my very own waraq 3enab is the best waraq 3enab I've ever tasted it in my life. I might be biased given that I made it, but I'm glad I did. I made my own waraq 3enab and it turned out divine, yay!
---
14 Responses to "Making Waraq 3enab… and Succeeding!"