Monheim am Rhein
I had a dinner party yesterday and I've decided to make the salads myself. I was leafing through my cookbooks when I saw a recipe for a salad with popcorn as an ingredient. At first I was like, really? popcorn? Then I thought to myself why not? The salad recipe I found had plain popcorn and radishes with veggies and wasn't that interesting so I decided to make my own version of a popcorn salad. After all, flavored popcorn have officially become a craze in Kuwait these days so how bad can it turn out really?
Danderma's Popcorn Salad Contains: Caramel & Nut Popcorn, Goats Cheese, any available leafy greens in your fridge, Vinaigrette dressing, and Balsamic Glaze! It may not look like that appetizing but in reality it looks so much better and tastes really, really good! What will you need?
Ingredients:
A handful -or a cup- of Rocket Leaves. Fresh baby spinach leaves would work beautifully as well.
2 handfuls -2 cups?- of mixed lettuce leaves, the ones with different shapes, shredded.
A handful -1 cup-  of normal everyday lettuce, shredded.
2 small packets of goat cheese.
1-2 Cups Caramel and nuts popcorn from any brand you like.
A bottle of balsamic glaze, available in TSC.
Vinaigrette dressing, you can Google the recipe it or buy it in a bottle. I usually make mine with no measurements as I depend on what I think is OK and add whatever herbs I have handy -fresh thyme, rosemary, etc-. I use a jar, pour in the ingredients -mainly good quality olive oil and balsamic vinegar- and once done I just shake it and pour it on my salad.
Now for the salad assembly, very easy indeed:
Shred and place all the lettuce leaves and the rocket in your bowl.
Slice the cheese and between your palms turn them into balls.
Make -or use a ready made- Vinaigrette dressing and toss the salad leaves with it along with a little salt or pepper.
Add both the cheese and popcorn and give it another careful toss so the cheese doesn't break.
Drizzle the balsamic glaze all over the top and you are done!
Easy, mo? This is barely a recipe, hardly any cooking effort is involved. This salad is super quick, really easy to make, looks really good in reality, different, and most importantly the taste is lip-smacking tasty, on right on the trend! The popcorn will not get soggy since its all covered up in caramelized sugar and it gives a good crunchy texture to the salad.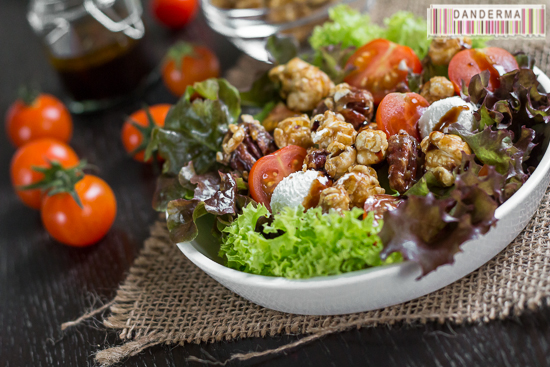 If you are not a fan of goats cheese you can use another kind or simply omit it but it does give the overall flavour of the salad quite a zing in contrast to the sweet caramel flavour plus it provides a creamy texture that smothers the crunchiness of the nuts and popcorn. Perhaps really tiny balls if you are not that much of a fan?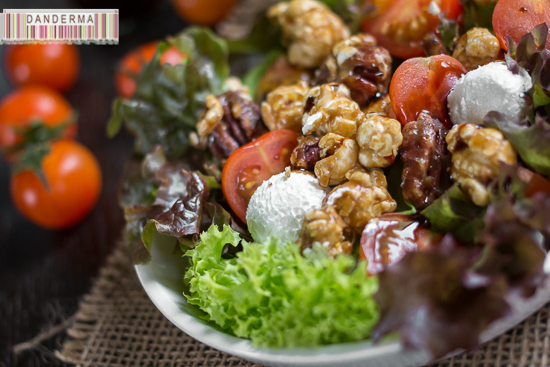 In 2012 when I first published this recipe I looked all over Kuwait for some cherry tomatoes to add to my salad but everywhere I went they said cherry tomatoes were out of stock for some reason. If you happen to find any you can use it or even better add very thin Julian slices of red bell peppers.
What do you think? Will you eat -or make- this salad? If you do please do share with me

P.S. in December 2013 I've replaced the horrible quality photos I had of the original salad with newly shot ones and the new salad was made with caramel pecan popcorn and indeed come with cherry tomatoes, just in case you were confused or something. I hope the new pictures are more appetising

---
10 Responses to "Recipe: The Popcorn Salad"