http://karen-keogh.co.uk/wp-json/wp/v2/media/330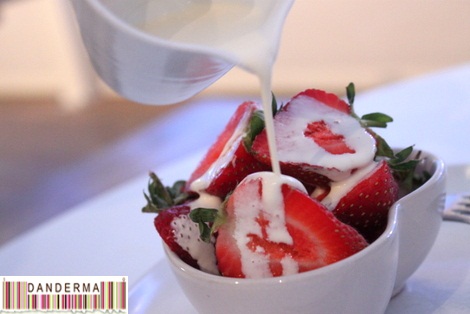 Badūria If you are going to be in London before the 30th of September then you are in for a treat, for Selfridges department store had transformed its roof into the "Daylesford Organic Cafe & Golf". A perfect place to hideout and enjoy a nice afternoon English tea in bustling Oxford street.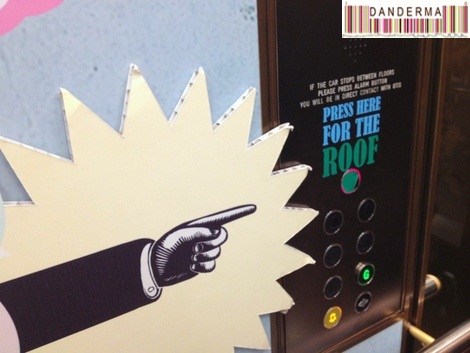 A dedicated elevator within Selfridges takes you directly to the roof where the cafe is held. I love the green and baby blue palette of the design, very summery.
Getting off the elevator and through a long fake grass carpeted corridor with lot of hanging flags to the cafe. Check out the cute bunny!
Check out the wall decorated with strawberries and golf balls.
And finally out on the roof to the cafe, an open space beautifully decorated with a cool summer breeze rippling between the tables.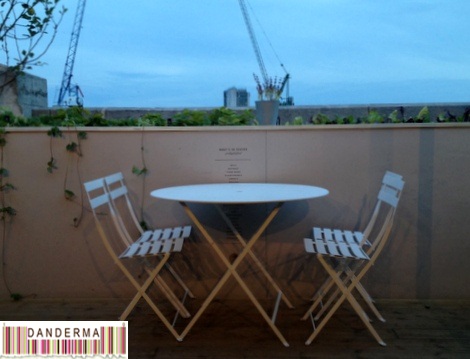 We arrived during around dusk and therefore the sky had a dark bluish glow but it was beautiful still. This is the view from Selfridges top.
If you want to play gold, you can go straight ahead through instead of going to the cafe.
The rooftop golf course is separated from the cafe by a classic London phone box.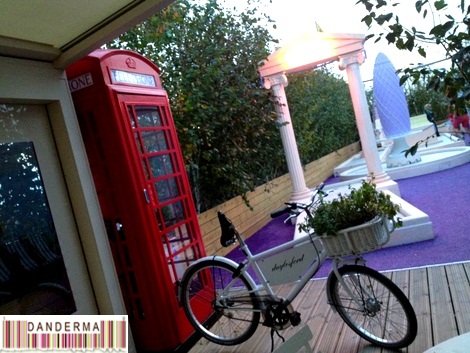 Exhausted and laden with our shopping bags, we sank into our seats and scanned the menu. We really wanted to have their afternoon tea but we were still too full from lunch 7safa

So we opted for a Cappucino, an Earl Grey Tea, and Fresh organic Strawberries with cream.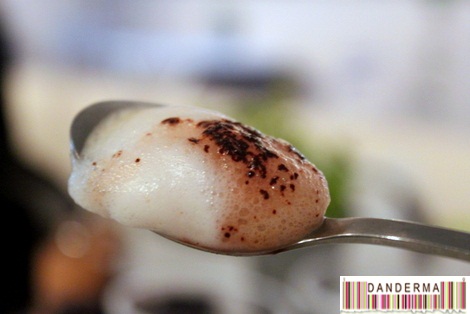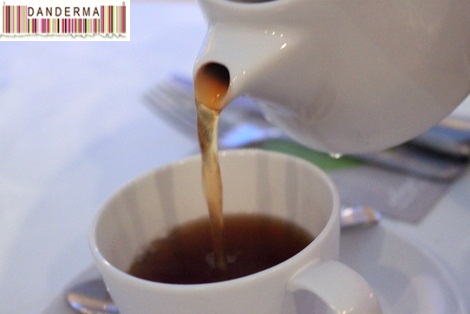 The strawberries, these succulent juicy organic British strawberries. They taste ever better than they look <3
Pouring the freshest double cream on top, mamma mia!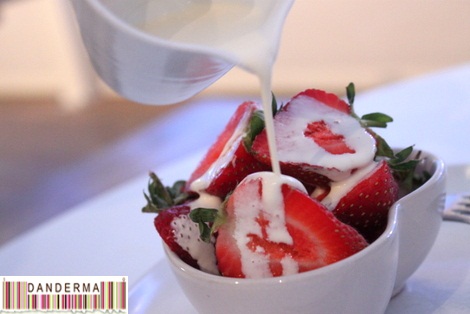 It was good. Lip-smacking good. The perfect post-shopping pick me up before heading home and crashing for the rest of the day.
My only regret is that I left the London before trying their afternoon tea or having lunch there, a couple on the table next to us ordered the afternoon tea and it looked delicious! If you are lucky enough to be in London before September 30 I would recommend you stop by for a light fresh lunch or an afternoon snack. Take a look at their menu from the Selfridges website (link).
For more information about The Daylesford cafe on Selfridges roof, you can check Selfridges website (link).
---