A while ago I received a very cute invitation for a VIP treatment at a newly opened Express Hair Blow Dry Salon located in Dar Al-Awadhi complex, Kuwait City.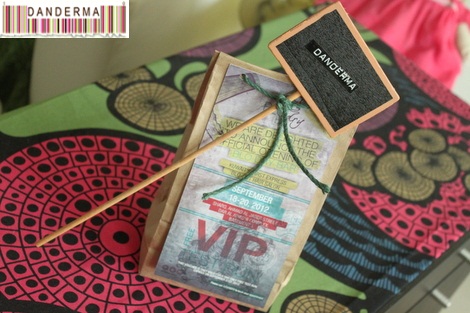 Inside the invitation bag was a treasure trove of old fashioned chocoolates from our childhood! Yum!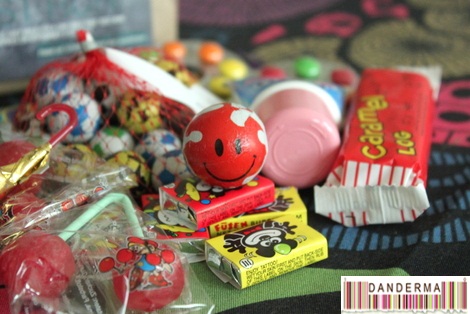 Plus, the invitation card said to call and reserve and appointment for a complimentary blow dry session with the salon. I don't usually review salons -I don't like to be touched by people- but in this case it was different. I wanted to see if they truly delivered express blow drys on the go or not so I made an exception and had an appointment straight after work on Thursday. 
On Thursday I went to Blodry bar straight after work. Descending the escalator into the basement of Dar Al-Awadhi you cannot miss the place with its turquoise painted wood door and the hanging old fashion hair dryers. I went right in and into a small yet fashionable reception with a big screen TV.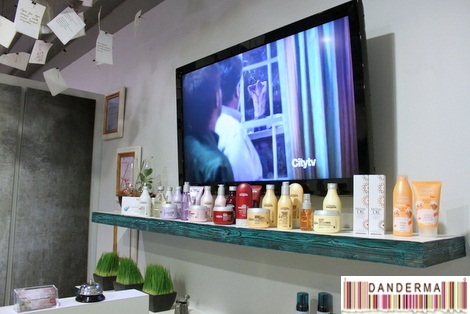 and a fashionable waiting area which I want to copy exactly into my own bodouir! Love the interior of the place!
The artwork hanging in the salon is very eye catching and, as told by the owner Ms. Nouf Al-Hamad, is for sale! Apparently people are bidding on the artwork already and  once sold it would be replaced with more artwork which also serves the purpose of redecorating. Smart.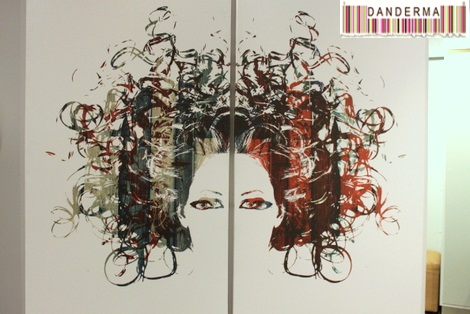 The salon is small with about four chairs and two washing basins. The design is as cool as the waiting area.
And lots of quirky stuff to look at.
There is also a nice beverages making area in the far corner of the salon.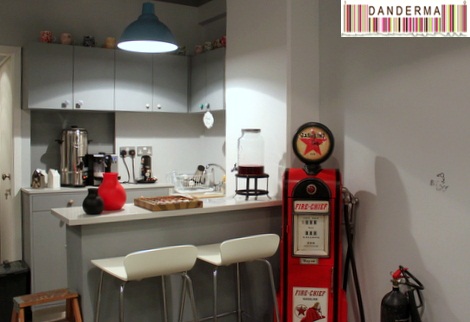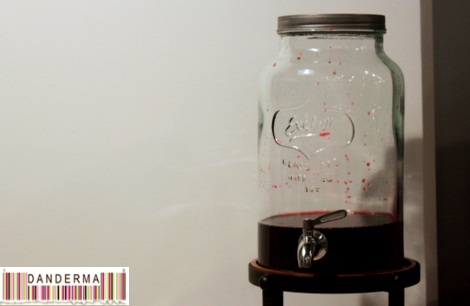 When your turn to blow dry your hair comes, your head scarf -if you wear any- is hanged neatly using a hanger on the wall.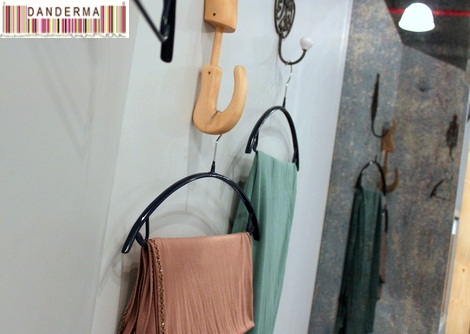 You are served a beverage of your choice with little treats.
Your bag is kept in its own place away from your lap.
And the hair brushes that would be used to blow dry your hair would first get sanitized before usage in this special over like device. Very clean especially for people who hate the blow dry brush smell that lingers in the hair after the salon.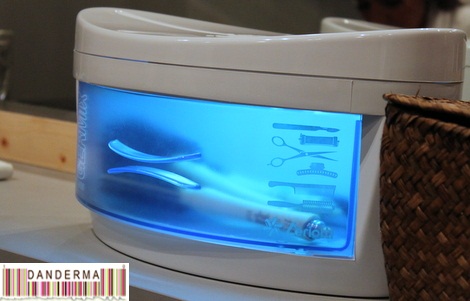 As your hair is being blow dried, you can't help but notice more stuff all around.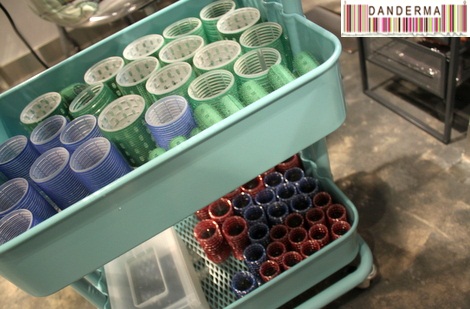 And look! Retro phone handsets to enable you to talk on your mobile while your hair is being blow dried! Nice touch!
Of course all this would mean nothing if their blow dry wasn't good or express. So the golden question is, how was their blow dry?
Growing up with curls meant that I had to blow dry my hair on my own and I can assure you, its one of my talents. I used to blow dry my cousins hair once upon a time. Once, I even hated a salon's pre-hairdo blow dry so I snatched the brush and blew dry my own hair to the annoyance of the hairdresser.
I can tell from the way the hair is parted and the first stroke of hair if the blow dry is going to be good or a flop. In this case, Blodry Bar's blow dry passed with flying colors! Different sized hairbrushes were used, my hair was shiny and sleek but with a good volume and not overly straight, you know when its too straight its lifeless. The good blowdry survives and stays and doesn't get ruined by the time you go home. And most importantly it was indeed express: My hair was washed, conditioned, and blow dried in 30 minutes!
I would totally recommend the place for a quick blow dry pre or after work. No fuss, no mess, just blow dry and out. They do offer a hair dyes once a week only and they do very simple updos, nothing major or over inflated. This way you can make sure no one will take your turn or distract your hairdresser with their own hair being dyed or cut or whatever. I like the concept and I loved their service especially given that they are in the heart of Kuwait City which means I can get there after work enroute to my place and get all dolled up. I am going to be a faithful customer insha2 Allah. Thank you Ms. Nouf Al-Hamad for the invitation and wishing you the best of luck.
Blodry Bar open from 8 am till 5 pm and are located in the basement of Dar Al-Awadhi tower. For appointment you can call 22322272 or check their facebook page (link), follow them on Instagram (@BloDryBarKw) or on Twitter (@BloDryBarKw).
---