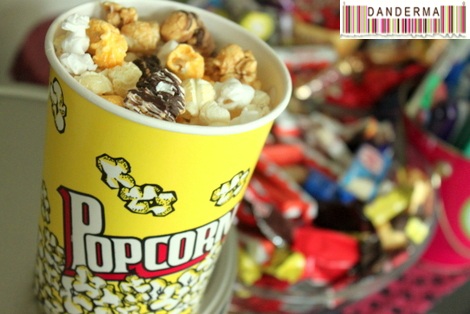 A while ago we've been talking about having a cosey casual movie night at home with the girls. Nothing fancy, just some popcorn, take away food, and a nice movie to watch. Preparations for this day were next to nothing: A trip to the Co-Op, a Trip to TSC for the chips, arranging stuff around and voila! We have a casual gathering.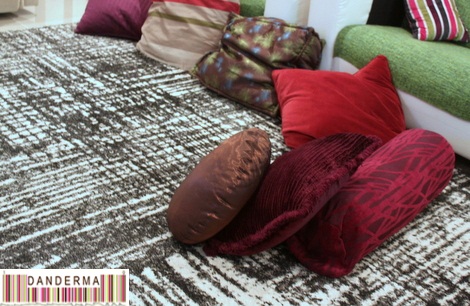 First things first, I got all the pillows I had at home and asked the girls to bring their own as well plus blankets to snuggle in. Many people love to watch movies sprawled on the floor and my guests were no exception. Next, I got the movie munchies placed on the table nearest to the sitting area so everything would be within an arms reach during the movie.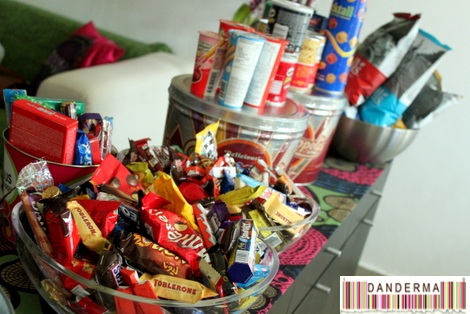 I arranged all the movie munchies on the table: different types of chips and crisps, biscuits to dunk in chocolate, every single chocolate bar I could find in the co-op, and of course popcorn. Seven different flavors to be exact.
Oreo Popcorn, Chocolate Popcorn, Peanut Butter and Chocolate Popcorn.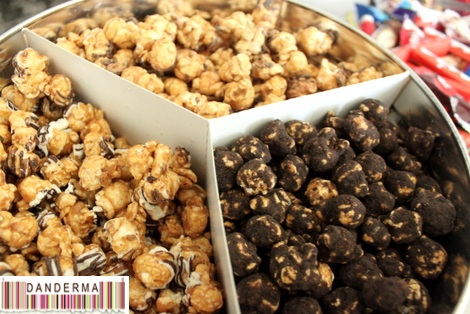 Sweet & Salty popcorn, Caramel Popcorn, and Cheddar Cheese Popcorn.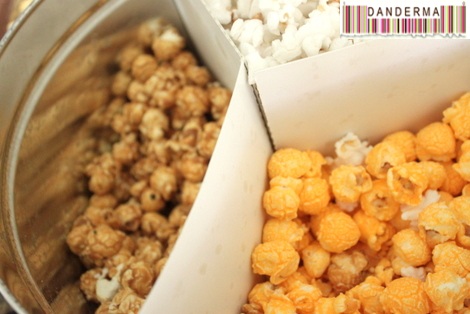 Given that I couldn't find plain salted popcorn -the only type I like by the way- that is delivered to my doorstep I got a box of microwave popcorn to pop it while the guests wait for the movie to start. Which brings the count to seven different types of popcorn.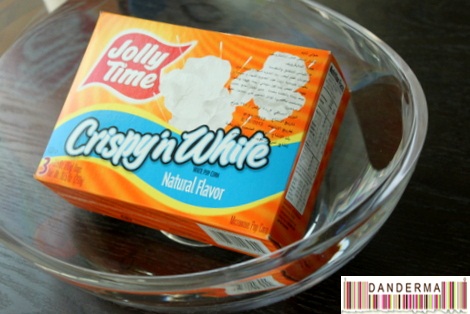 I popped the popcorn in the microwave 2 minutes before the movie's start. To give the popcorn a more cinematic feel, I provided a plastic popcorn container similar to the ones you'd use in an actual cinema and guests could have whatever popcorn mix they desire.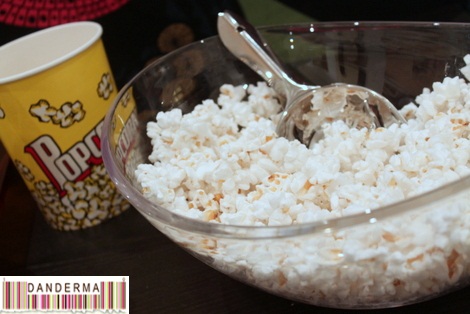 Of course all these chips and crisps need condiments, specifically hot sauce to go with the potato chips, a favorite Kuwaiti combination.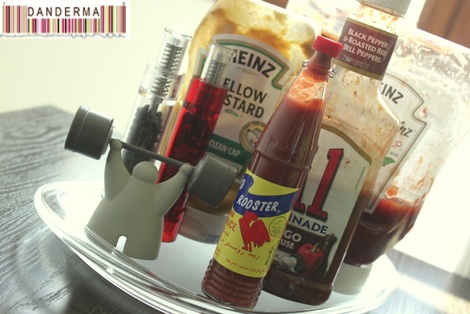 Chocolates, chocolates, chocolates.
Dathra doll was out of her mind with happiness! She would have polished off everything on that table if I had let her :p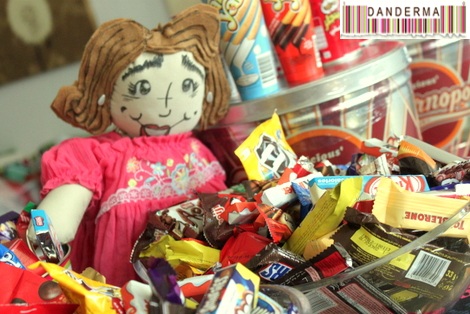 Dathra was joined by some more friends when the guests had arrives. The Steve Jobs dolls and a very possessive Jacquie doll that sat between Dathra and Steve Jobs dolls all night. She was jealous :p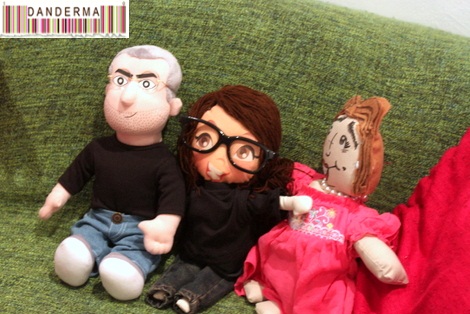 The movie we chose was "This Means War". I had seen it before but not everyone did and it was a very good movie so we decided on it. We also saw the alternate ending of Titanic and cursed at old Rose still throwing the diamond to the ocean. Then the food arrived! Nothing much, just pizzas: Vegetarian, Pepperoni, and Margarita pizzas.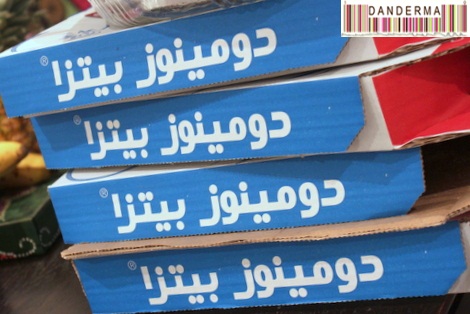 Of course Nachos with dips. If you are wondering from where its from Taco Bell. I took the big plastic serving place to them and they filled it gladly for me. They should consider having a similar party nachos or movie night nachos option on their menu.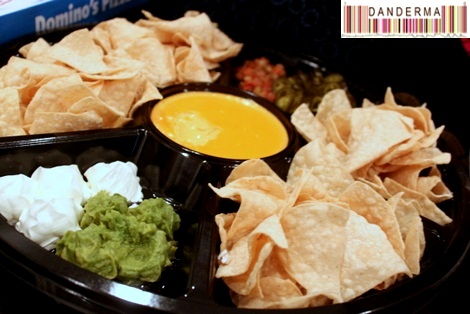 A tray of Burger Hub's mini sliders with different fillings were ordered in as well. They got delivered just in time.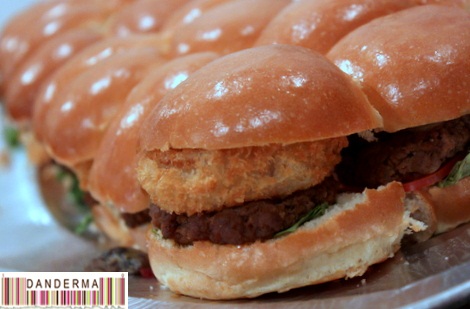 We also had mini triangular sandwiches brought over by Pink Girl.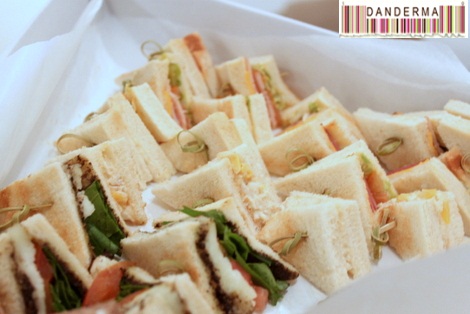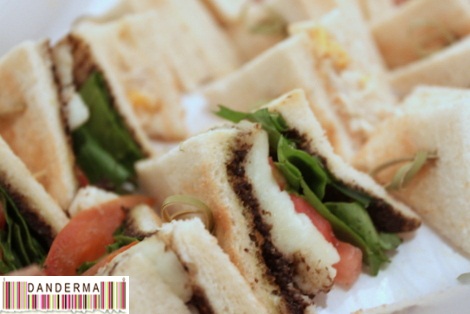 For drinks I prepared some two juice cocktails: a raspberry mojito and an aqua frisca "pinapple and vanilla".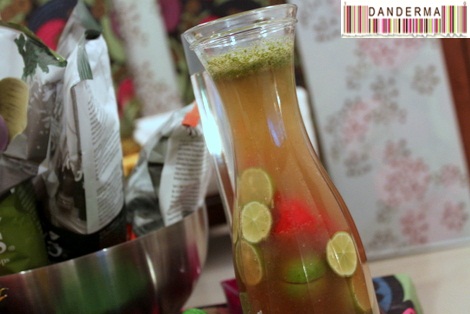 I also had a bucket of ice filled with soft drinks. Ice, straws, lemon slices, and plastic cups with covers were also available to give a cinema like feel to the drinks. Picture is borrowed from Pink Girl's (post).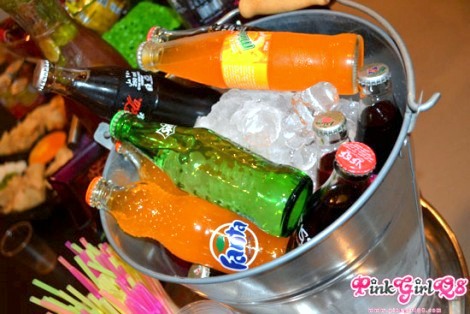 It was time for the movie to start, so everyone prepared their popcorn, grabbed a drink, some munches, dimmed the lights and off the movie went.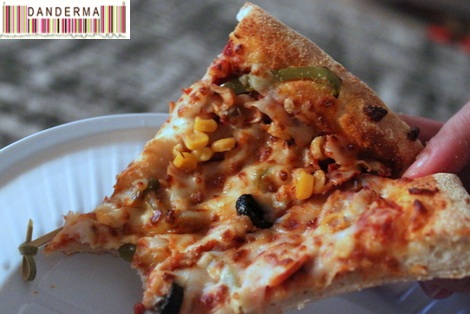 We had a blast. We laughed, we paused the movie and fast forwarded and re-winded and laughed some more. Had side conversations and had total silence moments. Watching a movie with a group of friends at home has its own taste especially if  you are sprawled on the floor stuffing your face with comfort food.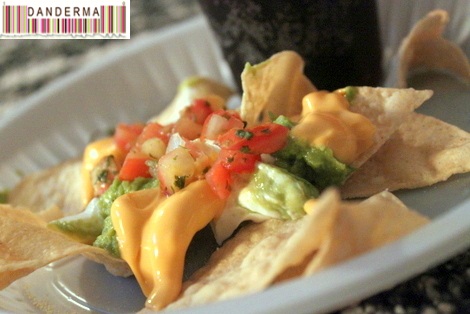 Then it was time for dessert. Dear Swera brought over mini dessert cups from Wonderful. I adore their Tiramisu cups by the way.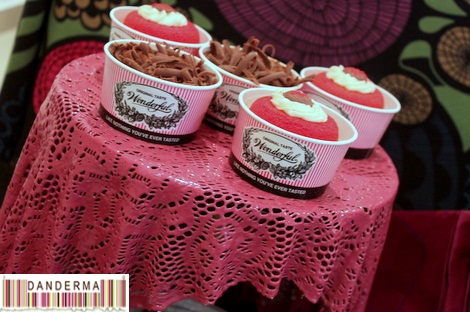 Also, dear Noon brought over some macarons from chocolate & macarons including a newly released salted caramel one (post).
And dear Um 3zoz brought over two boxes chock full of gelato from Gelato Italiano that I hid in the freezer. They are http://ashmann.uk/sitemap mine and mine alone (post).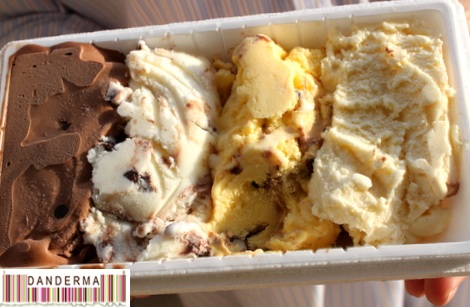 We poured ourselves homemade tea and Arabian coffee from Dallah and prepared ourselves for post-movie conversation. However, we didn't get to enjoy any of it. Why?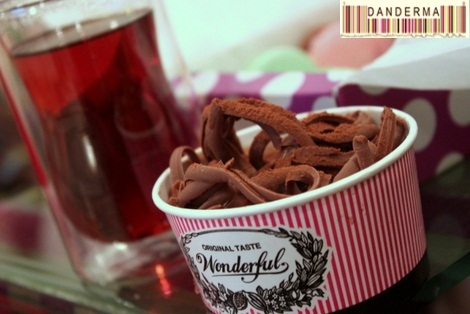 Well, its because the night ended on a bizzare albeit funny note. Just as we were about to have sip our tea and eat our dessert a loud crash and glass breaking! We turned around to this scene…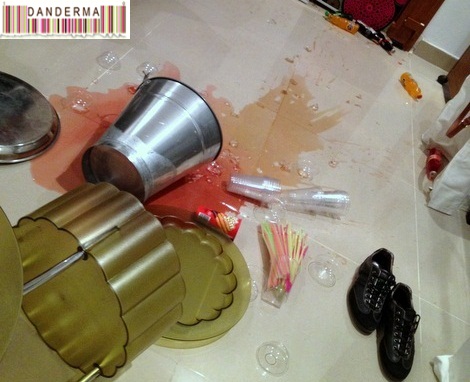 We all stood, gawking, observing the scene in front of us. The soft drinks and ice bucket had toppled off on its own, sending everything flying everywhere. Now the girls, instead of enjoying their tea, began cleaning the mess up. Ansam in particular was itching for us to stop taking pictures and start mopping as she stood in the middle of the mess, picking up the unbroken bottles, and asking for the mop with dettol! Wakhezya! How is that for a gathering entertainment? Having your guests mop the floor and brush the broken glass before sending them home?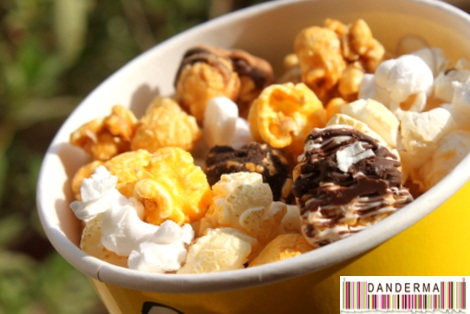 It was a great night, despite the mess at the end which made us laugh so hard, mostly in disbelief. Thank you girls for coming to my movie night, we should have another one again very soon. Maybe we will have an Italian themed dinner and movie night

---
4 Responses to "A Casual Movie Night with the Girls…"