http://marionjensen.com/2007/01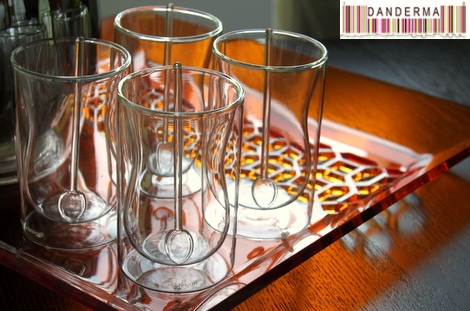 Ever since I moved to my new apartment and began redecorating I've gone into a frenzy of a supressed obsession of mine: buying tea sets and tableware. I don't seem to be able to stop searching around for delicious designs and wanting to buy them.
One of my favorite shopping destinations is Dar Nur in Shuwaikh from which on my last visit I bought the below gorgeous acrylic orange tray that completed a tea set of mine and that tea set became my -current- absolute favorite <3
I love my tray so much, I want to redecorate the entire living room to go with it in silver, chromse, and orange! That would have to wait a few years though. Look how the light catches the fine Arabesque engraved detailing.
Of course those are my favorite tea cups or tea estekanas so far. So bodum like, so pretty.
---
3 Responses to "My Beautiful Orange Acrylic Tray"