When I was in London last month I woke up one morning a bit disoriented. Stumbling in my wake, I went to the fridge and pulled out the ingredients for a breakfast I was craving since the day before: ready made M&S pancakes with butterscotch syrup and a packet of fresh raspberries, and a banana.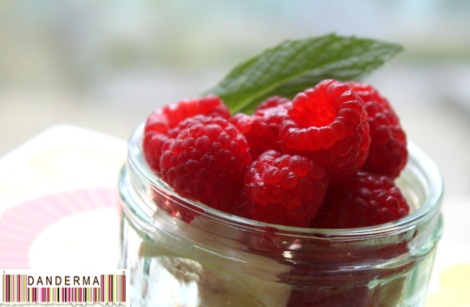 I washed the rasberries, sliced the banana, reheated the pancakes in the toaster, poured the orange juice and made myself coffee. I took everything to the table and settled down, ready to start pouring the packaged butterscotch on top. When suddenly I got up and ran around the room searching for my camera.
You may be thinking where I'm going with this but I do have a point. As I tried to take pictures of my breakfast, still half asleep, rearranging everything around the table and snapping a mile a minute, a sudden realization jolted me wide awake.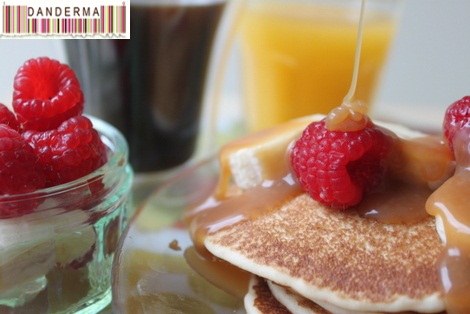 As I took the hundredth picture I thought to myself "I miss this, I miss me!". Whose me? Me, Danderma the person, the little unknown blogger who took pictures of her breakfast every Friday. Along the way and along the years, I've lost an essential fragment of myself, the person behind the blogger, the person who enjoyed and appreciated the simple things in life like waking up to a delicious breakfast on holidays.
I've been complaining lately that my pictures always turned out horrible. It hit me that its not the pictures that are horrible, its the essential thing that makes the pictures look good, the enjoyment of what I'm photographing. When I see a picture whatever emotion I've had when I took it does reflect back to me no matter how long it was when I took it. It might not be visible for the observor but it is loud and clear to me. Like a fingerprint I can't wash away.
Am I making any sense? I think I do to myself. I miss writing too, and ranting. Reaching out automatically for that camera when my mind wasn't focusing clearly brought out the little person in my that's been on a strike lately. Where have I been? I don't know. Maybe I've been too busy, too washed up in the melodrama that I call my daily life but now that I know what was missing, I can relax more, take a breather, repair my broken spirit, and focus on what works for me, what makes me happy.
Here is to many happy days, delicious breakfasts, ranting posts, and gorgeous pictures. I hope I didn't make you hungry. For what its worth, that breakfast was one of the best I've ever had, because I had it with my true self <3
---
12 Responses to "Pancakes and a Realization for Breakfast"