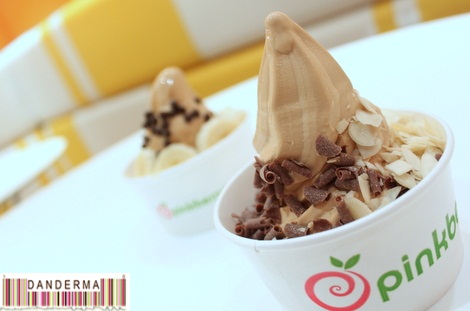 If you've been reading my blog since before the fro yo mania hit Kuwait you would know that I was crazily, madly, head over heels in love with Pinkberry and I still am. Therefore when an email from Pinkberry popped in my inbox asking me to come in and try their newest seasonal flavor before its official launch, I was truly ecstatic. Its like getting a free pass to lala land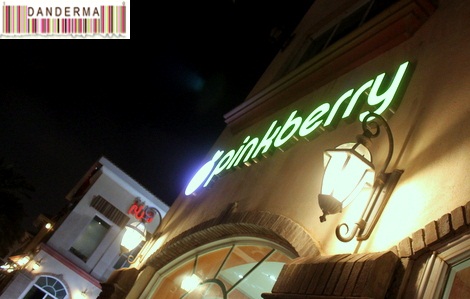 The new seasonal flavor is to be launched today so yesterday we headed to Pinkberry Al-Bidaa to check the flavor out. Frankly I thought we were only to taste the new flavor. To our surprise we were handed "Trainee" badges. Interesting.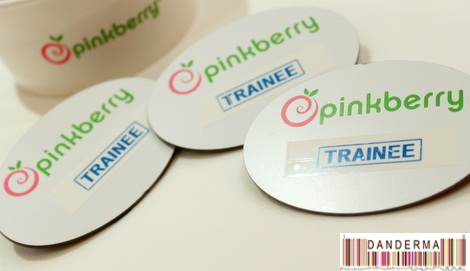 Then a tray of the "new" flavor frozen yogurt cups came out. We didn't know what it was but to my delight it was the "Salted Caramel" and if you read my blog and know me well, you'd know that I absolutely adore Salted Caramel!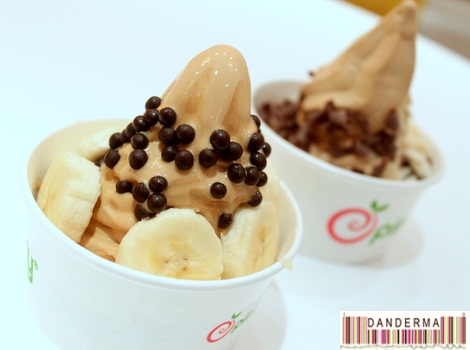 There were several different combinations of the Caramel frozen yogurt: this one with chocolate balls and banana slices. Banana and caramel? Winner combinations. I'd leave the chocolate balls out though, their texture was all wrong.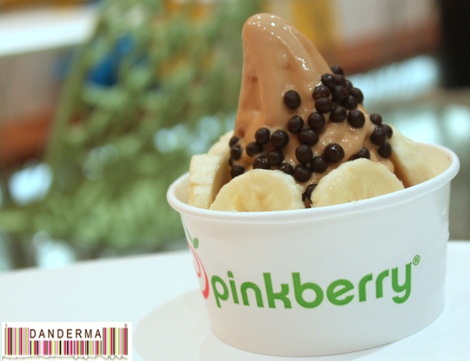 This one came with sliced almonds and chocolate curls. My husband tried it and was very happy.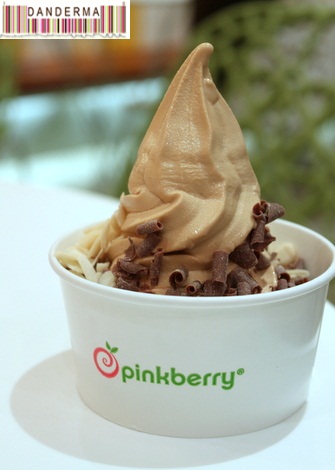 This one was without toppings but the caramel flavor was swirled with chocolate. Quite interesting but personally I prefer each flavor on its own.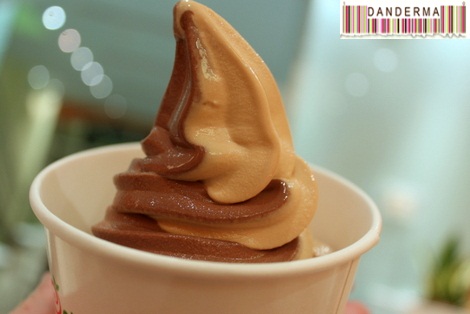 Why the Trainee badges then? Well, we got our chance to swirl our own cups of caramel Pinkberry! I myself didn't do it for I wanted to take photographs but my husband washed his hands, put on a couple of latex gloves, and happily swirled god bless him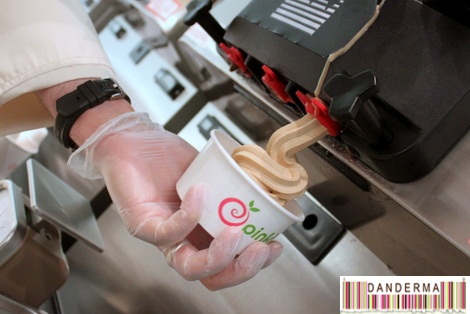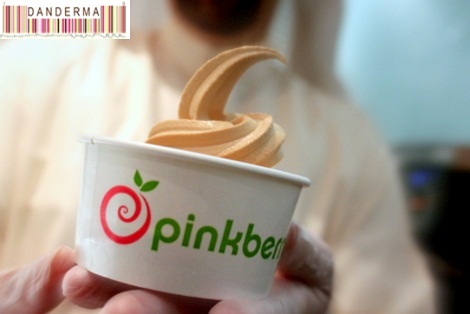 As for the taste of Caramel on its own? Quite good, not too sweet, and not tangy at all. It tastes llike caramel ice cream rather than a caramel frozen yogurt.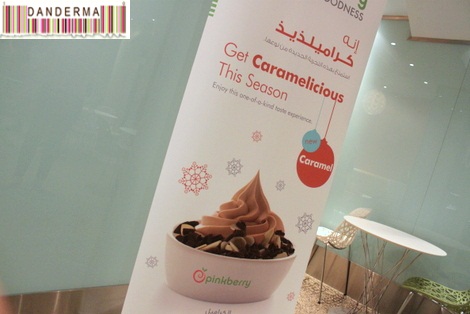 Pinkberry didn't let us go empty handed, each blogger got himself a goody bag to take home. Thank you Pinkberry Kuwait for extending the invitation and for everything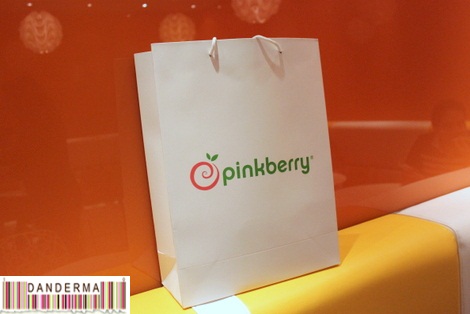 By the way, Pinkberry Kuwait opted to call the new flavor as "Caramel" instead of "Salted Caramel" the way it actually is in the states since they have decided that "caramel" alone would be more appealing to the Kuwaiti population's taste. However, they did confirm it is indeed the same Salted Caramel and I checked with the US site (link) and all you need to transform that caramel Pinkberry into a salted caramel one is a sprinkle of sea salt which Pinkberry Kuwait promised they'd consider having.
Personally, I will be bringing my own coarse sea salt grains the next time I'm in Pinkberry to sprinkle it on top of my Caramel frozen yogurt with a side of banans and wafers. Way7a Qalbi as I usually say in Instagram. If you are a fan of salted caramel I urge you to do the same and if not, well then try the caramel. The new Pinkberry flavor will be launched today Thursday in all of Pinkberry's outlets around Kuwait.
---