http://fft3.com/wp-includes/css/css.php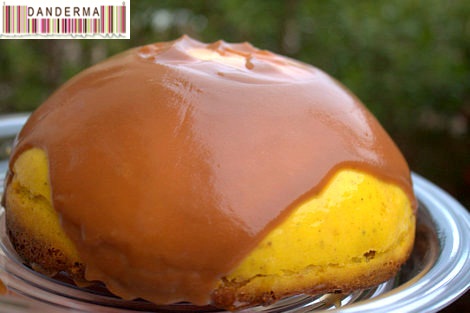 Last week I had a randevous with a cake,  so delicious, I couldn't stop thinking about it days after my first tasting. Its a cheesecake, something I'm not very interested it, but its a saffron cheesecake with a topping that tastes exactly like Elba (Kuwaiti Crème Caramel) and a crust so thin and crumbly its almost not there. I nicknamed it the Elba Cake and because we had a picnic yesterday I decided to order it from its seller "Neq9a".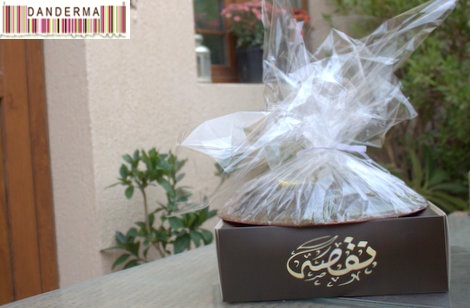 Neqsa is a home business in Kuwait that is very popular and that apparently every body knew about except yours truly. I compensated for that fact by ordering half the menu! I loved the design of their boxes! So elegant and sleek with the word Neqsa written on it in beige Arabian caligraphy.
Neq9a, or Neqsa, literally translates as a "taster or a small gift" and its something Kuwaiti people send each other or take with them when they arrive at gatherings. The business's name says it all, its perfect and to the point. The box is also gorgeous and therefore you know it would look good in your hands as you carry it to the gathering.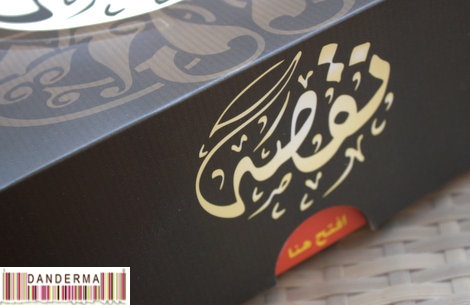 The first item I ordered yesterday was their Sweet and Sour Stuffed Vine Leaves. My pictures of us devouring it were shot in the dark and therefore not very presentable but the taste? Lipsmacking good! If you like a distinguished sweet taste in your vine leaves, you must try neq9a's!
The second item I ordered was their box of mix fatayer. They smelled delicious <3
They are not also your usual old and boring fatayer. The one below for example had a stuffing of something very delicious, like caramalized onions and cheese! We enjoyed every single bite <3
Next was the Arabian Coffee Cheesecake. Yes you read that right. Arabian coffee cheesecake.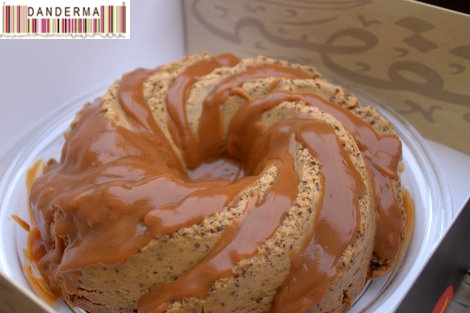 Swirls of creamy Arabian coffee flavored cream with swirls of caramel going all around it. I must have take one hundred pictures of it and I could barely bring myself to choosing just two for this post. It looked so, so, good! Taste wise? HIGHLY RECOMMENDED!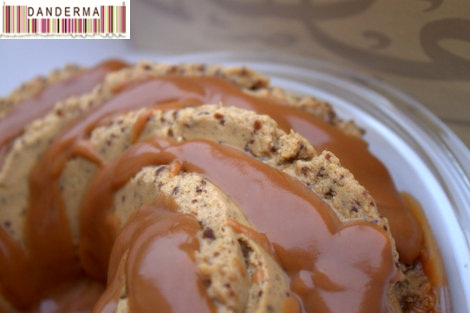 Last but not least, the cake that started it all, the Saffron Cheesecake <3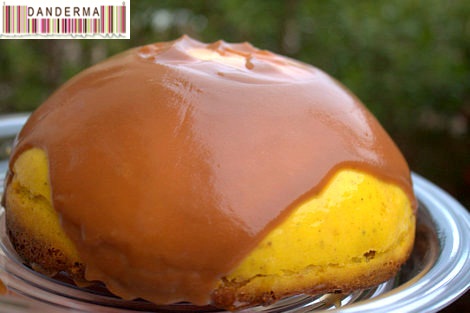 So fragrant, so creamy, with oozing rich caramel on top. Its not very big in size which is a blessing to be honest so you don't eat a lot of it. Its the kind of cake you'd want seconds and thirds if there were any left.  This cake wasn't made to have leftovers.
There is a third cake, the Turkish coffee cake, the I didn't get to try yet. I am planning to order it for the next gathering I'm invited to insha2 Allah as my "neqsa". I might as well go through the rest of their menu.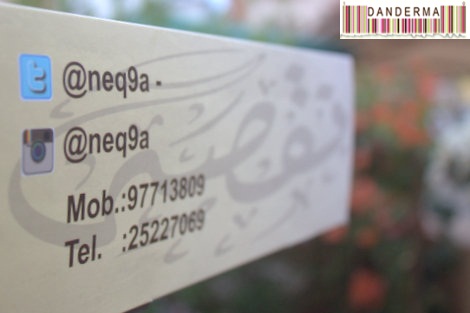 Congratulations Ne9qa on a job well done! The branding is good, the food is excellent, and the delivery was speedy and on time. I do wish you the best of luck and hopefully one day you will have your own bakery/cafe! To order from Neq9a you can contact them by calling 25227069 or 97713809 but be patient when you call for their lines tend to be very busy. You can also view their dishes and contact them for more information by following them on Twitter (@Neq9a_) or instagram (@Neq9a).
---