On day five of my Lofat vegetrian diet for my breakfast I got Zaatar Fatayer with the fruit skewers and low fat Laban (buttermilk).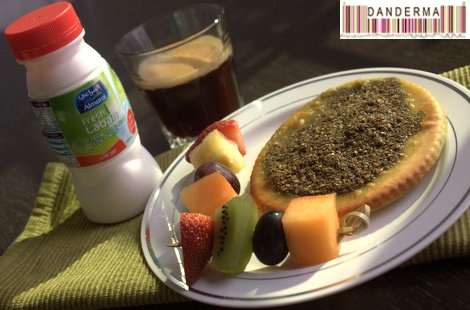 I enjoyed every single bite of my zaatar fatayer. It was good and left me full for a long time <3
For lunch I got Vegetable Pilaf with a side of Warm lentil salad with grapes and feta cheese.
The Vegetable pilaf was OK. Nothing special. Its basically rice with veggies like carrots and courgettes with some cashews. I must remember not to schedule so many rice dishes for my meals days in a row.
The warm lentil salad with grapes and feta cheese was very interesting. Unlike anything I've had before. Frankly I'd rather have it as a main meal with a side of leafy green salad instead of rice. I recommend this salad if you want something different.
For dessert I got the Fruit Star tart which, needless to say, I was anxious to devour the moment I set my eyes on it in the morning. I adore strawberry or fruit tarts.
This one didn't disappoint at all. I enjoyed every bite. I had it with a side of white tea.
For dinner it was vegetable pizza with a side of Moroccan vegetable soup.
The pizza was good. I just wish the portion was bigger but then the idea is to eat less by learning to control your food portions.
The soup didn't look that appetizing at all. Its more of a consommé buy Lyrica in dubai  with bits of crunchy vegetables floating in but it did taste better than it looks with strong hints of lemon. I'm just not that crazy about LoFat's soup. I'd rather have a salad with my dinner instead.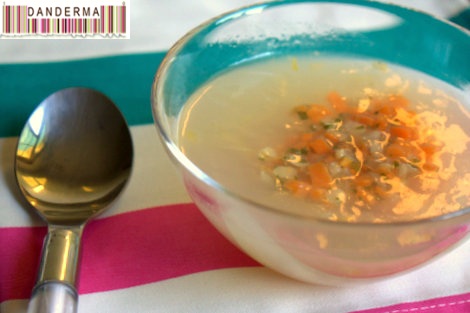 The pizza, zaatar fatayer, fruit tart, and warm lentil and grapes salad made this dieting day seem like a cheat day! Dieting doesn't seem to be so hard after all!
To learn more about LoFat's diet menu plans you can call them 22250650 on ,check their website (link), like their facebook page (link), follow them on Twitter (@LoFatGroup), or instagram (@LoFatGroup).
---
Comments are closed.