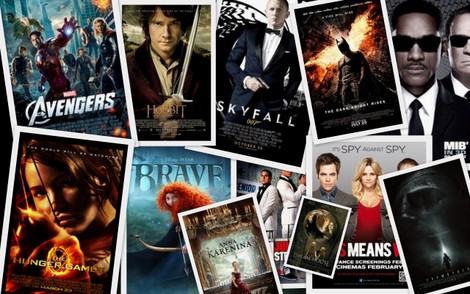 I just finished watching the Avengers movie for the 100th time. When the credits rolled I sighed in happiness and told myself that Hollywood doesn't make good movies like these anymore. Then I remembered the Hobbit which is equally good if not better, then I remembered a whole bunch of good movies I've seen in 2012! Perhaps Hollywood's dry spell is being nourished again? Lets see, my 12 favourite, really good you can watch them again and again must buy on DVD movies of 2012 are:
where can i buy disulfiram The Avengers. I can't get enough. I'm watching it over and over and over and still can't get enough.
where to buy neurontin The Hobbit. I knew I wanted to watch it, I didn't know I'd want to go watch it again whenever I thought of the cinema! Might very well watch it two more times before its release on DVD. (post).
buy provigil over the counter Skyfall. Even though I think its been going downhill ever since Daniel Craig began playing the part of James Bond and I never liked any of his movies, Skyfall was brilliant! Starting from Adele's opening song until the end with the bulldog bequest!
Men in Black III. And I wasn't even a fan of MIB to start with! I was nearly dragged to the cinema to see it only to love love LOVE it and go back to watch the first MIBs. Still don't like the second one much. (post).
The Hunger Games. I like it when I hear about a movie with so much hype, I watch it, fall in love with it, and then go buy the books and love them even more! I can't wait for the other movies (post).
The Dark Night Rises. I loved the first movie, I hated the second, and almost skipped the third but when I saw it I was impressed indeed. I've seen it twice since and I still want to see it again
Brave. Another movie I've been dragged to see and ended with me falling in love with it. I still think the curly head stubborn princess is the closest Disney character to my heart. It will be grazing my DVD shelves soon (post).
Anna Karenina. I loved the movie even though many hated it and thought it was boring. As I was sitting in the cinema I actually saw many people leaving, but what do they know! It was sensational.
21 Jump Street. Many might disagree with me but who cares? Its my list and out of all the comedies I've watched in 2012 this one is what made me laugh the most. I still laugh when I remember some scenes and its already there on my DVD shelf (post).
Dream House. And this is my favourite horror movie of 2012 and surprise surprise, the star is Daniel Craig. I think I won't mind him anymore in 2013 and beyond (post).
This Means War. A chick flick must be in order and if I have to choose a favourite in 2012 then its this one. Funny, chick flicky, and already sitting proudly on my DVD shelves (post).
Prometheus. I liked this movie a lot but it made the list because its my husband's favourite. Especially the ending! By the way, we saw it on board a BA flight because it was banned in Kuwait.
Turns out there were quite a few good movies in 2012! What about you? What are your 12 favourites movies of 2012?
---
10 Responses to "My 12 Favourite Movies of 2012"