Chandler
Day 15 of LoFat vegetarian diet is here. Which also marks the start of the second week of my dieting and starts the count down. Only 13 more days of LoFat dieting experience to go! I hope I'm doing a somewhat decent job reporting my trial.
Breakfast was the same as day one's breakfast. A few spoonfuls of fool (mashed fava beans) with fruits skewers, low fat Laban (buttermilk), and white tea. I didn't have a chance to properly photograph my first breakfast meal on day one so I photographed it again.
For lunch I got creamy farfale pasta with vegetables and a Greek lentils and feta cheese salad.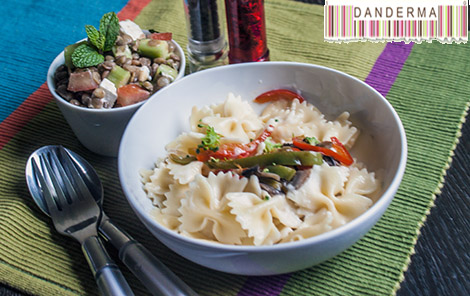 The pasta was very light and nice. I was craving truffle cream pasta so I added a drop of white truffle oil, a tiny drop, to the pasta and it made a big difference in taste. It felt like I was having lunch in a restaurant or something. My craving was satisfied instantly.
The salad was fresh, crunchy, and good.
For dessert I got a Nutella biscuit chocolate and white tea.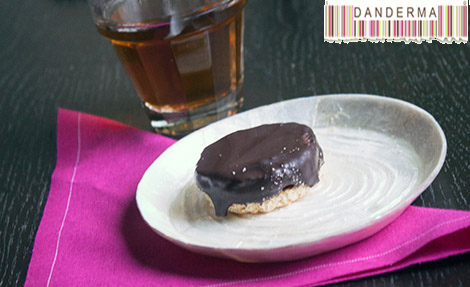 The biscuit was very good and chocolatey. I liked it. But it doesn't taste like Nutella at all. I'm not complaining as I'm not a fan of Nutella to start with but Nutella fans might be disappointed if they don't detect the distinctive Nutella taste in the biscuit.
For Dinner I got the chickpea stew with rice and the mushroom millet soup. Both I've reviewed before. The last time LoFat delivered the mushroom millet soup without the cheesy garlic bread and I thought it was a mistake. This time they didn't include it as well

Day 15 of LoFat dieting went smoothly and the count down has begun! Days fly by past and before you know it it will be day 28! I can still taste the farfale pasta with my customisation of truffle oil <3
To learn more about LoFat's diet menu plans you can call them 22250650 on ,check their website (link), like their facebook page (link), follow them on Twitter (@LoFatGroup), or instagram (@LoFatGroup).
---
Comments are closed.