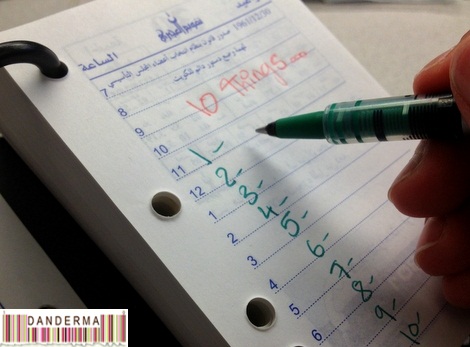 Happy new year my blog readers and friends! I hope this year is filled with fun, health, and prosperity for all of you! If 2011 felt like it went by in a flash, 2012 was even faster! Now let's see how am I doing in my list of last year's new year resolution, I've made two lists actually, here's the first one from the begining of the year's blog (post).
Publish Dathra Book Volume II.

Published and celebrated! Done.

Get the Hollywood smile before the end of 2012.

I still have to wear the retainers and whiten my teeth but I'm half way there.

Go to Hajj?

Didn't have the chance to do so. Perhaps this year?

Learn to play the piano.

Still gathering dust! Not done.

Attend a coffee making class.

I graduated as a honorary barista! Thank you Gloria Jean's! Done.

Use the ice cream maker I got for my 30th birthday and make frozen yogurt with it! Not Done.
Read some more. I have MANY books waiting to be read. At least ten pages per day!

Done.

Eliminate all things emitting negativity from my life. 

Half Done.

Get an iPhone and say good buy to BB forever.

Got not one but two iPhones! Done.

Post more regularly.

I had a turbelent year that left me unable to concentrate. Not Done.

Speaking of time: Allocate a cherished ME only time.

Sadly not done.

This is the last and the most important resolution ever: I am who I am. I will not change for anybody's sake. I will not pretend to be something I am not just to please people or because society expects me to do so, Period. You like me ahlan wa sahlan. You don't like me ako alf 6ofa for 6ag el roos. I

found myself again, still standing tall and being more of the me I recognize than before. I'll consider it done.
Plenty of green in my first 2012 resolution's list! Nice! Now let's see the second list I posted about in this post (post).
Re-publish Dathra book 1: edited, proofread, and with the new cover.

Its with the editor! Half done.

Find out more outlets to sell both Dathra books together once the 1st is republished.

Still waiting for the editor, not my fault no sir :p

Join a photography class or two. Find out if I have any photography potential.

Not done.

Finish working on the last room of the apartment filled with junk and unopened boxes.

Err not done.

Use the thing I got 9 months ago to teach me how to play the piano.

Still in its packaging. Not Done.

Lose 5 kilos. Just 5. Not so much to ask, no?

I lost a bit less than five but its a start. Half Done.

Paint the things I want to paint and see if they turn out OK.

Didn't buy the paint yet! So not done.

Go back to the dentist. Go back to the dentist. Go back to the dentists. Work on my teeth is not done yet. Hate dentists. Go back to the dentists. Must be brave.

He called me to come in! Done.

Be more active. Either take a daily walk or join some gym. Maybe a dance class or I'd buy a bicycle like everyone seems to be doing around me. Tempting.

Well I walked the Grand Avenues several times, Does that count? No?

Sleep. I've lost the ability to sleep like a normal person in reasonable hours. I think the activity/gym might help me out there.

I am begining to sleep earlier and better again. Thank god! Done.
Less green that the first list but not all of it is my fault! Perhaps 2013 will have be more successful! What about you? How did your 2012 resolutions go?
---
7 Responses to "Happy New Year 2013"