Koropí
Yesterday afternoon I woke up late. It was a Saturday and my husband was out running errands. I was thinking about my lazy Saturday and my breakfast when I heard my husband call out to me"Come, come see the baby cat outside!".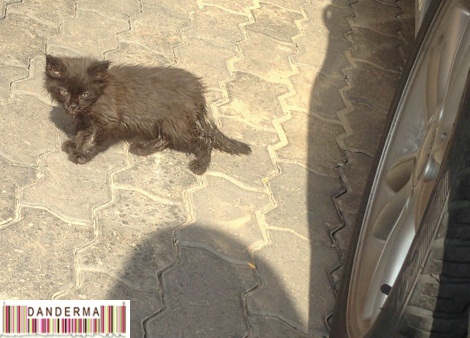 I ran outside, expecting to see one of the stray neighbourhood cats had given birth to a few kittens. What I found instead is a distraught little black kitten mewing beside my car tires, she was scared, looking at us with those lovely pale eyes in fear and wonder, yet quite squirmy.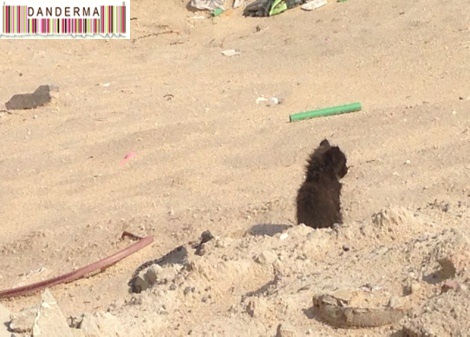 The kitten sat for a while silently beside our neighbours cars, then suddenly bolted to an open land filled with rubble and rubbish next to our apartment building, leaving behind a little souvenir of cat litter by the neighbours car! Then she stood between the rubble, looking away and ignoring us so we left her a little bit of milk in a plastic container and hid from her sight while I posted her picture on instagram.
After I posted her picture on instagram I returned to find her gulping down the milk we put out for her like there's no tomorrow. She was starving, the poor thing. I went inside to get her more milk, came back to find her trying to chew on an old and quite hard piece of burger bun. I presented her with the milk again, but she ignored us completely and continued trying to eat the bun.
Meanwhile on instagram, one of my instagram followers mentioned a friend of hers, Dalal Al-Rushaid who works with K's Path animal rescue. She asked me to send the location of the kitten to K's Path hotline and I did. I wasn't at home when Dalal arrived a while later and looked around for the cat, couldn't find her, waited a while, left, then came back and the next time around she did find the little munchkin. Dalal told me the kitten had bitten her -she had gloves on, thank god- and that she was feral and scared but was now safe and sound. She sent me her picture too.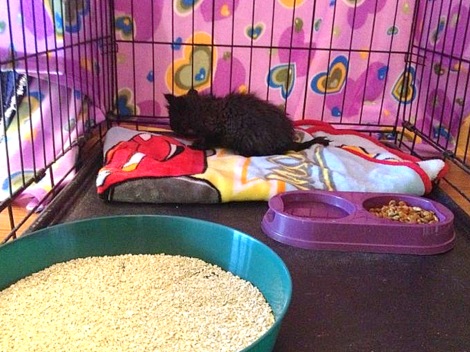 The little kitten will be sent to K's Path shelter this morning and after passing a few evaluations and tests she might be put up for adoption! She's very cute and beautiful with intelligent eyes shining through her black fur. I wonder where did she come from and what kind of human had the heart to throw her out into the street. No one deserves to be given a home then be thrown out, let alone a little helpless kitten. I wish someone does indeed adopt her. I would have, except my husband is highly allergic to kittens and they make me sick

Thank you K's Path and Dalal for rescuing the little kitten and giving her a new home. She won't have to suffer anymore. There are some people who run over stray cats for fun, then there are others who spend their Saturday afternoons between the rubble and garbage trying to rescue a helpless little kitten. My god bless your soul dear Dalal and thank you very much again. I'll take this situation as a sign that this year is going to turn out to be a very good one indeed.
If you find a helpless animal in need you can contact K's Path hotline on 67001622 and they will come to the animals rescue. Also, if you are thinking of accomidating a pet and giving him/her a nice warm home, you may want to adopt one of the adorable cats or dogs they have in their shelter. Their pictures on Instagram simply melts  your heart. For more information you can check K's Path wesbite (link), follow them on Twitter (@KsPathQ8) or Instagram (@KsPathQ8).
---
4 Responses to "A Lost Kitten's Happy Ending"