I was contacted by the owner of a new home business in Kuwait, Bianco Latte, who wanted me to try their Tiramisu and yesterday she sent me a box to review. Tiramisu is one of these easy to make but tricky to get taste-wise desserts and they still need to make more of an appearance around Kuwait.
The Bianco Latte Tiramisus arrived in a big white box witha handle and a little plastic window on top to peek through. Inside was a dozen mini Tiramisu cups, 6 of which are topped with raspberries.
The Tiramisu portion is just perfect. Usually when we make Tiramisu at home its in a big dish that takes a lot of people to polish off but in this case a portion is more than enough.
Taste wise? It was very nice. I had my friends taste it and they said it was very light and fluffly. Two of my friends said they tasted a sour note in the fluffy cream as if it was made with a hint of sour cream in the mix.  Personally me and my husband liked the one with the raspberry, it added a nice touch to the over all cream and coffee mix.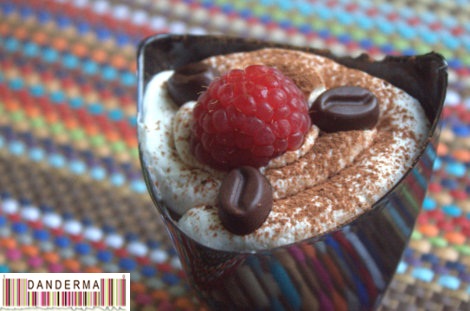 Thank you Bianco Latte for sending the Tiramisus my way. Wish you the best of luck.
Bianco Latte offer their tiramisus in a dozen small cups or in a big family sized dish. To order from Bianco Latte you can contact them on 99814767 or follow their instagram account (@Bianco_Latte_Q8).
---
2 Responses to "Bianco Latte's Tiramisu"