Marzahn
Last week I received a distinguished invitation to attend Baraka by Salah Zamani's 2013 Furniture & Home Accessories Exhibition to be held in 52 Degrees. A yellow tray with pink Arabian calligraphy printed on it and a the invitation printed on a vinyl covered piece of fabric. Very nice indeed.
I'm already a big fan of Baraka designs. When his first collection of painted pots came out and I saw them in Lenotre two years ago I loved them so much Lenotre actually sent me one of their pots (post) -shameless I know but they were so pretty!- So yesterday I took Canon my trusty blog partner and headed to 52 Degrees to check the exhibition out.
As I expected, the baraka exhibition was an explosion of colour and patterns joined artistically together and the end result works! So many pretty thing, I didn't know which way to look first.
There were trays, colourful trays, printed wooden trays, and a few of the painted pots. I wanted a coloured tray so badly but I made a promise to my husband not to buy any for a while. I, err, have a slight tray collection addiction that I need to get over. So not the time to do so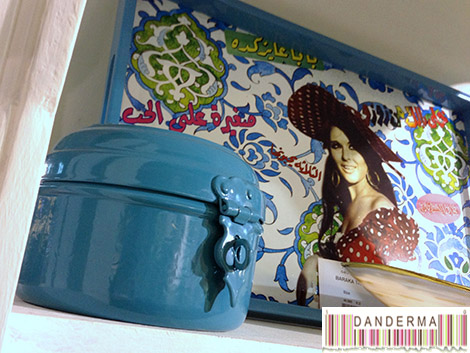 Then there are the side tables! Quite frankly they were the stars of the exhibition, they stood out in every corner, colourful, different, and with tons of details. I would have loved to buy each and everyone of them. Check out the cushions with the Arabic writings too!
Then of course there were the sofas. Each one unique and won't be remade again. The detailing, the fabrics, so pretty! The rainbow one is my absolute favourite!
Baraka are also known for their cabinets where each drawer is different and jumbled up but in the end it works. How pretty is this one?
More pretty pieces…
For the opening night there were traditional Kuwaiti munchies plus a live band playing music.
I had a great chat with the designer Mr. Salah Zamani yesterday, I do wish you all the luck, your creativity and artistic talent is astonishing masha2 Allah. The Baraka by Salah Zamani 2013 Furniture and Home Accessories Exhibition is on from 28 January until 30 January in 52 Degrees (location and info). For more information you can contact Baraka designs by telephone +(965)-66680008, by email (DesignDar@hotmail.com), or check Baraka's instagram account (@BarakaSZ).
---