The other day when I was in 52 degrees I noticed a new burger place that recently opened with the name RV Burger. How is it any different? Well, this one is not "Beef" burger… its a "Real Veal" Burger. Two days later my husband got the chance to try it at home which meant I got to take a few photos for this post.
The order came neatly packaged in a cube cardboard box. The fries came hot and topped with parmesan cheese. I ate all of it on my own. Its very good but you better eat it hot because once it gets cold it gets a bit hard.
As for the burger, it was the RV burger which is the classic one topped with lettuce, tomatoes, onions, pickles, cheddar cheese and a special pinkish sauce.
The burger size is smallish and not very big. Its a good thing the man ordered more than one.
How did the veal taste? He says its very delicious with a solid patty consistency in comparision to other burgers that feel like its ground meat stuck together.
The bun was soft and he used up all the extra special sauce containers that came with the meal. He said it was a very good sauce.
Bo Throos was more than happy to grab himself a box and claims he liked the veal burger.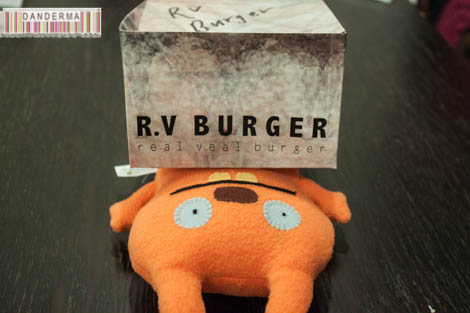 This is the bill, our total came to about 10 KD.
The Real Veal Burger, or RV Burger, is located in 52 Degrees in Tilal mall. For more information, location, and home delivery you can call them at, check their , follow them on Twitter (@RvBurgerQ8) or instagram (@RvBurgerQ8).
---