When I received an invitation to an afternoon tea at "Haya House" I thought I was in for another store opening with a few pretty items and a caterer providing tea treats. I didn't expect that I'd stumble into a little shopping/design haven in the middle of residential houses.
The invitation was very sweet and feminine. Very useful and to the point too: A tea pot on top of a tea cup, an elegant envelope with my name on it, an invitation card with a tea bag.
What I didn't realize when I actually arrived was how gorgeous and astonishing Haya House was! For one thing, the location is in a renovated oldie Arabic style house in Kaifan and I adore oldie houses from the 60's era! How charming?
The facade of the house is untouched, only painted and dressed up a bit. Look at the retro railing on the balcony and the lovely glass windows! Why would anyone tear those houses down is beyond me!
Through the oldie door you go and find yourself in a small covered courtyard with garden furniture, big feather like chandeliers, plenty of knickknacks, and green plants everywhere! You spend a moment not knowing exactly where to look, so many pretty little things!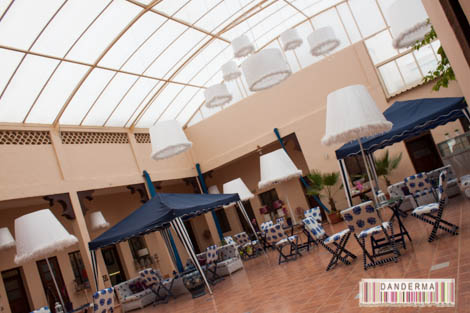 The afternoon tea is served in this courtyard every Wednesday only. You can relax with good food in excellent presentation, listen to good music, have a good chat with your friends over tea, all while sitting in a retro renovated charming house where you see beautifully retro details that melt your heart while imagining all the laughs, secrets, and tears spilled back in time within these walls and rooms, If you are affected by history in that way anyway.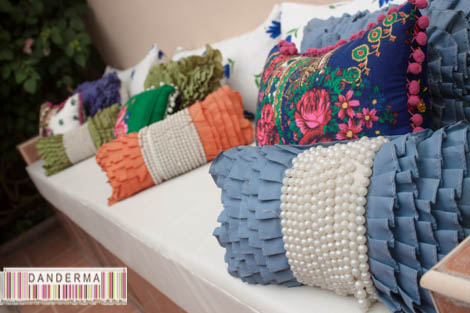 Not only can you visit and enjoy the architecture, you can shop in Haya House too! The rooms of the house are actually turned into display rooms where you can check the interior design plus buy the pieces of furniture and home accessories on display. There are many rooms and I didn't get to check them all but here are my favourites: the blue books room.
I love the black and white bookshelves wallpaper. I also love this clear backed chair! Yummy!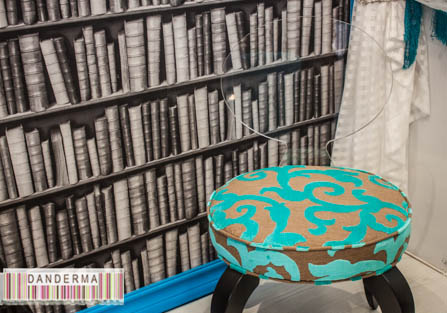 My second favourite rooms was the dining room. See the pictures, the tableware, the decor, the table setting. need I say more? You can buy everything by the way.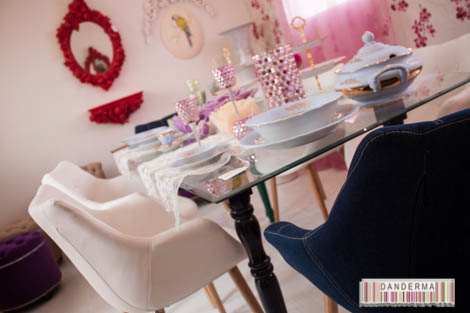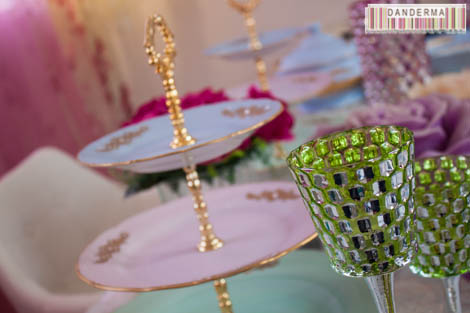 The crystal room with a huge crystal chandelier and mismatched colourful patterns on the wallpaper.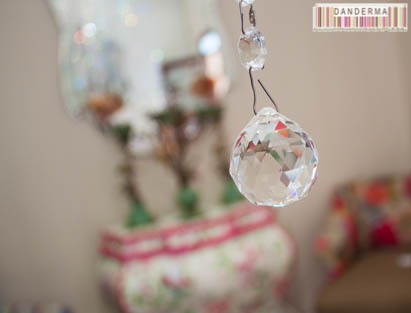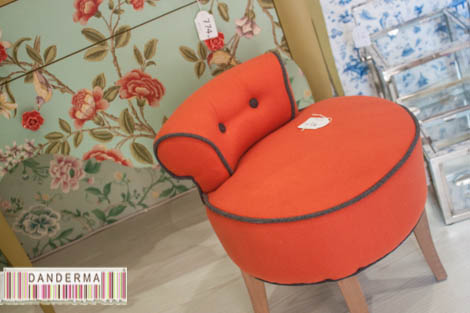 More items from different rooms in Haya House…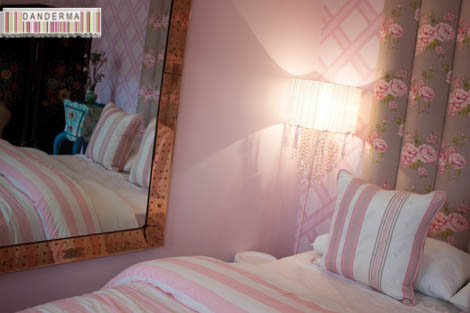 In the last room of the house your notice the "Interior Design" sign in Arabic and you realize its actually an office! Yes, you can shop for furniture and accessories, marvel at the charming house, drink afternoon tea, and also get some interior design done according to your taste and need. The impressive rooms in Haya House are an excellent example to what the interior designer can put together. 
I would definitely be going back to Haya House for some "nezaka" afternoon tea on a Wednesday and I know just the place to buy my next home warming gift or that extra special item you that just completes your own home collection. Thank you Ms. Deena Al-Anjari for the beautiful invitation and the warm hospitality. Keep up the good work!
Haya House is located in Kaifan, Block 5, Street 54, House 3. Afternoon teas are held every Wednesdays but you do need to make a reservation before hand by calling 24825950. For more information or to buy some of Haya House's furniture and home accessories you can do so via their website which is also an online store (link),  you can Twitter (@HayaHouse_) or Instagram (@HayaHouse_).
---
4 Responses to "Discovering Haya House"