antichristianly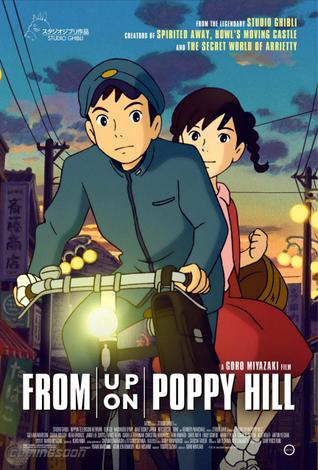 When I saw the trailer for the movie, the latest from Goro Miyazaki who also made Spirited Away, I knew I wanted to watch it. I love everything Japanese  especially their anime. During the past holiday I went to see it in Cinescape and I have to say I loved it.
The animation is top notch of course. I love how neat and organised everything is in the animes daily lives. I could almost smell the wet soil on rainy days and squint on the setting sun with the pink clouds passing by. The movie, simply, is gorgeous.
The story dates back to 1969 when Japan was about to host the Olympics and therefore a lot of preparations and construction was about to take place. Out with the old and in with the new didn't suit everybody especially Yumi, a girl in love with a boy fighting with his peers to save an old building called The Latin Corner from being demolished. All after school activities take place in the Latin corner and even though it looks old and run down, Yumi and her classmates are set upon showing the school board how with a little work and a little faith, old things can still have a place in a modern world with a little care and attention.
While Yumi and her classmates try to fulfil their mission and save the Latin Corner, her very sweet love story faces a very big obstacle. The messages in the movie are very clear and not to ruin the movie or anything but its quite good and very sweet albeit a tad slow. If you love Japanese anime and like me dream of visiting Japan one day, then this movie is for you. Please note that just because its an "animation" or a "cartoon", it doesn't necessarily mean its a children's movie.
---
2 Responses to "Movie Review: From Up on Poppy Hill"