Albstadt
Proud to be Kuwait, also known as P2BK, is a yearly exhibition of Kuwaiti businesses and talents that started six years ago in 2007. Ever since its begging, it began the trend of "exhibitions" in Kuwait and redefined it. Now on its sixth year, they've built an entire traditional Kuwaiti village in Mishref exhibits area. We've been given a tour of the village today and I have to say, I'm very impressed and truly can't wait for it to open its doors!
We arrived to the Mishref exhibits area to a freshly paved parking lot and a village that's in its final finishing phase surrounded with what looks like an old castle wall. The village was buzzing with workers moving things, clearing things, or artists painting things.
As you enter the village, right to the left, you will see this booth shaped like one of the Kuwait tower balls! Nice job! I wonder if its a concession stand or an information booth though?
The participant's booths all look like old Kuwaiti shops complete with a wooden roof. It feels like walking in an old souk.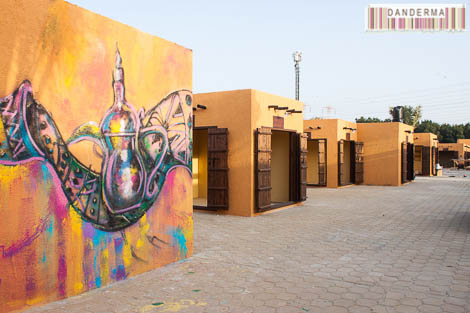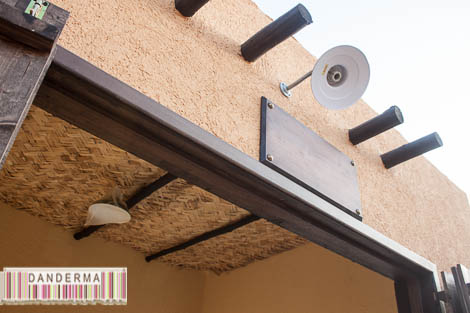 The village is traditional all right but the sporadic wall art found here and there are, well, groovy! The look is old, but the spirit is youthful and young.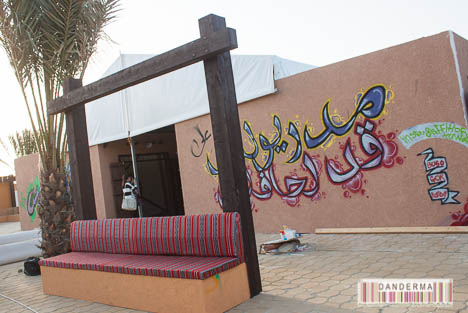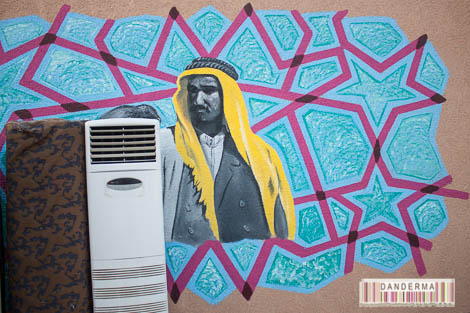 Some paintings were finished but blocked with furniture pieces. Others, like the Kuwaiti Superman one below, was still being painted on the wall by the time we arrived and completely done just before we left.
Eg7a6a being painted on!
Vader dancing 3artha! Tell me that's not cool!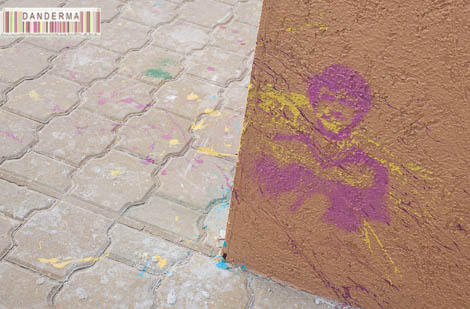 Another wonderful thing to check out is those humongous sand sculptures made by a group of American artists. They are said to be the largest in the Middle East and they are lovely and full of Kuwaiti spirit.
More random pictures from around the P2BK Village.
By the end of the tour under the sun we were very thirsty, P2BK team were ready with bowlfuls of icy water bottles. Of course, the bottles were kept inside traditional Kuwaiti bowls modernised by paint.
Thank you Proud to be Kuwaiti team for extending the invitation for the village's tour! The village looks amazing even before finishing up and filling up with local talents. Qawakom Allah and keep up the good work!
The Proud to be Kuwaiti village will be open to the public starting 6 March 2013 and will stay open for two weeks from 10 A.M. till 10 P. M. For more information and pictures you can check P2BK's website (link), facebook page (link), Twitter (@P2bKuwaiti) or Instagram (@P2BKuwaiti).
---
2 Responses to "The Proud to be Kuwaiti Village Sneak Peek Tour"