If you've been following my blog for a while you'd know I'm in love with British cosmetics brand Lush. I've posted about them more than once before and I always make sure I come back from the UK laden with their fresh handmade, vegetarian, natural, ethical, colourful, fun, and deliciously fragrant products.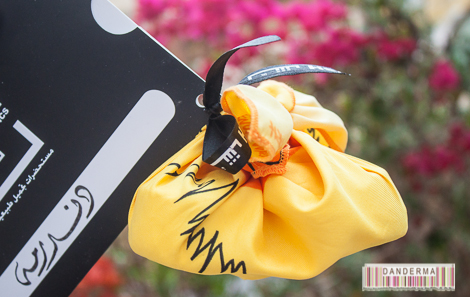 I received an invitation from Lush last week inviting me to their official store opening in the Avenues taking place today evening under the patronage of his excellency the British ambassador to Kuwait Mr. Frank Baker. The invitation, like the Lush store itself, was quiet fragrant and gathered in a signature Lush knot-wrap -or a bogsha as we call it in Kuwait- with my blog name Danderma written with beautiful Arabian calligraphy on the card attached.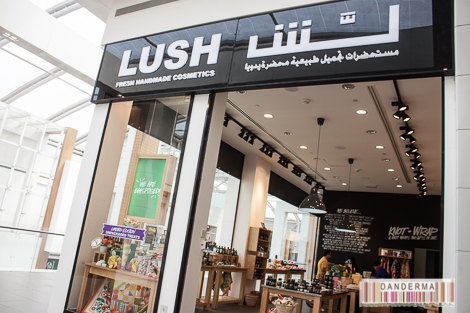 Since Lush's official store opening is today evening and I sadly I won't be able to make it, I went to the Avenues yesterday and took my time taking pictures of the store and the available products. Lush have been open in Kuwait for a few years now but the store they had was a tiny one in 360 mall but the new Avenue's branch is bigger and more spacious  which in turn means they've began stocking more products especially their handmade fresh products.
Lush's new store that is opening tonight is located in the first floor of the new Mall section in the Avenues Mall, right across from the entrance of Ihop. You can reach your destination with your eyes closed for you can smell Lush's products a mile away. The scents are heavenly!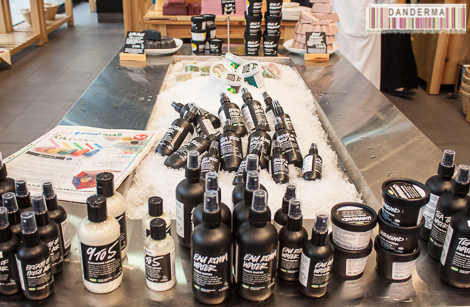 The first thing you see as you enter is this big basin laden with ice and displaying their "fresh" products. Those products must be made locally and have a short-life span but they are the best. I have a friend who swears by their fresh facial masks.
In this store Lush are stocking the Shower Jells! They are soaps in the form of jell that you can freeze and then when its time to take a shower you take it out of the freezer and use it like soap. Imagining returning home in the summer to take a bath with a freezing bar of soap! However, they only stock one kind of soap. In the UK they have many different kinds with different scents.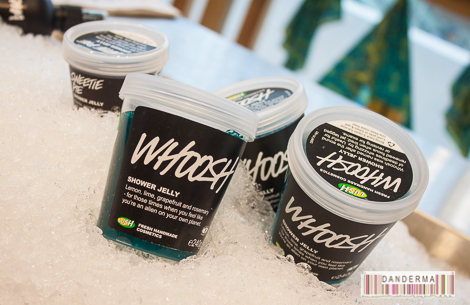 Lush Kuwait are also stocking the toothy tabs! I've written about them before (post) they are basically little tablets you can crush and use like toothpaste to clean your teeth, perfect for travelling and cleaning your teeth on the go. I'm glad they are available in Kuwait now!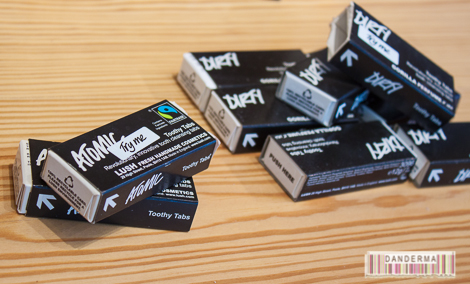 Next are the bubble bars and fizzy bubble bombs section. Bubble bars are, well, bars you use in the bath tub to create fragrant bubble baths. Lush are stocking their new easter products like the carrot bubble bars -they don't smell like carrot, not even close- and the roses and the candy-like one and many more.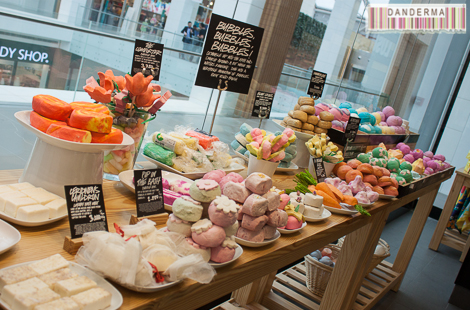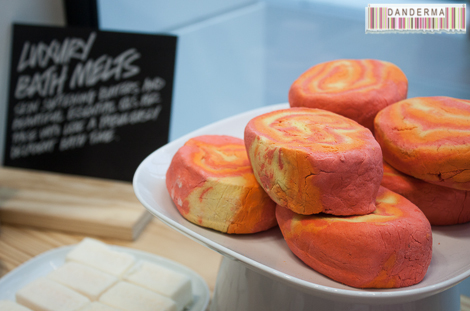 Next are the shampoo bars. These are my husband's favourites since he has a very sensitive scalp and can't use any shampoo while Lush's shampoo bars are made with natural ingredients and suit his sensitive scalp very well. There are tiny tin boxes for the bars and you can keep them while being used in those tins and they are also perfect for travelling. My husband's favourites are the Godiva with jasmine and the New with rosemary and peppermint.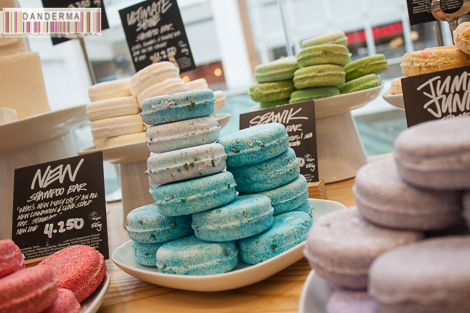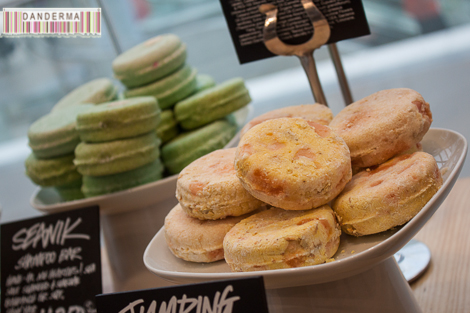 If you are a fan of henna you must try Lush's. Its natural and comes in different a bar-like form and in different colours and is very easy to use.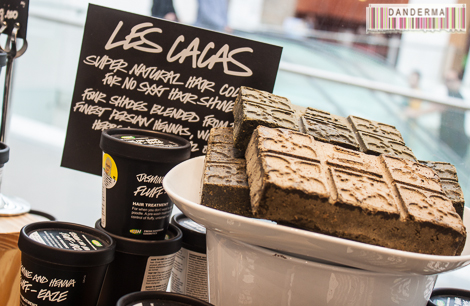 Lush's massage bars are also available and I highly recommend them. Especially the heart shaped one that smells like sweet buttery chocolate. They are quite slippery though but perfect for sore muscles especially after a long day shopping and carrying bags.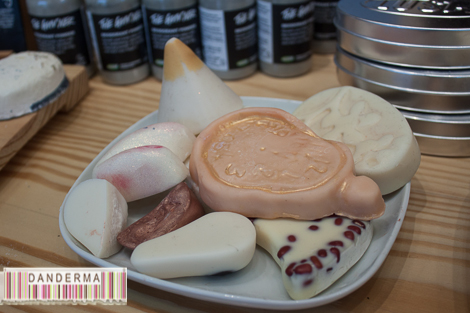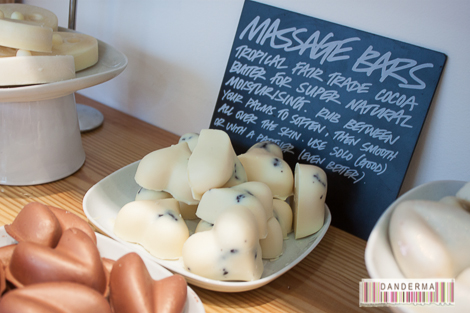 Lush also stocks the "Gorilla Perfumes". A line of different perfumes with different fragrances in various forms.
More cosmetics like lip balms, lip scrubs, and makeup. My favourite lip scrub the Bubblegum Sugar lip scrub that is actually edible wasn't available though (post).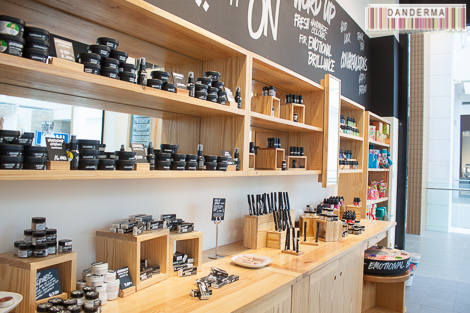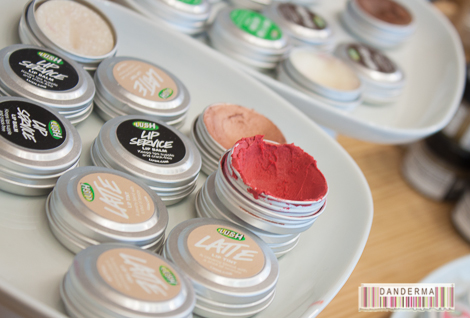 The soaps section. Big slaps of freshly made vegetarian-friendly soap that are cut in different sizes and shapes.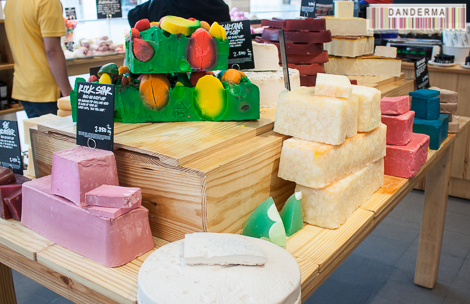 My personal favourite is "Honey I washed the Kids". It smells like milk and honey and is totally gorgeous.  The also have a green Sultana of soap that's from the new Easter collection that I haven't tried before.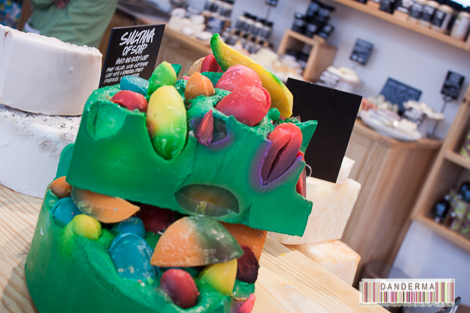 Behind the cash register in Lush you will find several satin scarves in different colours and patterns that you can use to wrap a gift in a bogsha just like the one I received.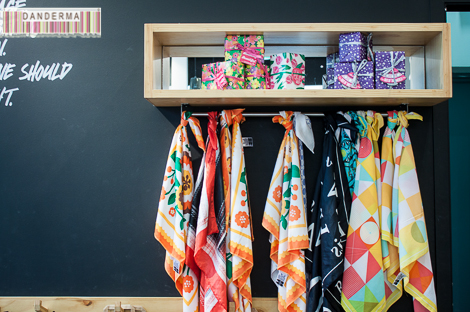 Lush also have quite a few attractive looking gift boxes in different sizes and colours pre-filled with products and all wrapped up to give away as gifts. If you are in the UK they'd make the perfect souvenir to bring back home if they can survive the plane ride back that is but now they are here and they are lovely! You can buy a gift for a Lush lover or small ones as party giveaways for example.
Before you leave Lush don't forget to take a copy of the "Lush Times". A newspaper-like newsletter filled with the latest news about Lush's products. I usually take one on my first day of arrival in London and I flip through it, taking note of what's new and what do I want to buy when I'm next in store. I wonder if they have one in English though as the one I've seen is in Arabic.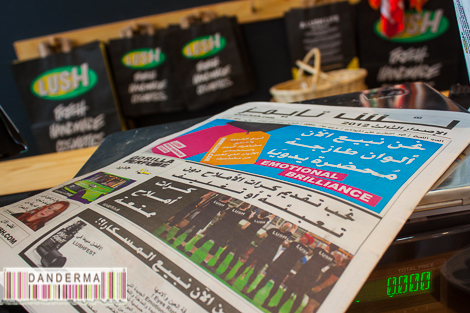 Thank you Lush Kuwait for sending me the fragrant invitation. I'm a huge fan and I'm glad to see you've opened up a much bigger branch with more products. Congratulations on your newest branch opening and keep up the good work!
Lush Kuwait is located in the first floor of the new Avenues Mall across from Ihop and in the basement of 360 Mall. For more information you can check their website (link), follow them on twitter (@LushKuwait) or Instagram (@LushKuwait).
---
2 Responses to "Lush Cosmetics Store in the Avenues"