Last week I received a very creative invitation from Figs by Todd English to attend the soft opening dinner in their newest and second branch located in the Avenues mall. The invitation was a wooden board with my blog's name on it, nice!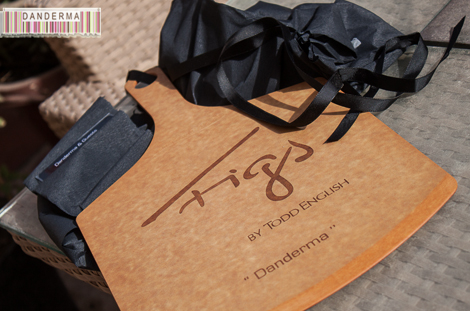 The new Figs branch is located in the grand Avenues just across the Grand Avenues walkway from The Cheesecake Factory. We arrived early and had a chance to take pictures of the place before it filled up. Dark, soft lighting, and the blue Grand Avenues lights streaming in from the top-to-bottom window.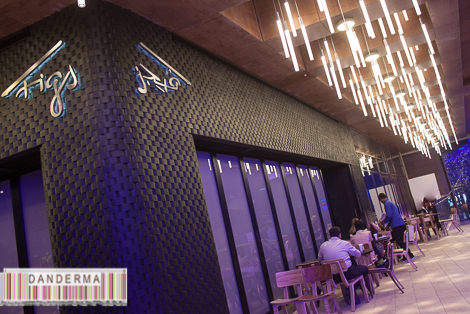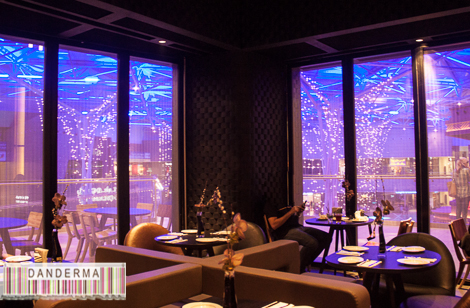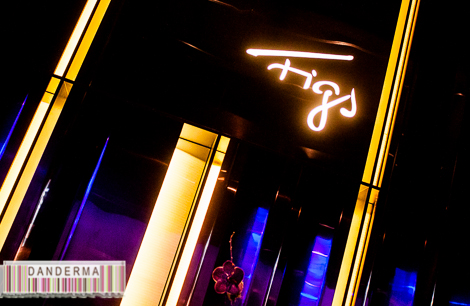 The new Figs branch is totally different than their first branch in 360 Mall. For one thing, its more cosey and intimate. The tables of four had a couch like seater that was very comfortable. However the plush oversized chairs were annoying and extremely bulky, they blocked the cooridors of the restaurant between tables. Speaking of tables, each table had a black vase with a purple flower.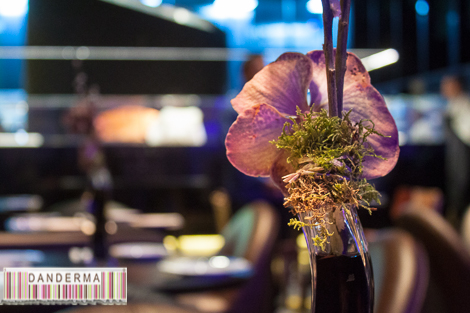 The open plan kitchen is located in the back of figs and while you dine you can see the  wood-burning pizza oven burning away, like a big fireplace.
As we were scanning the menu to choose our dishes we got the complimentary bread with a bowl of olives in olive oil and balsamic vinegar.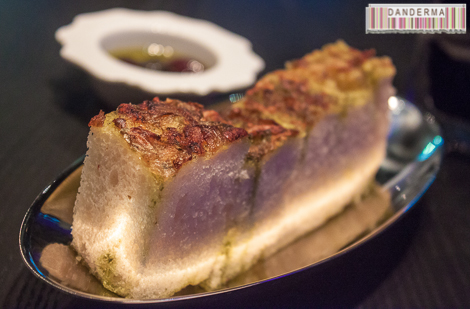 After placing our orders we got the drinks. If you love mojitos then Figs is the place to try them. They have a killer watermelon mojito. Also ordered was a cocktail with lychees that I forgot its name. I must carry a notepad with from now on.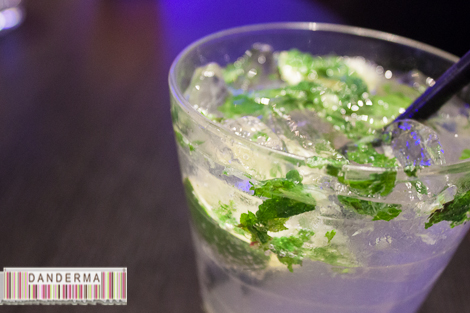 Next to arrive at the table were the appetizers. The beetroot salad looked so good, we almost didn't want to eat it and ruin the presentation.
   The chicken pastarami & Avocado Apple Salad.
The Shrimp Fritti with roasted corn raita on top of a creamy avocado ranch. This dish didn't stay on the table for long.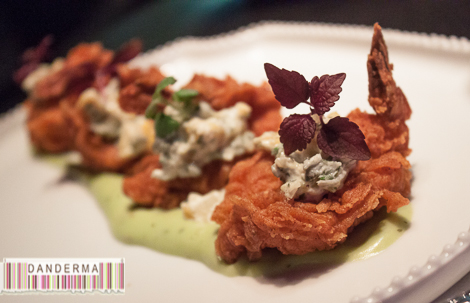 A complimentary dish from the chef which, sadly, I wasn't there when they brought it so I don't know what it is exactly. More I think it was stuffed meat balls or waguy meatballs? However, it was another excellent dish that was gone in 60 seconds.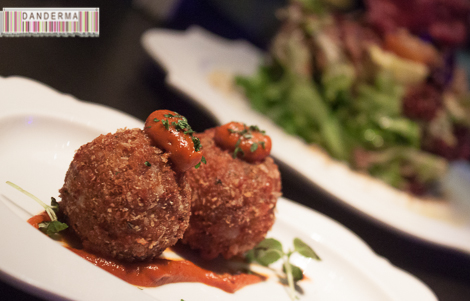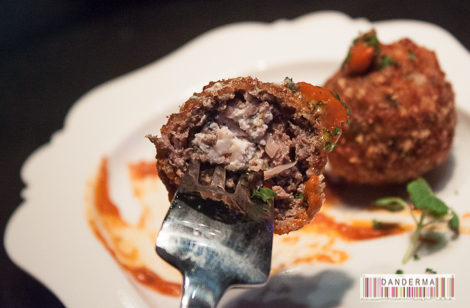 You can't dine at Figs without having a wood-oven baked pizza! The shavings on top are parmesan shavings and not onions by the way.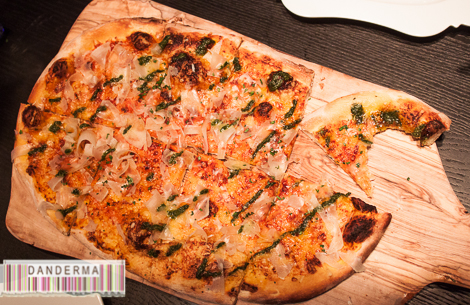 And this is my favorite dish of the night. It is an appetizer all right but the portion is more than enough. Macaroni Simone: macaroni pasta in four cheese cream with peas baked with garlicy bread crumbs on top.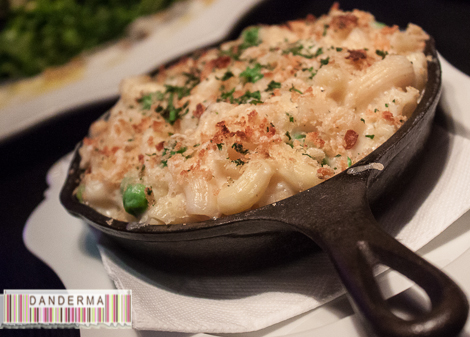 How cheesy was it? CHEESY!
Cheese strings going up all way…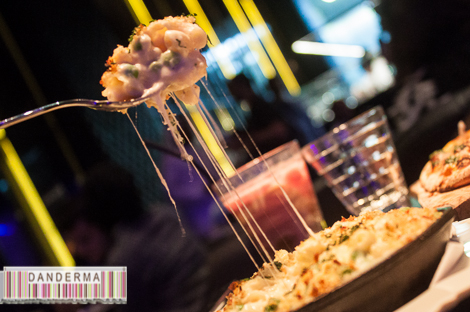 Finally a bite set free… YUM!
The main dish we ordered that night was the veal, cooked to perfection and served on top of mashed potato with vegetables, topped with spinach, then drenched in gravy sauce. If you are a meat lover you must try it.
The night went smoothly and the atmosphere was vibrant and jolly. We had a great time and there is nothing to complain about -aside from the chairs-. The only hiccup was that our waiter kept asking while we had the appetizers wether to bring out the veal now then when we did say yes it took half an hour to bring it out but it was a hectic and very busy night with dishes flying out of the kitchen. We didn't mind the wait at all.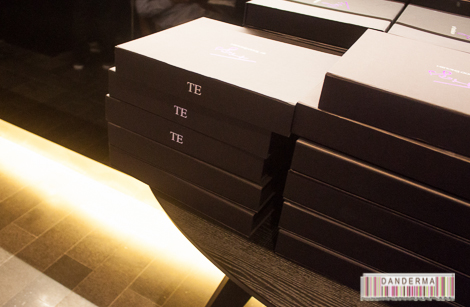 Before we left Laila from Ghalia Technology handed us a big heavy box as a giveaway. Inside? A Todd English's cookbook and a stylish pepper mill. Now that's what I call an excellent giveaway! I loved books and I adore cookbooks and after such a succlent meal I'd love to flip through Todd English's cookbook, there's even a recipe for a mango mojito!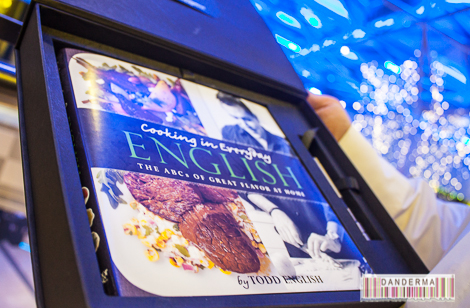 Thank you Laila and Ghalia Technology for an amazing night and the lovely giveaway. The night went very smoothly and we had an excellent time. So good, we didn't want to leave!
Figs by Todd English newest branch will be opening for the public in the Avenues by next week. Figs first branch is located in the second floor of 360 Mall. For more information you can give them a call at +(965)-25309559, follow them on Twitter (@FigsKuwait), or Instagram (@FigsKuwait).
---
2 Responses to "Dinner at Figs by Todd's English in the Avenues"