safe place to buy Clomiphene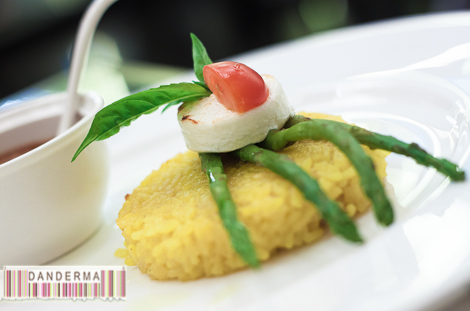 We were invited for a private preview dinner of Cavalli Cafè which took place yesterday. I knew from my visit to the cafe before (post) that the interior was glamorous and I was waiting to see if the food lived up to the hype and interior. Yesterday at 7 P.M. on the dot we made it to Cavalli Caffè and we were let in and led to our table at once.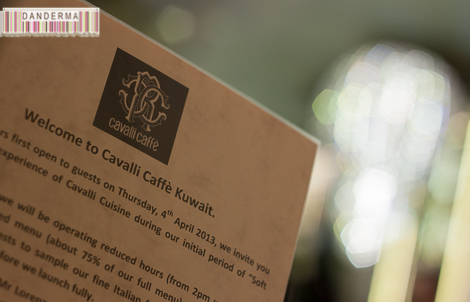 For a soft opening menu there were a lot of choices to pick from! We contemplated the menu for a while then finally placed our orders and sat back as we gazed at the dazzling crystal chandeliers lights bouncing off every shiny surface in the cafe's vicinity. Lavish lighting befitting an international designer.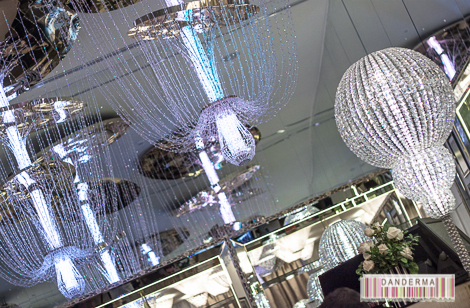 First to arrive were the drinks, a juice cocktail that I forgot the name of.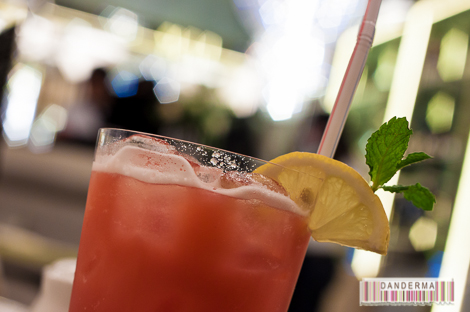 My drink, which is basically ice-shaken decaf espresso served in a martini glass. It was excellent and refreshing and the right choice for a coffee-holic.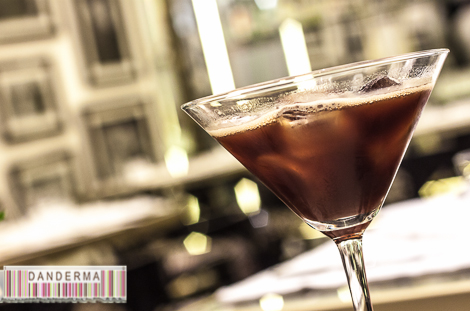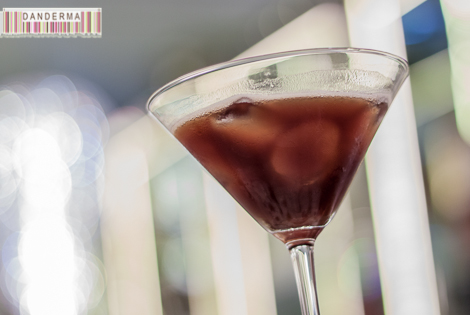 Next to arrive on the table was the complimentary bread basket. Actually, I should just say "the bread" since the table had a silver basket of freshly baked bread plus two other plates of deliciously baked bread. One baked with tomato slices. The bread basket came with olive oil, balsamic vinegar, and sundried tomato pesto.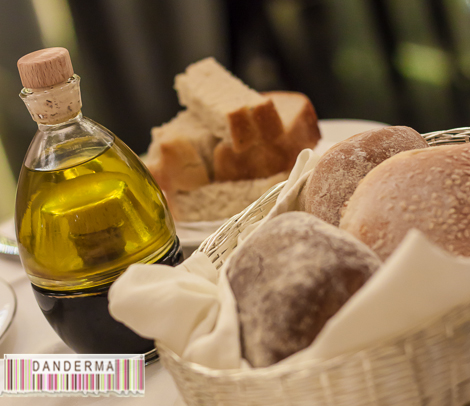 No Italian meal should start without dunking fresh pieces of bread into olive oil and balsamic vinegar.
The first of our starters arrived shortly. It was saffron risotto with asparagus and goats cheese with a side of Bolognese sauce. It was as excellent as it looks in the pictures.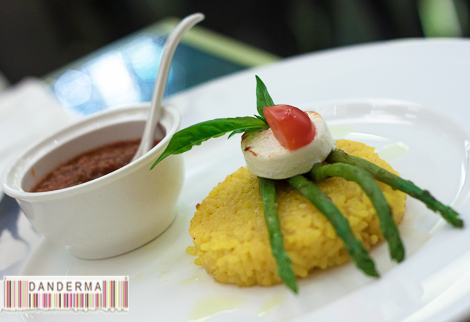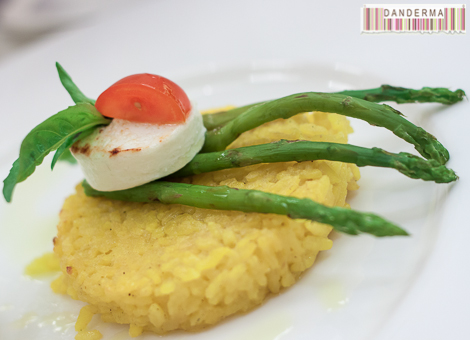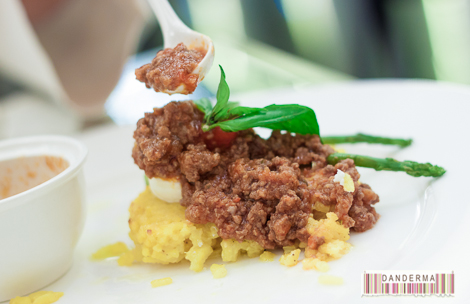 The ice in my espresso drink was melting slowly throughout the meal, yummy.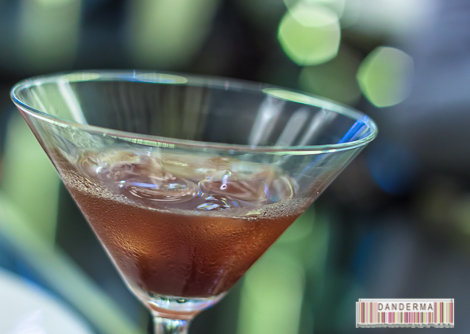 Next to arrive was our main dishes. Mine was Penne pasta with black truffles and walnuts in gorgonzola sauce.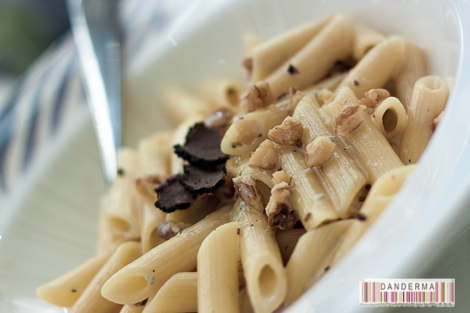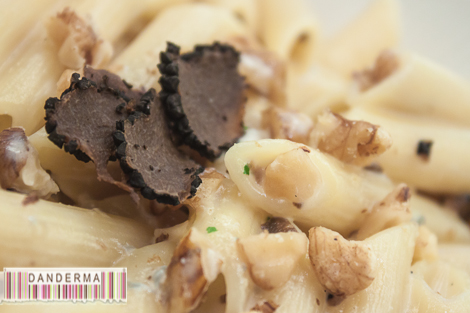 This dish tasted as rich as its ingredients. I loved the taste of black truffles and I'm already a fan of gorgonzola so I loved this dish. Its a bit on the heavy side though so if you are not a fan of gorgonzola cheese I wouldn't recommend you try it.
The other main dish was grilled chicken breasts in lemon sauce with wild brown rice and vegetables. I didn't catch the actual name. It was very light and tasty especially the rice, very nutty and different.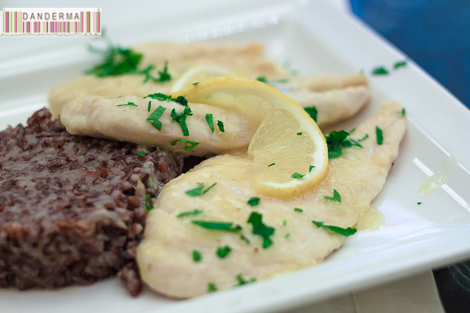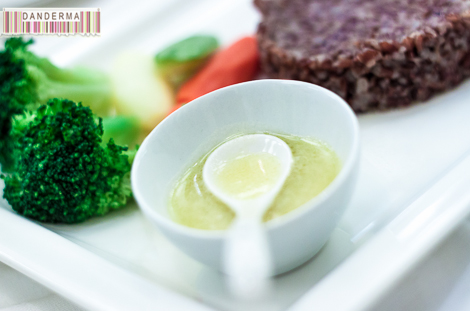 Mr. Lorenzo the restaurant manager recommended we try the "Semifreddo al torroncino" for dessert. Its a cross between a gelato and a pudding, or as the menu put it "Nouqat Glacé" so we did. I've never tried it before so I steered clear of the usual tiramisu and Crème Brûlée and ordered the Semifreddo instead.

It was very good, like a cold smooth vanilla mousse with chewy chocolate bits drizzled with rich caramel and topped with crunchy dime chocolate-like pieces. I'd recommend it myself if you are going to dine in Cavalli Caffè.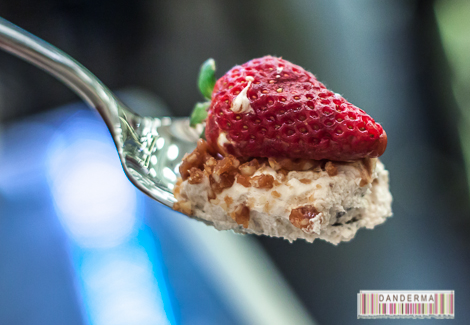 We almost staggered out of the cafe's door, our stomaches full and our hearts warm with content. Both the cafe and the food were beautiful, in essence as well as in looks. I can't wait for Cavalli Caffè to officially open so I could go back and try the rest of the Menu. Thank you Mr. Paul and Mr. Lorenzo for your warm welcome and generous hospitality.
Cavalli Cafè is expected to open by next week and is located in the Grand Avenues district of the Avenues mall. You can't miss it as its the building with the silver, glass, and colour-changing lights facade. For more information or to make a reservation at Cavalli Caffè you can contact them by calling +(965) 22201110.
---
2 Responses to "Dinner at Cavalli Caffè in the Grand Avenues"