buy original Clomiphene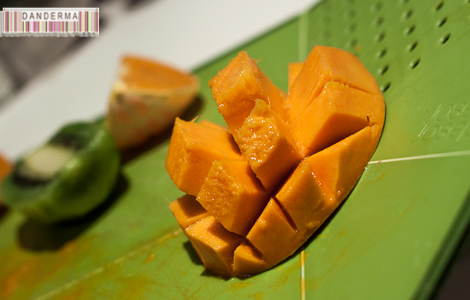 buy prednisone online usa It's no secret that I'm a star-struck Alphonso mango fan. If you've been reading my blog for the past few years you'd know that my love for them is fierce and that I celebrate its arrival every single year. If you follow me on instagram you would have already seen me hugging the distinguished blue and yellow Alphonso mango box to my chest as I was shopping in TSC. Alphonso mangoes are my favourite fruits, hands down, and I only eat the King of mangoes -Alphonso- and I only buy one certain brand of Alphonsos available in TSC that come in a blue and yellow box.
http://trisom.com/libsoft.php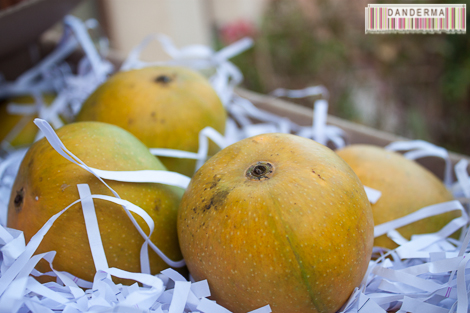 Hatsukaichi A few years ago, around 3 or 4 to be exact, I learned about businesses in Kuwait that sell more selective gourmet Alphonso Mangoes and are shipped by the carton directly from India when they are in season (late March till late May). Those businesses even sold jumbo Alphonso mangoes! When I heard about them, I started placing my name on the order list but I never got any gourmet Alphonso mango boxes since I wasn't lucky enough. The lists are long and the shipment always sold out before my turn came. Several companies and several years -yes years!- later and I finally struck gold!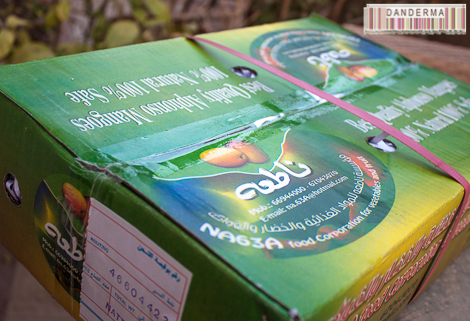 Last Sunday my box of Alphonso mangoes arrived straight from India to my doorstep. I hugged the box fondly, then let go of it long enough to go grab my camera and capture the arrival of long-awaited box of Alphonsos. I opened the box, deeply inhaling the fragrance of those mangoes, and I almost stroked each green emerald fondly. I knew it had to wait two days before they were ready and so I did. Impatiently if I may add.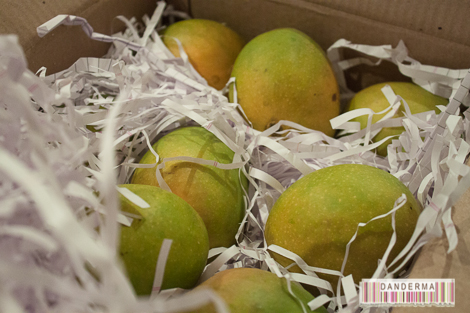 There are several gourmet mango companies now but the one that I got my box from was Nataa Mangoes. They have an account in instagram you can use to connect with them (@NataaQ8). Nataa means delicious in Kuwaiti by the way, and delicious they were indeed!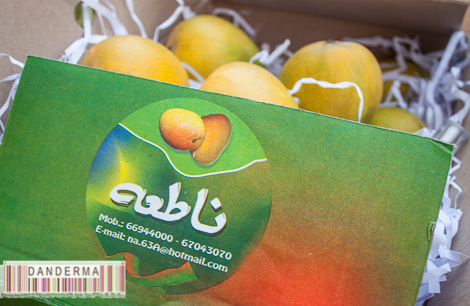 Now some of the kings of mangoes have turned golden-yellow, it was time to try them. How different are they from the ones I usually get in blue and yellow box? They are 30% bigger in weight for a start, plus they are very firm and have no spots or strange things on them.
Cutting the Alphonso mangoes is an art on its own. I usually don't bother cutting it, long have I mastered the art of eating a mango with my bare hands and without wasting a drop. But my husband insisted on dissecting the poor mangoes and I was there for the unveiling of the golden goodness within.
The moment the knife cut into the skin, rivers of mango juice started oozing out. I almost grabbed the mango and ate it right then and there. Taking those pictures took a lot of self-restraint that I don't bother with.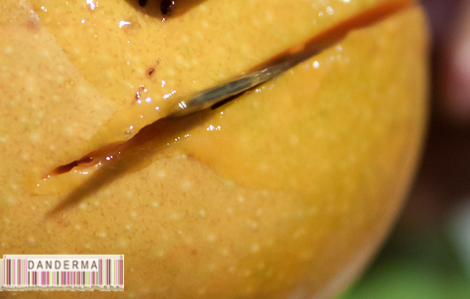 Cutting the once emerald-green, now golden-yellow mango into diamond-shaped pieces. The fruit is indeed the king of mangoes with a crown of gems to describe its beauty.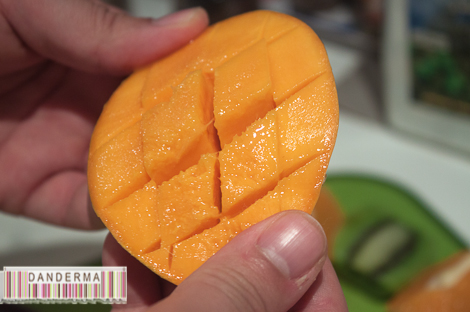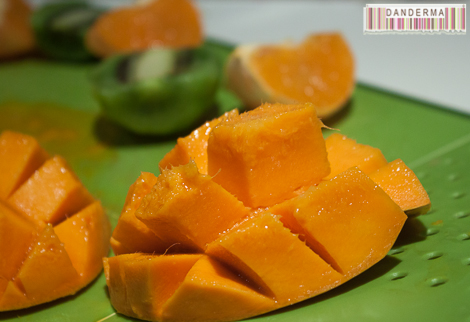 Et voila! Dinner is served! Mangoes with slices of Kiwi and clementine. Yes, dinner. The Alphonsos deserve to have a major meal of the day designated for them, and not just merely a snack between meals.
Mamma mia!
I had my Alphonso mango for dinner with a side of…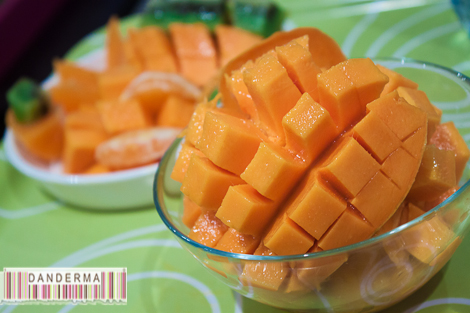 Another Alphonso mango! I've waited for those mangoes for years, literally years, and finally they are here and it was time to celebrate, and it's still time to celebrate, and I'm going to celebrate them every day until the season is over insah2 Allah. The box of Alphonsos from Nataa costs about 11 KD and they aren't that expensive compared to the usual blue and yellow box I buy from TSC for 9 KD considering the mangoes are 30% larger and more delicious. To order you can get their information from their instagram account @NataaQ8 but I must warn you, you might not be very lucky for there is a very long waiting list. I don't think I will be able to get another carton of those this year.
Welcome back Alphonsos, King of the Mangoes, my beloved golden fruits. I've missed you, and I'm going to enjoy your company as long as you are here. More about Alphonsos from my previous posts can be found (here), (here), (here), (here), and (here). I told you I was crazy about those Alphonsos!
---
9 Responses to "Alphonso, the King of Mangoes, is BACK!"