this page
Back in November, which now feels just like yesterday, I've been granted a sneak preview of the Gathering Bistro before it was officially open (post). Fast forward six months later and we finally had the chance to try it out for dinner and we had an excellent time! The weather was windy and cool, the tables filled out quickly, a nice soundtrack playing subtly in the background and at one point Dido's white flag was -yes, I'm a fan- and most importantly, the food was really good! First we had to try the Cheesy potato bombs, they seemed smaller that what we remember but they were as tasty and excellent as a comfort food dish can be.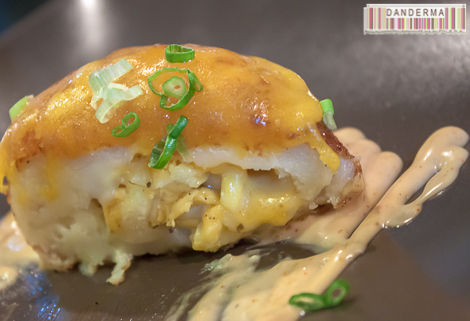 Next came the pizza, half margarita and half red and green pizza which is the bistro's best seller. How cheesy was that pizza? A hundred pictures worth of cheesy!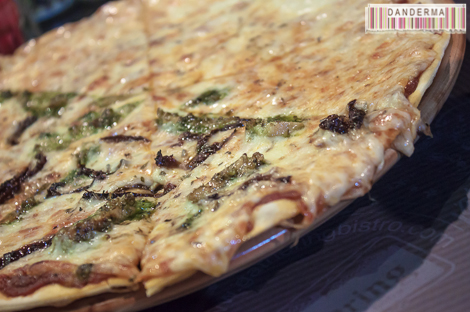 Grabbing a slice, or trying to since the strings of cheese were binding the slices down and refusing to let go. A clear case of separation and being eaten anxiety I suppose.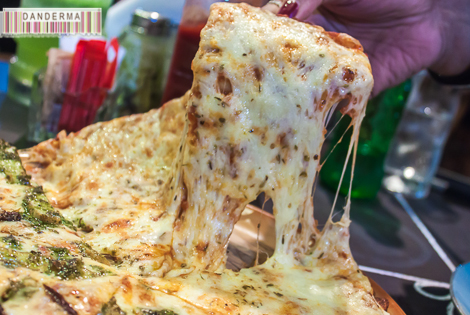 Come on now, break free.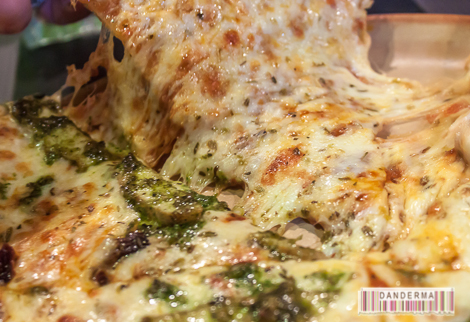 Ta-da!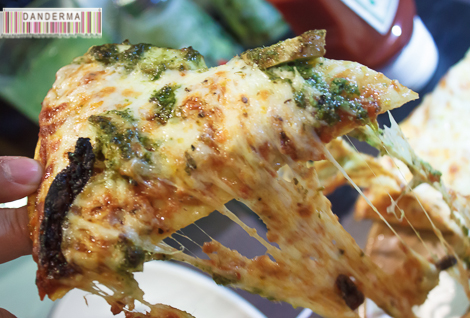 Well, you get the idea. The pizza had a very light base that held well under that ocean of cheese apparently. If you love your pizza with extra cheese, this is a dish you must try. Next came the veal sandwich.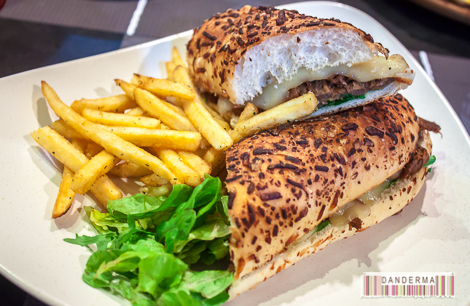 I'm not sure what it is exactly, but I guess its shredded veal escalope that are grilled and topped with melted cheese inside soft bread topped with more cheese and grilled once more so the cheese on top is all grilled. That dish didn't stay on the table for long.
Lemon with mint, very cold refreshing.
Pink Girl really had her heart set on the bistro's creme brûlée so in the end we had to, just had to, order it with some coffee before we went home. Here comes the brûlée!
This was taken during a break in the action of devouring the poor creme brûlée :p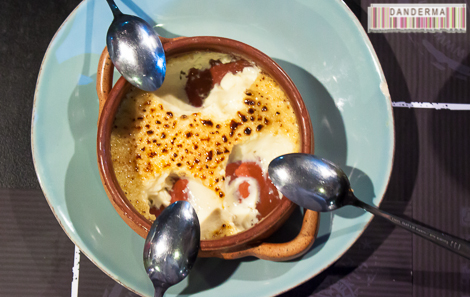 It was one memorable dinner indeed.  The weather was so delicious, we wouldn't have minded ordering the entire menu just so we don't finish eating and leave home.
The Gathering Bistro is located in Al-Salhiya area in Kuwait City right opposite Salhiya Mall. For more information about The Gathering Bistro you can call them on +(965) 22449091, like their facebook page (link), follow them on Twitter (@GatheringKW) , or on instagram (@GatheringKW).
---
Comments are closed.